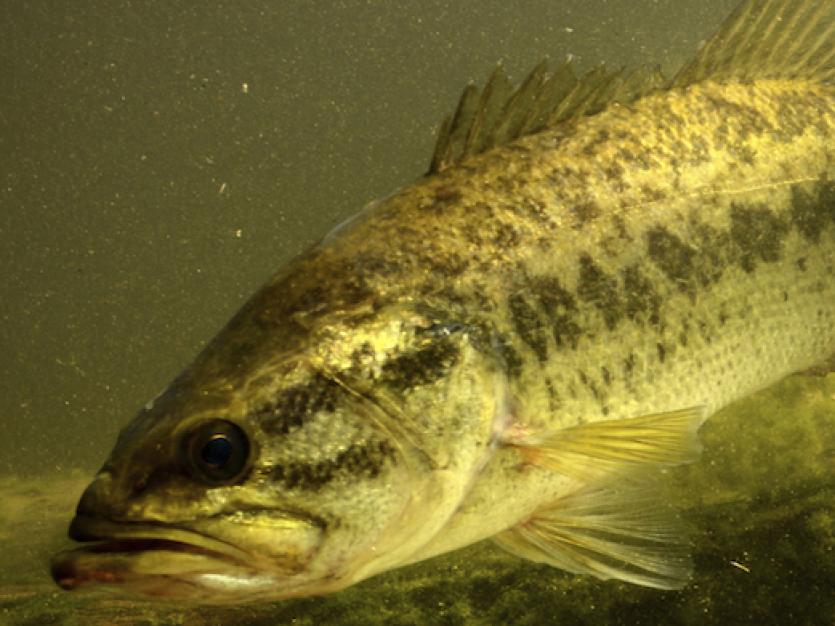 Largemouth Bass
From big-timers, to first-timers, everyone loves largemouth bass. Considered the most popular sportfish in the United States, largemouth bass offer a fun fishing experience no matter your skill level. Their aggressive nature makes them an easy fish to catch and a lot of fun to bring in. While largemouth bass tournaments have been growing in popularity across the country in recent years, Maryland's reputation for significant largemouth bass has grown along with it. From the brackish waters (a mix of salt and fresh water) of the Chesapeake Bay's tributary systems, to freshwater systems that riddle the state, these popular fish can be found all across Maryland. With easy access to fishing spots by land, and boat access points across the state, Maryland makes it easy for the serious angler and the first-timer to find a largemouth bass worth talking about.
Fishing for Largemouth Bass
Largemouth bass can be recognized by the lower jaw which extends passed the back edge of the eye. It is dark green on its top quarters, with silvery sides and belly. A dark stripe runs across its body. Originally from the Great Lakes and Mississippi River basins, the species is now found throughout North America and the world. They like large, slow moving rivers or streams with soft bottoms, and they especially like clear water. They are excellent fighters when caught on light spinning tackle. Largemouth bass have been known to reach a weight of over twenty pounds.
Seasons
Largemouth bass season is open throughout the year, giving die-hard anglers the chance to hone their skills year round. However, a closure period goes into effect at the end of winter, lasting approximately one and a half months, in which catch and release ONLY is permitted.
For information on seasons, sizes and limits click HERE.
Opportunity
Largemouth bass are found in all waters of Maryland from freshwater to brackish (a mix of fresh and saltwater) waters. Whether you're bringing the kids on their first fishing trip, or taking a weekend with friends, there are plenty of options to choose from. If checking out the best Maryland has to offer appeals to you, hiring a guide is the way to go. Without buying your own license, you can fish all day next to an experienced guide that knows the waters and where the bass are, ensuring that you get the most out of your trip to Maryland.
If you plan to bring your own boat, there are a great deal of access points across the state where a boat can easily be dropped. Deep Creek Lake State Park in Swanton, MD, and all throughout Frederick County are great spots for largemouth bass. Just about every freshwater lake, pond, or river is home to this fun species of fish. The best rivers to catch legal largemouth bass (greater than twelve inches) are the Northeast River, Susquehanna River, and the Potomac River. Of these rivers, the upper Chesapeake Bay rivers, Northeast and Susquehanna rivers, have the largest population of legal adults.
License and Regulations
Simple, quick, and at the palm of your hand, DNR's app is the easiest way to for both residents and non-residents to get a Maryland hunting license. Download the app on your smartphone (MD DNR), click Apply for License, and enroll. From the app, you can also register any kills, post photos, and check for regulations updates. Or, you can apply for a license through Maryland Department of Natural Resources' website.
A Regular Hunting License, Junior Hunting License, any Senior Hunting License, or a Nonresident (full term or short term) Hunting License is required to hunt migratory game birds in Maryland. All migratory game bird hunters, including those who are exempt from the hunting license requirement, must purchase a Maryland Migratory Game Bird Stamp. In addition, all waterfowl and coot hunters over the age of 15, including those who are exempt from the hunting license requirement, must purchase a Federal Migratory Bird Hunting and Conservation Stamp. For information on Licenses, Stamps, & Permits including descriptions, prices, and availability click HERE.
Visit the Maryland Department of Natural Resources' website for a complete list of seasons and bag limits.
Money generated from the sale of licenses goes directly to the conservation, protection, and preservation of Maryland's natural habitat and cherished wildlife. Maryland DNR works tirelessly to maintain a healthy population of fish and game, and the regulations needed to sustain fishing and hunting in Maryland. Changes in regulations, dates, and requirements vary year-to-year. Please check with DNR frequently for the most up-to-date information.