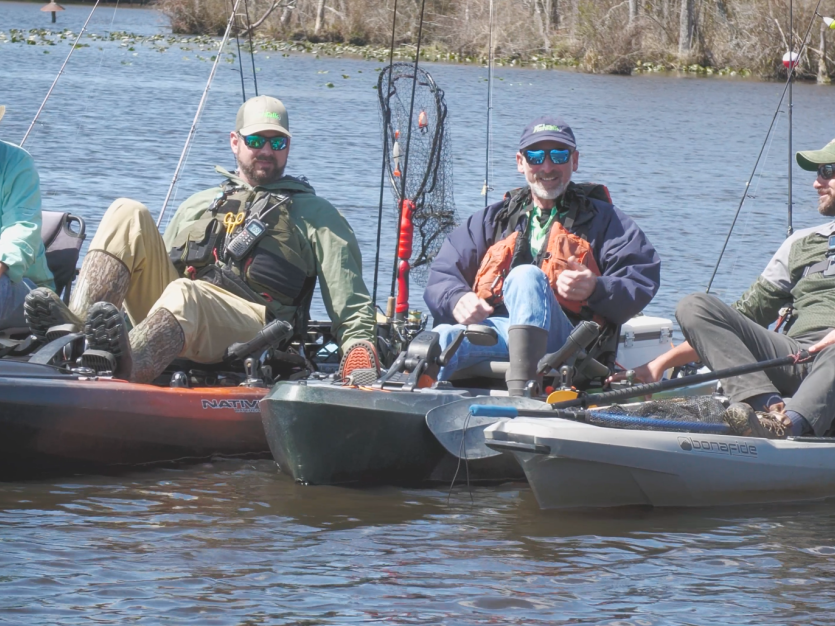 Gone Fishing on the Eastern Shore
Maryland provides excellent fishing opportunities for anyone who wants to get out there and explore. The FHMD team decided to show you just how easy it is by taking a road trip to three key fishing destinations in Maryland; the mountains, the Eastern Shore, and the coast. And since a road trip is even more fun with friends, Ben and Paul of FHMD invited Lenny Rudow and Zach Ditmars with FishTalk Magazine to come along.
Scroll down to view the video of the first part of this road trip series as we head to the Eastern Shore for some Snakehead fishing.
As part of this road series, Lenny Rudow and FishTalk covered the trip with a featured article. Read a snippet of it below with a link to the full feature.
For those traveling to Snakehead country, Cambridge, MD is ground zero. From here your located close to Blackwater River system and the Transquaking, the Chickamacomico, and all the associated tributary area waterways - all of which are jam-packed with snakehead. You can hire a guide like Butch, bring your own small watercraft, or you can see got one of the kayak rentals available in the area if you want to head out ISO snakes on your own. Plenty of shoreline fishing opportunities exist, too, but know that on sunny weekend days public access shoreline spots can get very crowded. Visit the Maryland DNR public angler access map via the DNR website for information on shoreline access, location, boat ramps, and soft launches.
During our Snakehead escape, we stayed at the Cambridge Hyatt Regency Chesapeake Bay Golf Resort, Spa, and Marina, a premier resort with 342 acres on the Choptank river. This place is utterly magnificent and has multiple restaurants, provisions on site, and plenty of activities so anglers and their family can keep busy during the stay.
To continue reading the FishTalk article click here.
About Snakehead
While the northern snakehead is an invasive species to Maryland's waters, it has become popular among sport fishermen. These little-known fish come from Asia, and have quickly gained a reputation for having an aggressive nature and tasty white meat. However, its appetite has created a big environmental problem throughout Maryland and the United States since the fish devours most any living creature in the water, leaving little for other species. For this reason, there is an open season on snakehead. Anglers are encouraged to catch and remove them from Maryland's waterways.  As a fun, delicious fish to go after - and a population that needs to be controlled - snakehead are a great fish to chase in Maryland.
Catching Snakehead
Fish of the family Channidae are commonly referred to as snakehead and consist of two genera (Channa and Parachanna) and approximately 21 species. Eighteen species from the genera Channa are native to Asia while three species from the genera Parachanna are found in tropical Africa. Snakehead are freshwater fish, but a few may tolerate low salinity waters. Snakehead can resemble native bowfin, have well toothed jaws and palates, and breathe atmospheric air through the use of a simple labyrinth organ. The ability to breathe air allows snakehead to survive in habitats with low dissolved oxygen. They can also survive out of the water for several days if their skin remains moist. Unfortunately, northern snakehead have become firmly established in over 60 river miles of the Potomac River.
The U.S. Fish and Wildlife Service, together with its partners, continues to conduct research to assess impacts on the ecosystem and effects of the snakehead introduction on fish populations. Research conducted in the Potomac River includes electrofishing surveys to determine distribution and feeding habits, telemetry tagging to assess daily and seasonal behavior, and angler surveys to determine effects of the growing snakehead population on recreational fishing. The Virginia Department of Game and Inland Fisheries, Maryland Department of Natural Resources, D.C. Fisheries and Wildlife, and The U.S. Fish and Wildlife Service have placed reward tags on snakehead to estimate the size of the population in the Potomac River and learn more about how they are moving in the river and its tributaries. Learning about the biology and behavior of this fish will help biologists determine more efficient methods of removal and control.
Opportunity
One of the most unique fishing experiences in Maryland is the chance to go bow-fishing for snakehead. With a line tied to the end of an arrow, anglers can essentially harpoon the fish from a boat. Guides specializing in bow-fishing are available, taking you to some of the best fishing spots in the state. Not only are they experienced, but you are not required to have your bow license when fishing with a licensed guide. Those going bow fishing on their own are required to have their bow hunting license.
If you plan to bring your own boat, there are a great deal of access points across the state where a boat can easily be dropped and snakehead can be reeled in. Snakehead can be found in nearly 60 of Maryland's rivers and tidal waters, including a large population in the Potomac River.