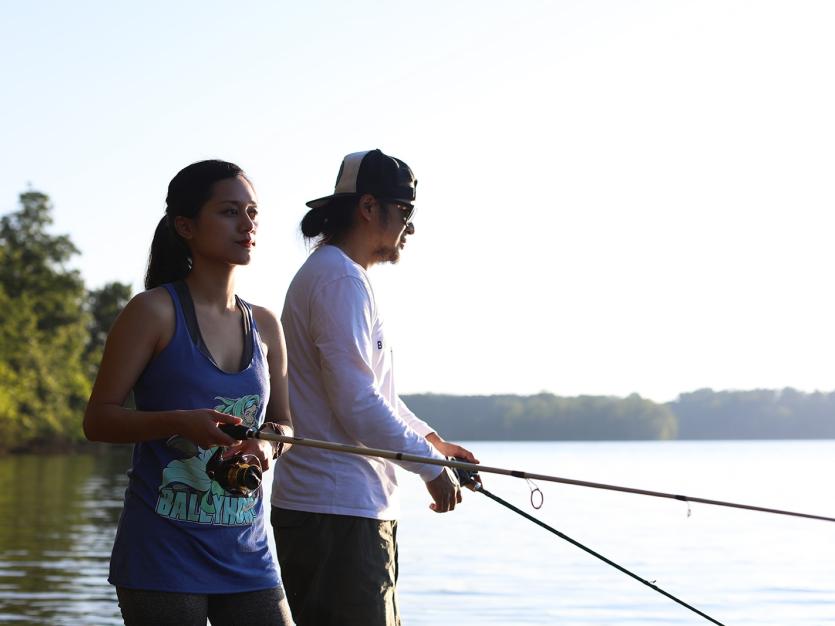 Spring Bass Fishing
From big-timers, to first-timers, everyone loves largemouth bass. Considered the most popular sportfish in the United States, largemouth bass offer a fun fishing experience no matter your skill level. Their aggressive nature makes them an easy fish to catch and a lot of fun to bring in. The popularity of largemouth bass tournaments has been growing across the country in recent years, and Maryland's reputation for significant largemouth bass has grown right along with it.
From the brackish waters (a mix of salt and freshwater) of the Chesapeake Bay's tributary systems, to freshwater systems that riddle the state, these popular fish can be found all across Maryland. With easy access to fishing spots by land and boat access points, Maryland makes it easy for the serious angler and the first-timer to find a largemouth bass worth talking about.
Fishing for Largemouth Bass
Largemouth bass can be recognized by the lower jaw which extends past the back edge of the eye. It is dark green on its top quarters, with silvery sides and belly. A dark stripe runs across its body. Originally from the Great Lakes and Mississippi River basins, the species is now found throughout North America and the world. They like large, slow moving rivers or streams with soft bottoms, and they especially like clear water. They are excellent fighters when caught on light spinning tackle. Largemouth bass have been known to reach a weight of more than 20 pounds.
Seasons
Largemouth bass season is open throughout the year, giving die-hard anglers the chance to hone their skills year round. However, a closure period goes into effect at the end of winter, lasting approximately one and a half months, in which catch-and-release ONLY is permitted.
Opportunity
Largemouth bass are found in all waters of Maryland from freshwater to brackish. Whether you're bringing the kids on their first fishing trip, or taking a weekend with friends, there are plenty of options to choose from. If checking out the best Maryland has to offer appeals to you, hiring a guide is the way to go. Without buying your own license, you can fish all day next to an experienced guide that knows the waters and where the bass are, ensuring that you get the most out of your trip to Maryland.
If you plan to bring your own boat, there are a great deal of access points across the state where a boat can easily be dropped. Deep Creek Lake State Park in Swanton, and all throughout Frederick County are great streamside spots for largemouth bass. Just about every freshwater lake, pond, or river is home to this fun species of fish. 
The best rivers to catch legal largemouth bass (greater than 12 inches) are the Northeast River, Susquehanna River, and the Potomac River. Of these rivers, the upper Chesapeake Bay rivers, Northeast and Susquehanna rivers, have the largest population of legal adults.
Extend your fishing trip and enjoy the outdoors. ​
Tucked away on the lower Eastern Shore is Pocomoke River State Park. This park is well known for the cypress swamps that border the Pocomoke River. Originating in the Great Cypress Swamp in Delaware, it flows southwesterly 45 miles to the Chesapeake Bay. The park provides a base for a vast array of outdoor activities ranging from fishing, biking, birding, boating, hiking, and more. Amenities at the park include camping, cabins, boat launch, picnic areas, playgrounds, picnic shelters, and a swimming pool. 
With one of the most varied landscapes in the country, Maryland provides the best cabins & camping options for the entire family. The Coastal region boasts accessible history, beautiful scenery, and diverse wildlife that can make for an easy and memorable day or weekend getaway. 
Get Ready for Your Next Fishing Outing
In need of additional information, inspiration, or a preview of what Maryland has to offer? Check out Fish & Hunt Maryland's latest articles written by fellow sportsmen and women and local partners.
Be sure to acquire your license from the Maryland Department of Natural Resources if you plan on heading out on your own, charter passengers are covered by the captain's license.  
Visit our Planning Resources page for information on fishing charters and guides, lodging options, marinas, retailers, and more. And if you're up for a quick getaway, be sure to check out Visit Maryland for places to stay, dining, and things to do while you're here..