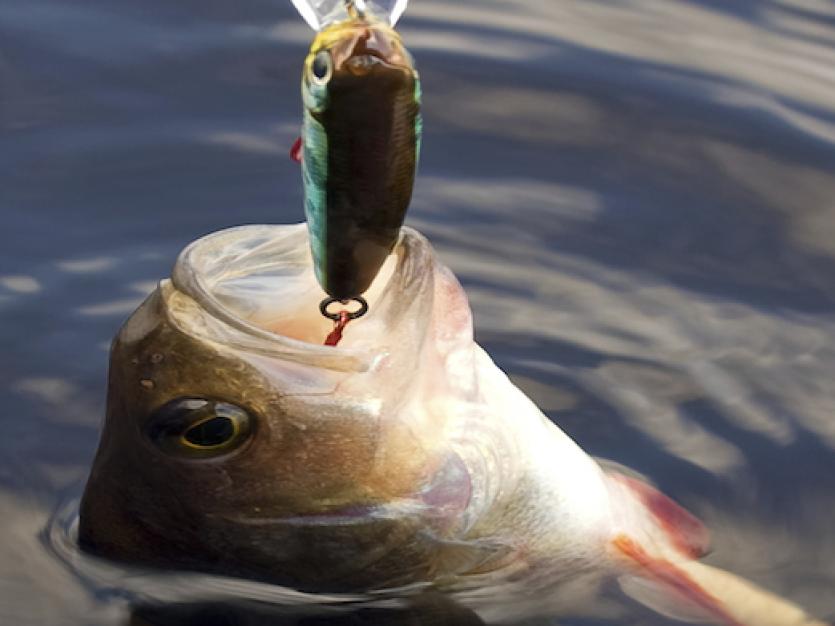 Smallmouth Bass
The smallmouth bass in Maryland offer a similar fishing experience to their largemouth cousins. They prefer fresh water, and stay mainly in rivers, reservoirs, ponds, lakes, and streams. With an abundance of fresh water systems in Maryland, these fish can be found and hooked across the state. Whether bait-fishing, fly-fishing, or using light spinning tackle, you're sure to hook a smallmouth bass in Maryland.
Fishing for Smallmouth Bass
In largemouth bass the maxillary always extends past the back edge of the eye. Smallmouth bass are typically brown, bronze, or tan in color. Smallmouth bass also have dark vertical bars which are usually green or gray in color. In the largemouth bass you would see dark lateral band. Smallmouth like cool, clear streams with moderate current, as well as large, clear lakes. Preferred habit has a gravel or rubble substrate, boulders, some shade and cover, along with deep pools for stream environments. Smallmouth bass are widespread despite not being native to Maryland waters. They were first introduced in 1834 when a B&O Railroad employee transported approximately 20 fish from the Wheeling River in West Virginia to the C&O Canal Basin in Cumberland, Maryland. Today they are found throughout the non-tidal Potomac and Susquehanna river watersheds and are common in most of our larger freshwater impoundments.
Seasons
Smallmouth bass season is open throughout the year, giving die-hard anglers the chance to hone their skills year round. However, a closure period goes into effect at the end of winter, lasting approximately one and a half months, in which catch and release ONLY is permitted. For information on seasons, sizes and limits click HERE.
Opportunity
Smallmouth bass stick to cool, clear streams with moderate currents, as well as large, clear lakes. Whether you're bringing the kids on their first fishing trip, or taking a weekend trip with friends, there are plenty of smallmouth bass fishing options here in Maryland. If checking out the best Maryland has to offer appeals to you, hiring a guide is the way to go. Without buying your own license, you can fish all day next to an experienced guide that knows the waters and where the bass are, ensuring that you get the most out of your trip to Maryland.
If you plan to bring your own boat, there are a great deal of access points across the state where a boat can easily be dropped. Beautiful Deep Creek Lake State Park in Swanton, MD is a great spot for smallmouth bass. Edgemont, Liberty, and Rocky Gorge are also great locations to hook smallmouth bass. Just about every freshwater lake, pond, or river is home to smallmouth bass. The best rivers to catch legal smallmouth bass (greater than 12 inches) are the Susquehanna and Upper Potomac Rivers.
License and Regulations
Simple, quick, and at the palm of your hand, DNR's app is the easiest way to get your Maryland fishing license. Download the app on your smartphone (MD DNR), click Apply for License, and enroll. From the app, you can also register any catches, post photos, and check for regulations updates. Or, you can apply for a license through Maryland Department of Natural Resources' website. There are a few instances where registering for a license may not be necessary; visit Maryland DNR for a full list of these exceptions. For more information on fishing without a license – and locations where licenses are not required – visit http://dnr.maryland.gov/Fisheries/Pages/Free-Fishing.aspx. Visit the Maryland Department of Natural Resources for a complete list of Maryland's Fishing Regulations.
Money generated from the sale of licenses goes directly to the conservation, protection, and preservation of Maryland's natural habitat and cherished wildlife. Maryland DNR works tirelessly to maintain a healthy population of fish and game, and the regulations needed to sustain fishing and hunting in Maryland. Changes in regulations, dates, and requirements vary year-to-year. Please check with DNR frequently for the most up-to-date information.