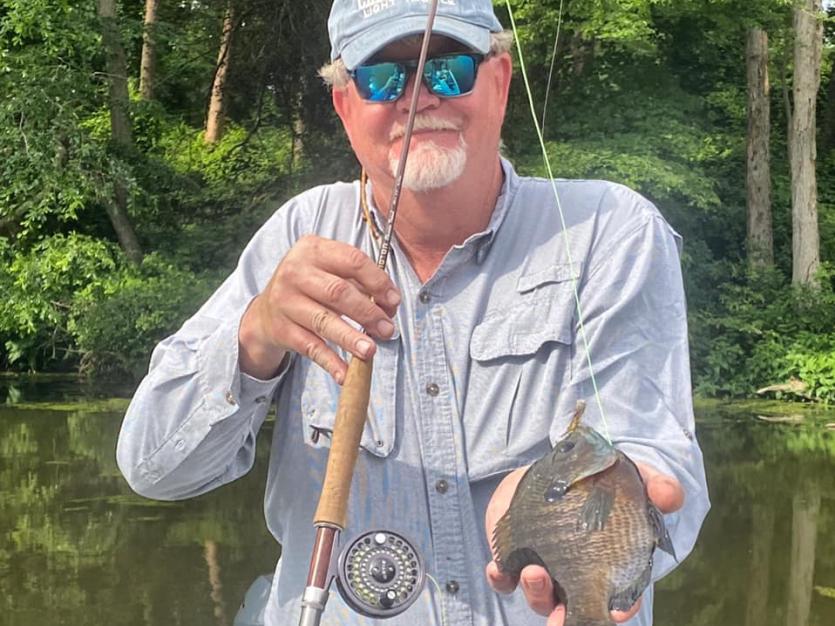 No matter what path you take in the Old-Line State, these are high times for those of us who like to cast the long rod. Whether you're hiking the Allegheny Mountains, exploring ripples in the still-water pools of the Potomac, or drifting along the tidal flats of the Eastern Shore, Maryland's diverse geography provides for many options. 
Lately I'm spending a lot more time fishing the non-tidal streams or floating the millponds in search of my favorite and most familiar species: crappie, sunfish, and perch. Affectionately called "panfish" since they're small and delicious, these species share a special place in the hearts of anglers because they're likely the first fish we caught. It might have been on a nearby riverside while dangling a redworm from a cane pole, or maybe it was casting a spinner with a closed-face spinning reel off Uncle John's dock. In my case, it was standing in the mud beside a farm pond with a grasshopper fixed to a safety-pin tied to bailing twine. There's no right or wrong way to fish. The path is for your steps alone, so use whatever technique brings you the most joy. 
For me, that's fly casting.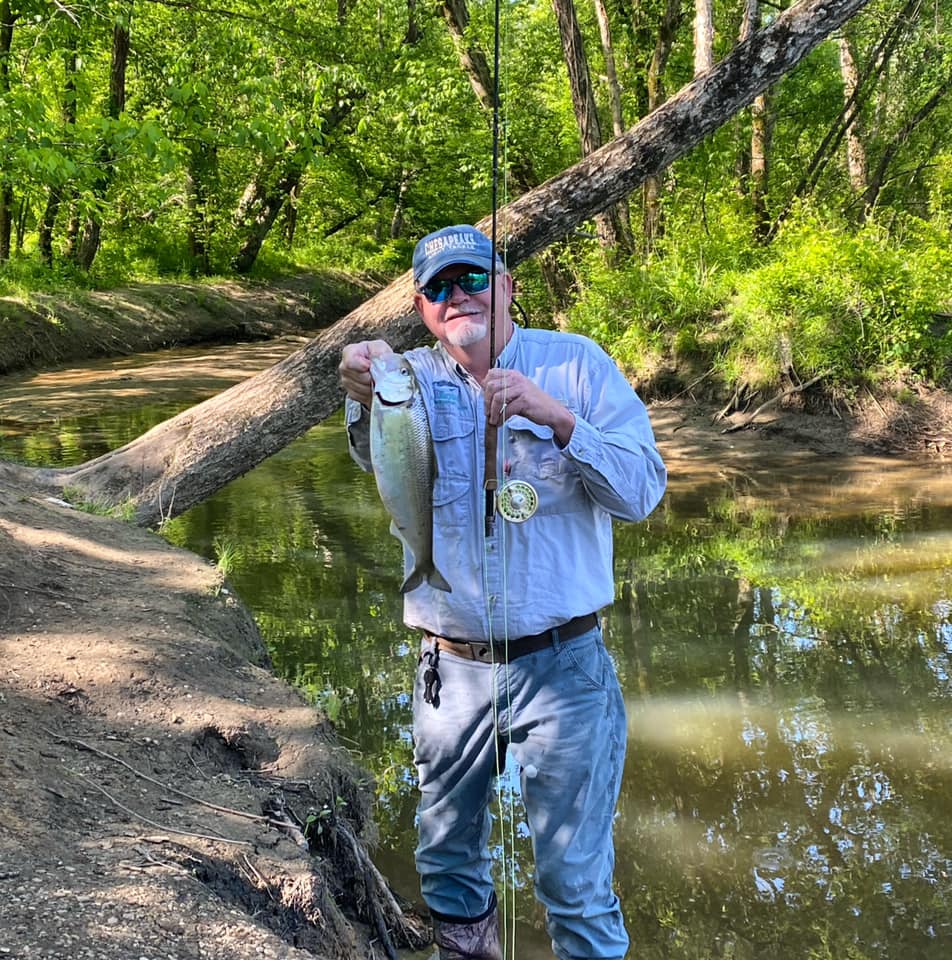 To some, fly casting is an elitist sport for snooty anglers dressed in designer vests and thousand-dollar waders. While that's occasionally true, take it from this poor country-raised Deadhead, this sport is just as suited to the pauper as to the prince. While you can certainly drop the Devil's twenty bills on fancy gear, you can easily enjoy fly-casting with a hand-me-down rod wearing cargo shorts and a tie-dyed Tt-shirt.
The great thing about panfish is that you don't have to go trucking across the state to find a good fishing spot. In fact, most of us can enjoy some good fishing within easy walking distance of our homes. Think for a minute about the possibility of crappie in the runoff pond behind the shopping mall or green sunfish in the drainage ditch near the grocery store. You don't know if you don't go. It's been my experience that the least obvious fishing spots can hold the most fish.
Let's talk about gear. First, the rod: I like a 3- or 4-weight that is between 7- and 8-feet long. Any shorter than that and you'll lose casting distance, any longer and you'll find trouble ahead and trouble behind when fishing in heavy cover. Fly rods, like all fishing rods, come in different speeds and actions. If you're just starting out, you'll want a rod with some flex to it because they're easier to cast. Inexpensive fiberglass rods have returned to popularity because they're not only flexible, but they're also very durable. Pair your rod with a reel of similar size. It doesn't matter if you use a small or large arbor reel as long as it isn't too heavy.
Spool your reel with a floating line in a color that's easy to see. The cheapest fly lines can be abrasive and cut your hands, so it's worth it to invest a little more in a quality line. The kind of backing isn't important because it's unlikely you'll ever get down to it. You won't need expensive leaders or tippets either. You can buy a 3X tapered leader, but my strategy is to tie on a 4-foot section of 10-pound-test monofilament, then tip that with a 2 foot section of 4-pound-test mono tied to the fly.
When it comes to flies, panfish aren't picky. In the winter and spring, I've found that subsurface lures like bead-head nymphs or imitation minnow-style streamers work great. Use bright colors in murky water and dark colors when it's clear. Another trick for this time of year is to use a 1/32nd or 1/64th oz feather jig under an indicator (bobber). Either way, just cast out and strip it along with very short snaps. Watch your line or float for strikes, because you will see them before you feel them.
Sunfish love insects like old hippies love peaches in the summertime. You can count on big bream hanging out under the trees waiting for grasshoppers, spiders, and other bugs to fall in. Use foam poppers or water spider imitations. I like the ones with dangling rubber legs because they have more action. Be alert for any other bugs you might see flying around and try to match the hatch when you can. Think small, because most panfish have little mouths. There's no reason to light out for the fly shop though, because you will get by with pretty much any insect imitation for sunfish.
I look for yellow perch in February and March, white perch and crappie in March and April, and sunfish the rest of the year. Of course, shad and chain pickerel are frequently in the mix. They aren't technically panfish, but we fish for them with the same techniques.
One more tip: Spend some time reading up on the different species of sunfish and perch you might encounter. There are at least a dozen species in Maryland and it's fun to name them when you pull them out of the water. My book, How to Catch Chesapeake Panfish, has a chapter on identification with descriptions and color pictures to help you out. The book also has a lot more info on techniques and locations.
The longer I live and the more I fish, the more I long for simplicity. To me, fly-fishing for panfish, just like listening to good music, is therapy. It's a welcome counter to the competitive and fast-paced world of striper and bass fishing. So, with my apologies to Jerry Garcia and a salute to Deadheads everywhere, I want to say that, whether it's on a black muddy river or some clear crippled creek, I am grateful for the times when I can cast for hours in the glow of the golden sunshine and listen as the sweet songs of nature fill the air. Once you make that perfect cast and see the ripples on the still water as the fish rises to your lure, there's nothing left to do but smile, smile, smile.  
Before you head out for your next day on the water in Maryland, be sure to visit the Maryland Department of Natural Resources for information on licenses and regulations and if you want to make an adventure of it, head to the Planning Resources section of FishandHuntMaryland.com for lodging options, guides, outfitters, and more.