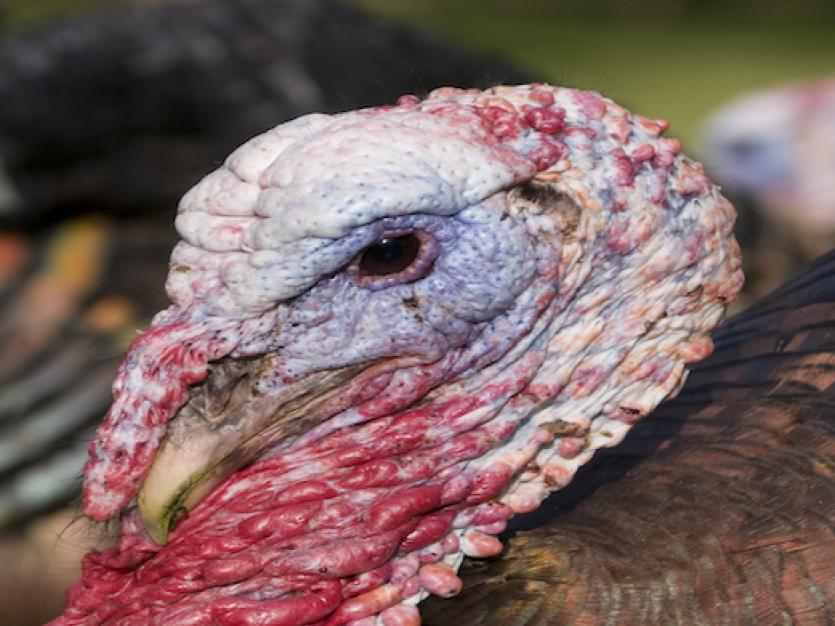 Turkey
Avid and novice sportsmen enjoy hunting Maryland's abundant wild turkey populations. Whether taking the kids on their first turkey hunt, or heading out with hunting buddies for the weekend, Maryland's turkey hunting opportunities stretch across the state. With seasons throughout most of the year, and statewide private and public land open to hunters, Maryland is a great choice to bag a turkey for any occasion.
Turkey Hunting
In 2013, a record Spring Gobbler harvest of 3,334 birds was taken and the 2014 harvest yielded only 19 birds less than the record. The 10-year average for Spring Gobbler Season is just under 3,000 birds. Western Maryland counties are the most productive, but counties in Southern Maryland and the Eastern Shore all hold healthy stocks of wild birds. Of the five distinct subspecies in North America, only the Eastern wild turkey resides in Maryland. Wild turkeys are dark brown to black in color with many feathers that are iridescent, exhibiting a metallic green and bronze color. Male turkeys are called gobblers and average around 18-22 lbs. During breeding season, their heads turn various shades of red, white, and blue. Female turkeys (called hens) are about half the size of gobblers, their plumage is duller, and they lack the bright head colors. Adult gobblers have spurs, a sharp, bony spike on the back of each of their legs. They also have a rough, black beard that protrudes from its breast. The beard can grow up to 12 inches long. Hens do not have spurs and usually do not have a beard, although bearded hens are not exceptionally rare.
Seasons
Maryland's vast public lands offer great turkey hunting opportunities. Grab your gear and head out on your own, or hook up with a guide on private lands to show you the local turkey hangouts.
For information on seasons, sizes and limits click HERE.
Opportunity
With fall, winter, and spring seasons, along with Junior Hunt days in April, there's plenty of time to head to Maryland for a great turkey hunt with friends and family. Western Maryland also has a long-standing either-sex Fall Turkey Season. Limited to the three western counties of Garrett, Allegany, and Washington, the season usually occurs during the first week of November and runs for only one week. Start planning your turkey hunt in Maryland by visiting the Maryland Department of Natural Resources' website for a  full list of seasons.
License and Regulations
Simple, quick, and at the palm of your hand, DNR's app is the easiest way for both residents and non-residents to get a Maryland hunting license. Download the app on your smartphone (MD DNR), click Apply for License, and enroll. From the app, you can also register any kills, post photos, and check for regulations updates. Or, you can apply for a license through Maryland Department of Natural Resources' website. A Regular Hunting License, Junior Hunting License, any Senior Hunting License, or a Nonresident (full term or short term) Hunting License is required to hunt migratory game birds in Maryland.
All migratory game bird hunters, including those who are exempt from the hunting license requirement, must purchase a Maryland Migratory Game Bird Stamp. In addition, all waterfowl and coot hunters over the age of 15, including those who are exempt from the hunting license requirement, must purchase a Federal Migratory Bird Hunting and Conservation Stamp. For information on Licenses, Stamps, & Permits including descriptions, prices, and availability click HERE. Visit the Maryland Department of Natural Resources' website for a complete list of seasons and bag limits.
Money generated from the sale of licenses goes directly to the conservation, protection, and preservation of Maryland's natural habitat and cherished wildlife. Maryland DNR works tirelessly to maintain a healthy population of fish and game, and the regulations needed to sustain fishing and hunting in Maryland. Changes in regulations, dates, and requirements vary year-to-year. Please check with DNR frequently for the most up-to-date information.