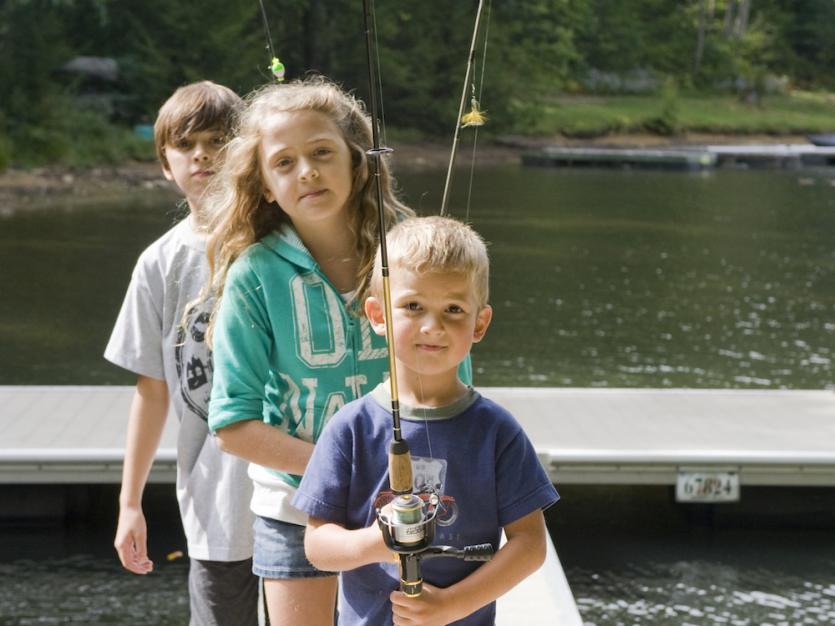 Disconnect and Take the Family Fishing
Leave the cellphones, computers, video games, and work load behind. There's no better place to unplug and enjoy some quality time with the family than right here in Maryland. Show the kids the wonders of nature while teaching them how to bait a hook and reel in Maryland's prized large or smallmouth bass. Pop a tent in one of our many campgrounds and spend your time in Maryland chasing world-class trout. There's nothing like rounding up the whole family and spending some time together in the great outdoors.
One of the best family fishing experiences in Maryland can be found at Deep Creek Lake in western Maryland. Get set up in a lakeside cabin fishing for pike, bass, and perch by day, and cooking marshmallows over an open fire at night. With plenty of rentals and enough room for the whole family, Deep Creek offers many great family fishing experiences surrounded by western Maryland's mountainous terrain. If roughing it is more your style, there are campgrounds spread throughout the state with easy access to rivers, reservoirs, ponds, and lakes.
Plan Your Next Experience
Maryland offers a variety of sportsmen family experiences from species to locations. Even though Deep Creek Lake and its rentals are a great location in Maryland for the family, there are plenty of other options and experiences to choose from. Check out our Where to Go section that highlights each of our counties. Or, if you want to let the species determine your location, use our Local Species section to help plan your trip. For anyone interested in visiting Maryland for a family fishing excursion, we highly recommend connecting with one of our local Hunting Guides & Outfitters. A Maryland guide will help you develop a complete itinerary, access private and public lands, and answer any questions you may have regarding licenses, regulations, and seasons. Also, we suggest visiting Maryland DNR's website for current and accurate information on all hunting logistics and regulations.
Starting planning now.  Or, if you need a little more inspiration, check out our latest articles written by fellow sportsmen and local partners.
Get A License
Purchasing a license is more convenient than ever before. Maryland DNR provides the following quick and easy ways for you to obtain your licenses and registrations.