Crappie
Often called "panfish" because their body shape resembles a skillet pan used to cook the filet, Crappie are a popular game fish and are known to be some of the best-tasting freshwater fish. Typically ranging between 4 and 6 inches, they are widely distributed across the U.S. And Maryland's many freshwater ponds and streams provide ideal habitats for both white and black crappie.
Black Crappie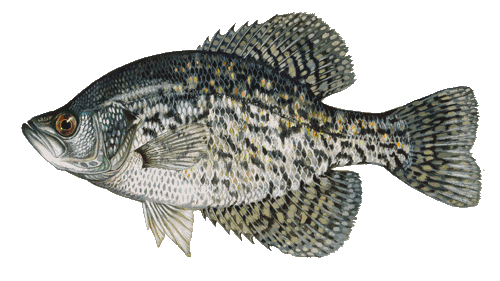 Distinguished by their broad, compressed body mottled with dark spots, black crappie also have large eyes, rounded back (dorsal) and belly (anal) fins. Many of Maryland's tidal systems such as the Upper Choptank, Nanticoke, Marsheyhope Creek, Wicomico, Blackwater, and the Pocomoke have historically yielded both healthy size and numbers of black crappies on the Eastern Shore.
White Crappie
White crappies are marked by vertical bars, rather than the irregular spots of black crappie. They also have fewer dorsal spines and are longer. They like both clear and murky spots, and often swim in open waters.
Seasons
Crappie season is open year-round. Many small tributaries to the Chesapeake Bay in Maryland as well as the creeks, marina docks and backwaters of the Potomac River can yield bountiful catches during late March and well into April. Crappies are also popular with ice anglers, as they are active in winter.
Opportunity
The tidal river systems on both Maryland's Eastern and Western Shores boast healthy crappie populations. Their diverse diet means there are lots of ways to catch them. Some common techniques include casting light jigs, trolling with minnows or soft lures, using small spinnerbaits, or using bobbers with common hookbaits. Found in swamps, ponds, lakes, reservoirs and slack water, they can often be caught in aquatic vegetation, fallen trees, or clear backwaters of rivers. Trees that are sunk in reservoirs—including at Piney Run, Liberty, Loch Raven, and Prettyboy Reservoirs—can help attract crappies.
License and Regulations
Simple, quick, and at the palm of your hand, DNR's app is the easiest way to get your Maryland fishing license. Download the app on your smartphone (MD DNR), click Apply for License, and enroll. From the app, you can also register any catches, post photos, and check for regulations updates. Or, you can apply for a license through Maryland Department of Natural Resources' website. There are a few instances where registering for a license may not be necessary; visit Maryland DNR for a full list of these exceptions. For more information on fishing without a license – and locations where licenses are not required – visit http://dnr.maryland.gov/Fisheries/Pages/Free-Fishing.aspx. Visit the Maryland Department of Natural Resources for a complete list of Maryland's Fishing Regulations.
Money generated from the sale of licenses goes directly to the conservation, protection, and preservation of Maryland's natural habitat and cherished wildlife. Maryland DNR works tirelessly to maintain a healthy population of fish and game, and the regulations needed to sustain fishing and hunting in Maryland. Changes in regulations, dates, and requirements vary year-to-year. Please check with DNR frequently for the most up-to-date information.