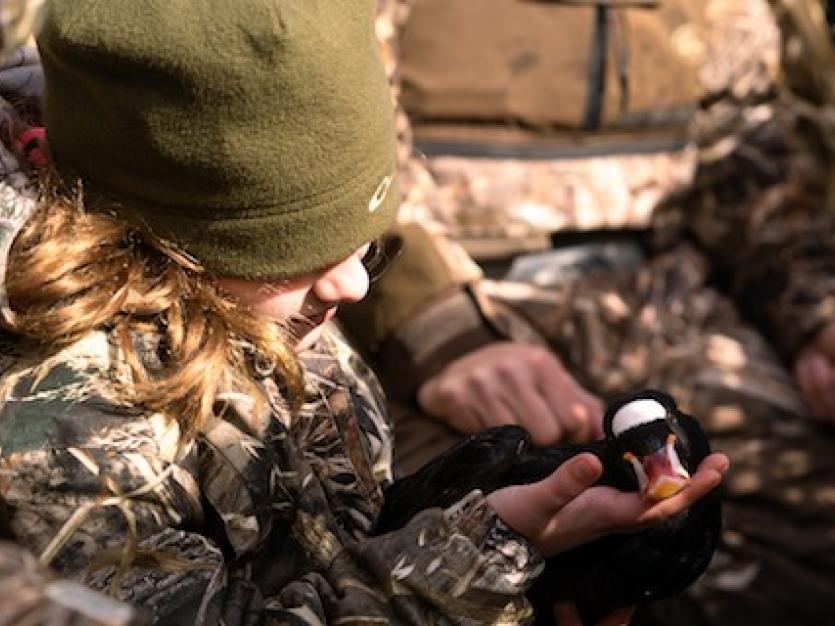 Waterfowling Recap
With the season just ending, it's crazy to think how fast it seems to go by when it feels like it takes forever to get here. We had high hopes going into the 2020-21 hunting season and waterfowl was top of the list. The planning and preparations started early and we wanted to make sure we were ready. With many goals on the list this season the anticipation was high.
We decided early in the year that we wanted to try something new and looked to test our luck in Talbot County for some teal during the early September season, so we planned a trip to scout public land late last summer. This would be my first full season with a boat that I purchased from a friend last year so I was excited to explore some new opportunities.  
The main goal of the scouting trip was to find our way through the marsh to a few holes that we had picked out on the map and test the boat out on low tide to make notes of what we could get into and what we could not. The last thing we wanted was to be stuck in the marsh when the tide rolls out. My boat is small enough to get in some low water but it is not a mud boat and it is important to know your limits. 
The scouting trip was a success and with several locations saved, we looked forward to coming back in a few weeks for the opener. We were able to squeeze in a few trips during the September season and managed to knock down a few green and blue wing teal for the first time! 
   With the first split to the regular duck season coming up next we looked forward to chasing some of our favorite ducks, the Wood duck. The last few seasons we have started the first split at the Blackwater National Wildlife Refuge in Dorchester County, on the eastern shore and this year would be the same. We made a few scouting trips and finally just days before the opener we found a good group and figured we had a solid plan. 
Over the years, one thing that I have learned is how important scouting is, whether it's deer, turkey or ducks it's invaluable to know current information as many things can change from year to year and with limited time to hunt, the last thing you want to do is waste time in the wrong spot. 
Opening morning arrived and we got to our spot early, hoping the hole we had in mind would be available, we managed third pick and as luck would have it we got our spot.  It just happened to be one of our best hunts of the year. We had good action all morning, just when we started to call it quits and pick up, a pair buzzed us and my friend knocked down our final Woody for our Wood duck limit. With the early foliage and flooded timber, it makes it super tough to find birds at times but without a dog, we found every duck we knocked down. Although the first split is short, we managed a couple hunts and we could not have asked for a better start!
   Things changed a lot in the few weeks between the first and second split, it seemed like it wouldn't stop raining and this made it tough with water everywhere that seemed to spread what birds were around out. We jumped back and forth from public lands and a few pieces of private with mixed results. We did have some good hunts bagging some mallards, a few black ducks and the last couple of woodies we would see for the year. The weather did not seem to help us much with mild temperatures much like last year and that trend would continue unfortunately into the final split.  
  With the mild weather our hopes of some good diver hunting was not looking good so we pushed on after puddle ducks. We managed a few good hunts to start the third split seeing decent numbers of black ducks on the public marsh and our neighboring private spot so we did our best to take advantage of what birds were around. 
One of our main goals of the season was to try to get on some divers late season with hopes to get our first canvasbacks, but mother nature wasn't making it easy. With the final two weeks of the season upon us, we made the decision we would target divers for the remainder of the season with hopes birds would start to show up. The next trip out we finally started to see more action and with increasing numbers of redheads, some blue bills and a few decent groups of cans. The morning started slowly and with increasing winds it made it tough in the boat but the cove we hunted protected us enough to manage and late morning the action picked up. 
The first duck to present a shot was a Ruddy duck. We had finally broken the ice and had a bird in the boat. Not long after, a nice group of Redheads gave the decoys several looks and finally decided to drop in and we knocked down a few. Things were starting to look up, little did we know the best was yet to come. The next group to our surprise was a small group of cans that gave us one look and circled back right into the spread and just like that we knocked down our first canvasbacks! We ended the day with a limit of redheads, a few cans, bluebill and Ruddy duck. 
The last day came fast and didn't start out so great with us taking a chance on an impoundment that wound up being mostly frozen. I made a call with hope to get on some open water and it just so happened to work out. We hunted the shoreline for the afternoon and it was down to the final hour until we got our first shots and finished the day one short of our 3-man redhead limit, my first Oldsquaw and a Bufflehead. Of course, the colder weather we'd hoped for did not show up until the last week or so of the season but we made the best of it and managed a few firsts to end the season.
   With the regular season coming to an end comes one of my favorite hunts of the year, the late youth hunt to finish waterfowl season. I have been getting my nephew out the last few years and this would be my daughter's first actual hunt with a gun in hand. I decided to get her a .410 for Christmas with the intentions to chase turkeys, but we would give it a try for ducks. I have always wanted to give her time to make the decision on her own whether she wanted to hunt or not and I was excited when she made her Christmas list this year that included a "shotgun for hunting", I just smiled. 
The plan going into the weekend was to go after divers considering we were seeing more birds show up on the bay the last week. The hope was to have something decoy and have her get a shot and my nephew would follow up. We had a great time but unfortunately, the wind was not the best for the location I have to hunt. The bird activity was great but they just did not want to commit to the decoys, both kids did get a few opportunities and my nephew knocked down a lone surf scoter. 
The most important part was we got the kids out of the house and engaged in the outdoors, had many laughs and made some memories. As I get older, the more important it is to me to get the kids involved, there are many great lessons they can learn through hunting that they can carry into everyday life. They are the future of our sport and it is up to us to introduce and teach them. 
   It is always bitter sweet when you are cleaning the guns, boat and packing the decoys away for the final time but it is always nice to look back on all the memories made with family and friends. Every season has its challenges but that is part of it, every minute spent in the outdoors is a blessing.
To start planning your next hunt on the Eastern Shore, head to the Plan Your Trip Section of our site to find lodging, guides and outfitters, outdoor retailers, and shooting ranges. And if you're up for a quick getaway, explore our Open Road Itineraries built for you by Maryland's Office of Tourism. Be sure to visit Maryland Department of Natural Resources online or via the app for more information on seasons and regulations before heading out!
Get A License
Purchasing a license is more convenient than ever before. Maryland DNR provides the following quick and easy ways for you to obtain your licenses and registrations.