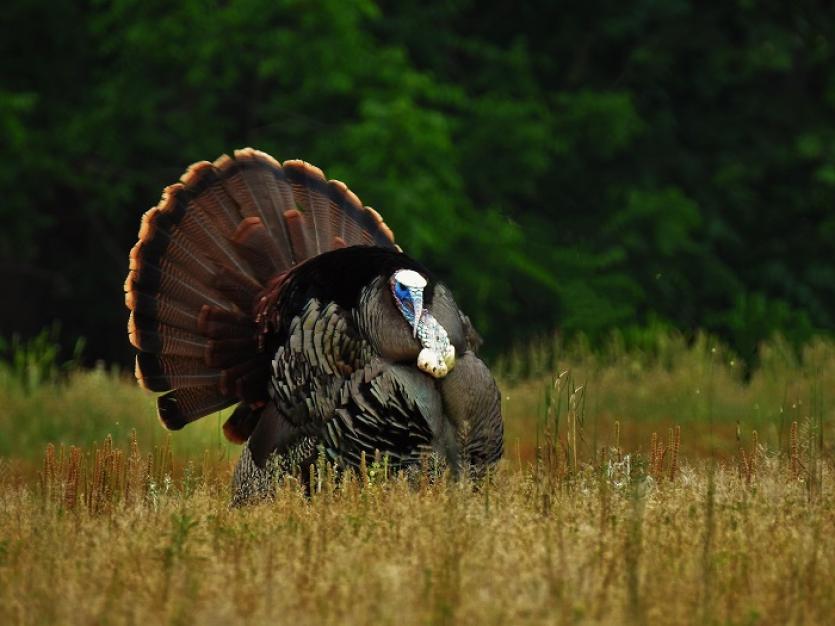 Turkey Hunting In Maryland
Spring is here! Birds are chirping, owls are hooting from dawn to dusk, and best of all: wild turkeys are gobbling. With the season just a few days away, here are a few tips from Fish & Hunt Maryland that just might get you that gobbling Tom.
Must Know: 
The season runs from April 19-May 24, and Youth DaysDay's are  April 17th, statewide and Sunday, April 18 in select counties.
The bag limit is one bearded turkey per day and 2 bearded turkey per season.
Written permission is required when hunting on private property unless the owner or lessee is in the hunting party.  
The state provides thousands of acres of public land that are located in all counties that can be used for hunting, fishing, camping, and other outdoor activities. Click here to learn more about Maryland's public lands,  season dates, bag limits, check-in requirements and other regulations.  
Safety: 
Like any hunting or fishing activity safety is first. It's the most important thing when hunting turkeys. Never travel or cross roads with a loaded gun. One factor that makes turkey hunting such a fun sport is the response and interaction to your calls and decoys, but it can be all ruined with one careless or unsafe act. Be 100% sure that you're pursuing turkeys and not another hunter. So have fun but most importantly be safe.
Locating Birds and Setting Up: 
Remember turkeys roost in the trees giving them an advantage to you on the ground in the early darkness of the morning. Try to get set up roughly two to three hundred yards away from where you might think the turkey is located. If you're unsure look for likely areas that they might travel to feed or to strut such as food plots, green fields and other open feeding areas like big hard woods. Hens often congregate in these areas, and toms know it. Toms will also display for hens on old logging roads or a flat-topped ridge where they feel comfortable. These areas can be good areas to set up and call.  If hunting open areas, sometimes decoys can be used effectively. A frequent mistake made by hunters is placing decoys in a direct line with the direction the turkeys are approaching. This puts you in their direct line of sight. Instead, try to make a triangle by placing yourself at one corner, your decoys at another point and the direction of the birds at the last point.  For safety, never hide directly behind decoys or use them to stalk closer to birds.  Keep decoys out-of-sight until you are at a safe location with good visibility.
Two Highlighted Places to Hunt:
Pocomoke State Forest hosts large areas of loblolly pine, mixed pine-hardwood, bottomland hardwood, bald-cypress forests, and cypress swamps that border the Potomac. The property also has tributaries and several marshes. With six trails containing various tracts and loops, it is easy for the family to enjoy a variety of recreational activities. Fishing and canoeing along the river, and hiking and mountain biking, are a must.
Billmeyer Wildlife Management Area is situated within the Ridge and Valley Physiographic Province, which is characterized by steep slopes. Elevations range from 800 feet in the hollow along Terrapin Run to a high of 1,200 feet along the ridge tops. The property is dominated by mixed oak forest with a few patches of conifers, mostly Virginia pine, with about 25 acres in fields or small wildlife openings. Turkeys are abundant here.
Gear:
While you can wear pretty much whatever camouflage pattern you choose, we recommend covering as much of your body as possible. Gloves, turkey hunting vest with lots of pockets, a hat with a brim to hide your eyes, a mask, and maybe some face paint.
On TV, you often see hunters use a crow call, an owl call, and a coyote call for locating birds. They also use a box call, a friction call, and a mouth call. Truth is you really only need one locator call and one hen call. 
Get Out There:
Ready to try your hand at turkey hunting? Be sure to visit the Maryland Department of Natural Resources' website for information on rules/regulations and licenses. For information on lodging options, hunting guides and outfitters, outdoor retailers and shooting ranges, visit the Planning Resources section on our website. And if you're up for a quick getaway, be sure to check out Visit Maryland's deals page featuring Spring deals and packages.
Get A License
Purchasing a license is more convenient than ever before. Maryland DNR provides the following quick and easy ways for you to obtain your licenses and registrations.