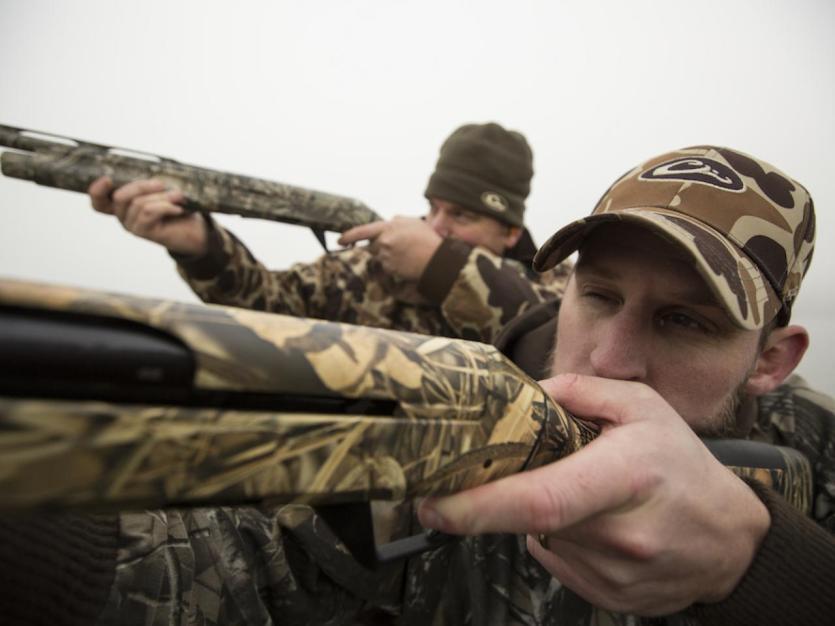 Tips and Tactics for Waterfowling in Maryland.
Maryland's history and tradition of waterfowl hunting is as rich as any in the world. Presidents and kings have been drawn to duck hunting on the Chesapeake Bay for centuries. When English Captain John Smith first discovered the Chesapeake Bay, he remarked that "heaven and earth have never framed a better habitat for mankind." These immortal words will resonate with any sportsman who sees the Chesapeake Bay for the first time.
Join Us 
Non-resident hunters are encouraged to take advantage of Maryland's abundant public land waterfowl hunting opportunities. They may also hunt the open waters of the Offshore Waterfowl Hunting and Special Sea Duck Zones if they are accompanied by a Maryland resident. To comply with this stipulation, enlisting a guide will help you make the most of some of the best duck hunting opportunities on the East Coast.  Check out these videos to see what it's like to duck hunt in Maryland and then continue reading below to learn more about the types of ducks you'll find here and a few tips on how to have your best hunt.
Dabbling Ducks 
Habitat
Dabbling ducks or puddle ducks are geared for shallow water feeding, so they flock to marshes, swamps, lake shorelines, river backwaters, temporary wetlands and similar areas. Puddlers, especially mallards, pintails and black ducks, may feed in harvested agricultural fields, however they are typically hunted over ponds, impoundments, or in brackish tidal waterways. Habitat preferences change with availability, too. Ducks that belong in this family are often found with geese or in the same habitat. 
Tactics
Dabbling ducks are typically birds of fresh, shallow marshes and rivers rather than large lakes and bays. They are good divers, but usually feed by dabbling or tipping rather than submerging. Dabbler ducks sit high on the water, feeding on aquatic vegetation and small invertebrates on or near the surface. Coves and creeks tend to be good places to hunt for dabbling ducks. Limiting decoys to no more than two dozen typically delivers good results.
Diving Ducks
Habitat
Unlike dabbling ducks, diving ducks cannot leap into the air. They need almost a "runway" to take flight. During migrations, they congregate in large flocks on lakes, rivers and most importantly the Chesapeake Bay. Divers like submerged aquatic vegetation clams, oysters and small fish. They are often found in waters deeper than 10-feet.
Tactics
To attract diving ducks, hunters should set two or more longlines, each strung with scaup and canvasback decoys; redheads and even sea ducks can also be used. Run these lines fairly close to each other so the decoys look like a solid raft of ducks. You can also try and leave a little slack in the lines so they sag downwind slightly in the middle, giving a more natural presentation.
Layout boats give hunters the ability to conceal themselves in open water while maintaining a close position. This is a sport with a long history dating back to market hunters and boat-mounted punt guns. The main point of the layout boat is to put the hunter very close to the decoys, or even among them for additional concealment. This can make for dramatic hunting scenarios where a decoying bird comes extremely close to the hunter and boat.
Book Today
Licensed guides have access to a range of the best duck hunting opportunities in Maryland. Without their accompaniment, non-resident and novice hunters can have a difficult time getting the most out of a duck hunt. With the help of a guide, you can go body-booting* on the famed Susquehanna Flats for canvasbacks, hunt in offshore blinds, call in flocks of mallards and black ducks while bunkered down in flooded impoundments, or organize a specialized hunt that won't soon be forgotten. 
Plan your trip
Be sure to visit the Maryland Department of Natural Resources' website for information on rules/regulations, licenses, and public land opportunities before heading out to hunt. For information on lodging options, hunting guides and outfitters, outdoor retailers and shooting ranges, visit the Resources Section on our website. And if you're up for a quick getaway, be sure to check out Visit Maryland for information on museum exhibits on Maryland's waterfowling history and heritage, including the Upper Bay Museum in North East, the Ward Museum of Waterfowl Art in Salisbury, the Havre de Grace Decoy Museum and the J. Millard Tawes Museum in Crisfield. 
*Body Booting:  involves wearing a pair of chest waders or a diving suit and hunkering down among a large spread of decoys in knee-to-chest-deep water.