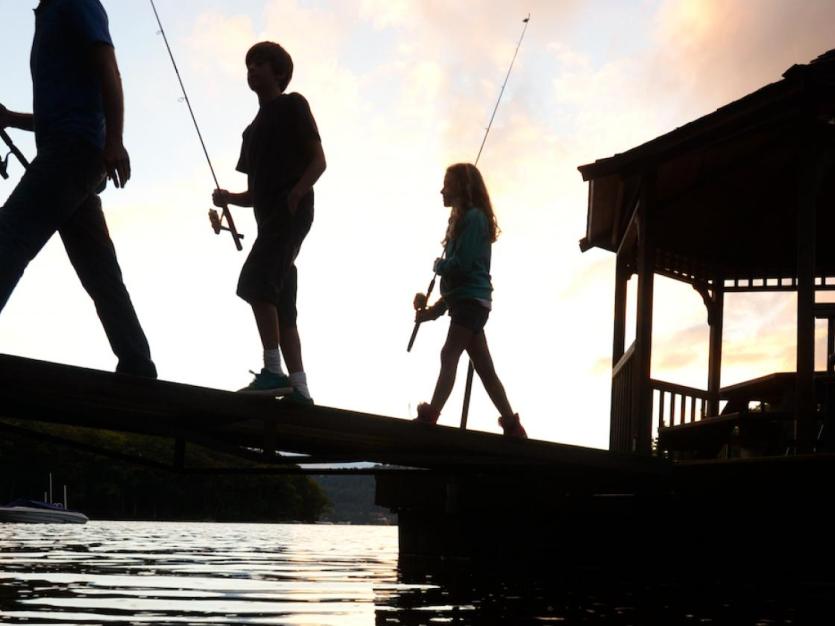 In Part Two of this series, we will explore some great areas located in Western Maryland. From freshwater rivers and the Piedmont Plateau to thick forests, dozens of hills, and textured mountains, Maryland's western region is full of beautiful scenery and diverse wildlife. For anglers this means there are plenty of unique outdoor activities and experiences to enjoy. All conveniently located and easily accessible, you can even bring the whole family along!
Deep Creek Lake 
Deep Creek Lake is Maryland's largest inland body of water. Constructed in the early 1920's to produce electricity, its 3,900 acres and 65 miles of shoreline offer exceptional fishing for walleye, great action on largemouth and smallmouth bass, and an abundance of pike, pickerel, and crappie. As the largest freshwater impoundment in the state, it attracts many anglers looking for yellow perch and bluegills. The panfish here also grow to epic proportions and the current Maryland state record bluegill came out of Deep Creek; tipping the scales at a whopping 3.4 pounds. Along with great fishing, this area has a plethora of restaurants and local hotels, motels and vacation rental properties located around the lake. There are RV and tent camping opportunities, as well as rustic cabins at local parks that are perfect for a quiet and quaint getaway. With plenty of activities for all ages, Deep Creek Lake is an amazing place to bring the family together and create memories that will last a lifetime. For more information on Deep Creek and the surrounding areas, click here.
Savage River & Reservoir
Heavily forested hillsides of hardwood trees direct the flow of the Savage River down the mountain and into the reservoir. The river averages about 50 feet in width and has a moderate-to-steep gradient. Known for its world-class stock, this destination has some of the best trout fishing opportunities in the entire Mid-Atlantic region. It is composed mainly of boulders and cobble, providing an abundance of pocket and pooled water habitat. Native brook trout and wild brown trout are found thriving in the river. At the confluence of the river, it meets the reservoir known for holding Maryland's state's record rainbow trout at 14.2 pounds back in 1987. This body of water prohibits gas motors and can sometimes be tricky to launch from. For those wanting to get into a new fishery, we suggest booking a guide to show you the in and outs of this area. Remember safety is first. Click here to watch a quick video showcasing the Savage River fishery or you can find more information at the Department of Natural Resources page. The Savage River area is home to some of Maryland's most unique accommodations. Take advantage of your beautiful surroundings by staying in one of Ella's Enchanted Tree Houses,  try some "glamping" at the upscale yurts and cabins at the Savage River Lodge, or pitch your tent and enjoy the great outdoors at a camping site in the Savage River state forest, but remember reservations are required, so book ahead. 
Poplar Lick Run
This crackling little run is a "no harvest" brook trout fishing hotspot. Often overlooked by many because of the size of the waterway, many assume it doesn't hold fish. In fact, it is home to some of the most beautiful fish in the state as they hide under the rocks and in the crevices. With its pristine water, you will easily find brook trout. Be sure to dress in bland-colored clothing to ensure you do not spook these intune to predator fish. Poplar Lick Run is located near New Germany State Park. Visitors often have dubbed the area one of Maryland's "best kept secrets" because of its location between Big Savage Mountain and the eastern Continental Divide along Meadow Mountain. The park offers camping areas and fully-furnished cabins, as well as multi-use trails, and swimming, paddling and fishing on the park's small lake. Check out this article where the Department of Natural Resources provides simple tips to get you started on the right path to catching more fish.
And, if you are looking for a true outdoors experience, try Wolf Den State Park—it is one of the few state parks in Maryland that offers a "primitive" campaign and fishing experience. 
How to Get There?
We suggest taking the path less traveled. Maryland's Open Roads Itineraries takes the guesswork out of creating a complete road trip by offering suggested routes, restaurants, and points of interest
Get Ready for Your Next Fishing Outing
In need of additional information, inspiration, or a preview of what Maryland has to offer? Check out Fish & Hunt Maryland's latest articles written by fellow sportsmen and women and local partners.
Be sure to acquire your license from the Maryland Department of Natural Resources if you plan on heading out on your own, charter passengers are covered by the captain's license.  
Visit our Planning Resources page for information on fishing charters and guides, lodging options, marinas, retailers, and more. And if you're up for a quick getaway, be sure to check out Visit Maryland's deals page featuring summer deals and packages.