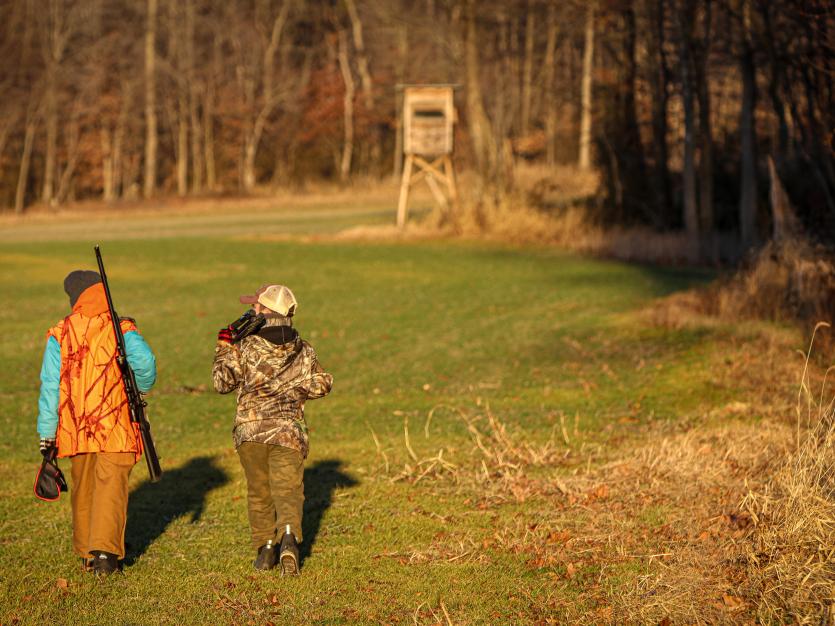 Growing up in a family full of avid hunters, being in the outdoors was just a normal everyday thing to me. I can remember like it was yesterday, going with my father on my first-ever out of state hunt as a child in Alabama at a place called Bush Creek Plantation. That hunting trip is just one of the many reasons I picked my career path as a hunting outfitter.
  
 Everyone wants to be an outfitter on the Eastern Shore, or at least that's what it seems. People see dollar signs! Really, outfitting is so much more than making a dollar. If you love the outdoors like I do, then you understand. Seeing hunters come to our camp, experiencing the atmosphere, and the camaraderie is something everyone should get a chance to be a part of, at least once in my opinion. If our camp walls could tell the stories told from different hunters across the world, I believe we'd have enough to publish a book! 
There is a lot of hard work that goes into running Muddy Bottom Outfitters. That includes developing and executing the management plan I've established for our wildlife, the preparation before, during and after hunting season, and of course ensuring that we provide an experience that everyone will enjoy and remember for years to come. 
As you read this article, I hope that you realize outfitting is about much more than just making money like stated earlier. The real payoff is being able to enjoy the experiences of the outdoors with so many different people. I get just as much excitement when someone harvests a deer or turkey as if it were myself doing the shooting. 
Some might ask why. It's because I know that person will have an experience to tell for the rest of their life. I would say that getting anyone outdoors is important. Not just as an outfitter but for you too. If you have the chance to introduce someone new to the outdoors, do it! 
But do it the right way. Teach them it's not about catching the most fish or killing an animal every time you go in the woods. It's about the experience, building friendships, enjoying nature and the outdoors. 
I worry that fishing and hunting are both dying sports. People want to post their success on social media, they want to catch or kill just for bragging rights. Old timers who know the true meaning of being an outdoorsman are passing on. 
If you're an outdoorsman or woman, it's important to teach the next generation what it's really all about. Remember to teach them that they don't need a picture for social media, they don't need to brag! They do need to put that phone down and just enjoy their time outdoors.
As an outfitter I have the opportunity to do just that with so many different people. I get to give them an outdoor experience, I get to share my opinions and thoughts on being an outdoorsman, sportsman and conservationist. I just hope when I grow older and can't continue doing what I do that my kids and grandkids will know the importance of keeping this business and tradition going for years to come. 
If you don't do it for me, do it for yourself, the kids or even a friend. Get outdoors and enjoy it. Maryland has tons of outdoor opportunities to take advantage of. I know I take every opportunity I get as an outfitter to get others into the outdoors!
When you are ready for your next outdoor experience, be sure to visit the Maryland Department of Natural Resources' website for information on rules/regulations and licenses before heading out to hunt. For information on lodging options, hunting guides and outfitters, outdoor retailers and shooting ranges, visit the Planning Resources section on our website.
And if you're looking to extend your trip, click here for travel deals in Maryland.