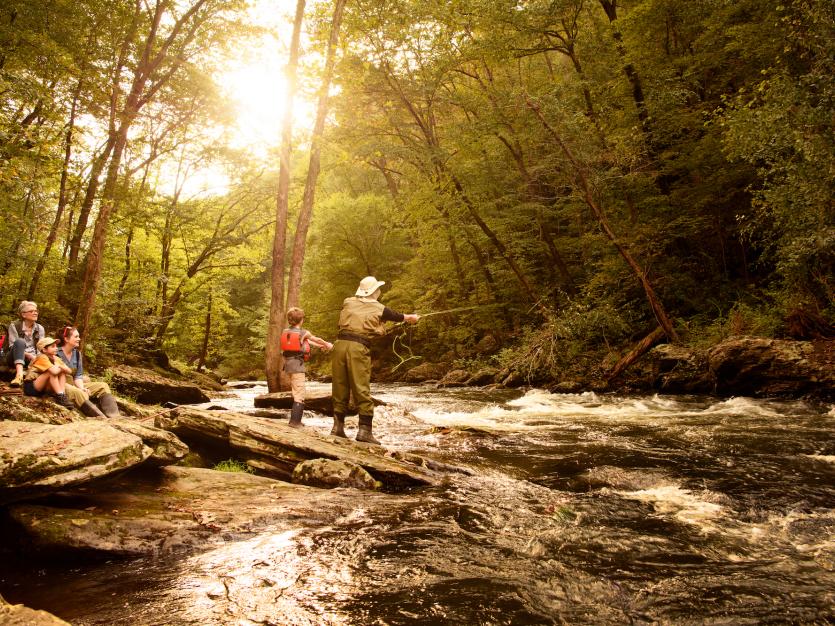 What is Fly Fishing?
Fly fishing is more than simply another way to catch fish—it's a chance to disconnect  and reconnect with your surroundings all while going after some of the Chesapeake Region's most prolific species. That includes largemouth bass, crappies and bluegills in Eastern Shore millponds. It includes stripers and white perch in the Bay's tidal waters. Fly anglers also routinely catch smallmouth bass in the Upper Potomac and Susquehanna Rivers. Even toothy fish like pickerels, speckled trout and snakeheads succumb to flies. And of course, a fly rod is an ideal way to pursue rainbow and brown trout in many of Maryland's stocked trout rivers and streams, plus native wild brook trout in Western Maryland streams. Succinctly stated, any game fish caught in our region with conventional fishing tackle will also take flies.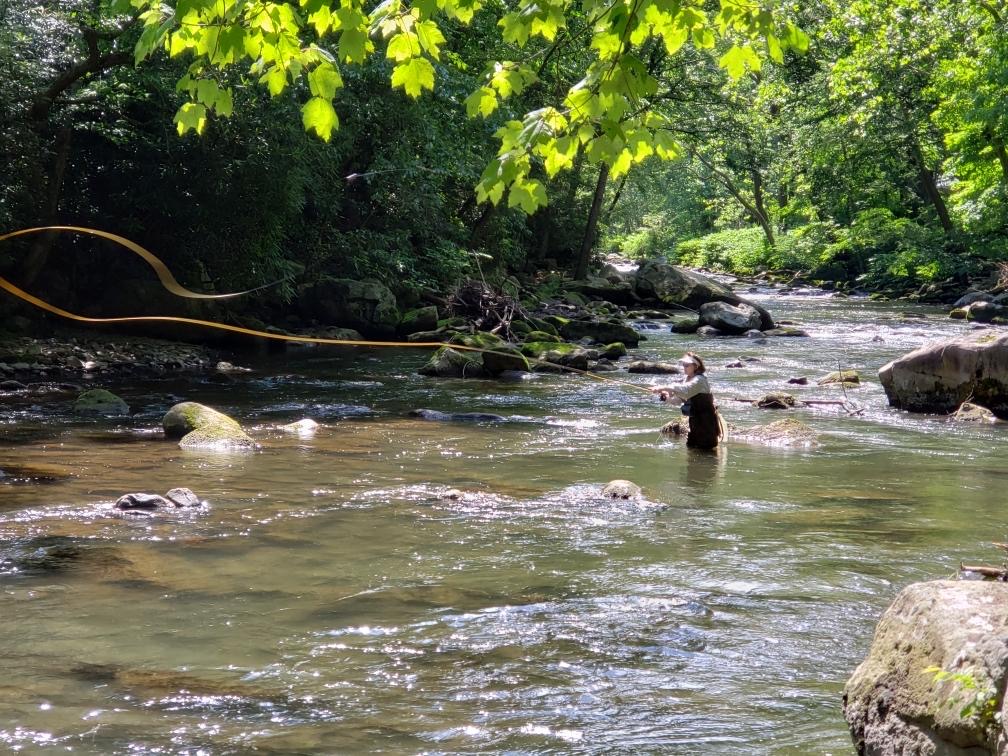 Casting- Easier than you think
Undoubtedly, the act of fly casting is what many find as the most intimidating aspect of fly fishing. Yet, casting is actually very easy with modern fly fishing equipment. It comes naturally to most who try it and the technique is quickly enhanced with only minimal instruction. is also the most aesthetically pleasing characteristic of the sport. Fly anglers find it incredibly rewarding to observe their fly line unfurl in a tight loop to its target. Many fly fishers will profess that dropping a fly precisely on target is almost as gratifying as catching a fish.
The key difference in casting between conventional anglers and fly fishers is that in conventional angling it is the weight of the lure that propels it and the line toward a target. However, a fly lacks the weight to pull a line along with it. So, in fly fishing, it is the fly line itself that provides the means to send the fly to its destination. The fly is merely a passenger along for the ride, being pulled by the fly line toward the intended target.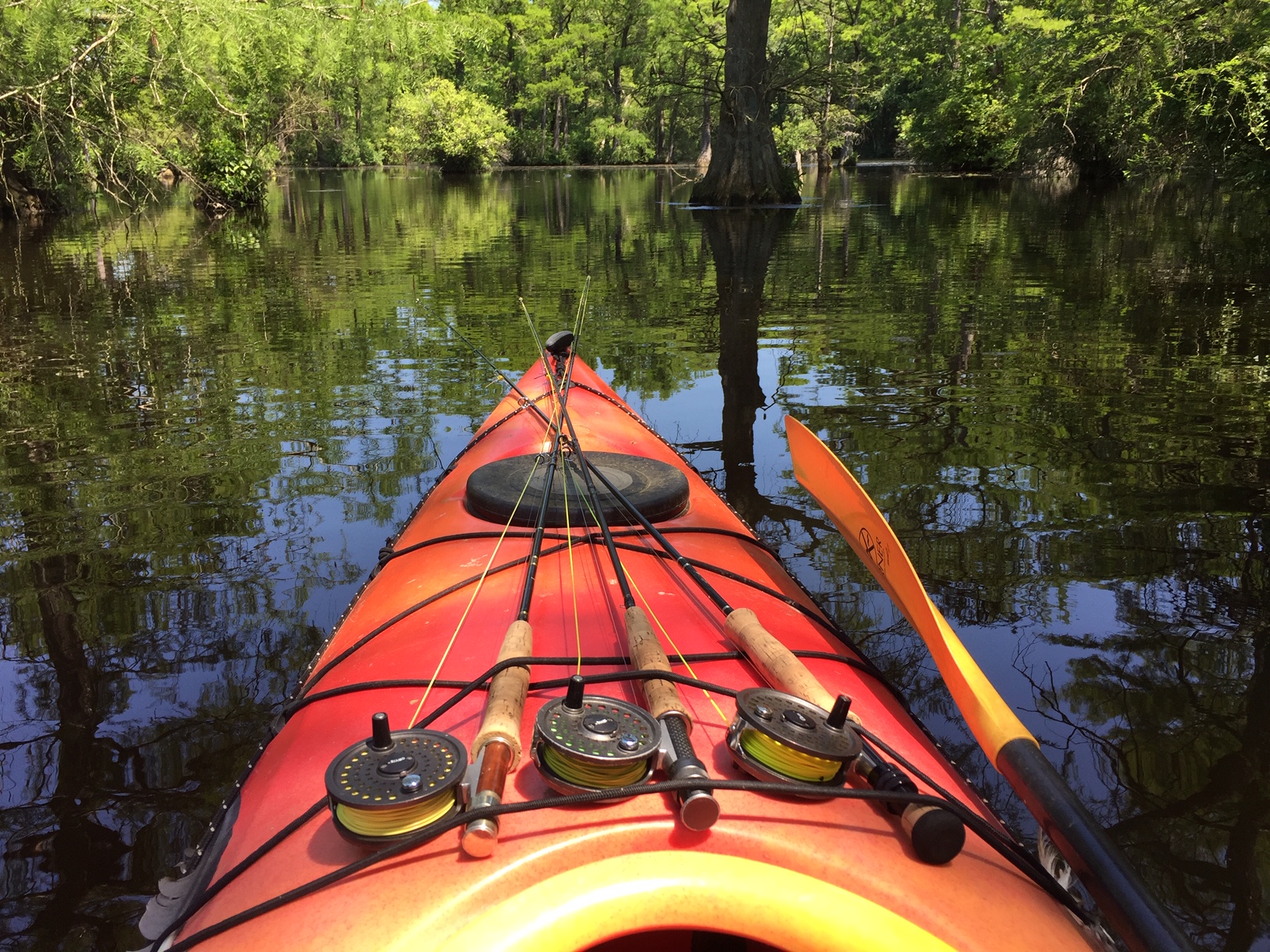 Finding the Right Fly Rod
Broadly speaking, the mass or thicknesses of the fly line is how fly fishing rods and reels are categorized. Fly gear ranges in "weight classifications" from 1 to 15. The most commonly used rods are those in sizes from 4-weight to 9-weight. The outlying rod weights are for specialty fishing, either very small trout in mountain brooks (sizes 1 through 3) or oceangoing fish like marlins or tarpon (sizes 10 through 15). 
Four and 5-weight fly rods are good weights to pursue panfish and stocked trout. Six and 7-weight fly rods are ideal for most largemouth and smallmouth bass and even schoolie stripers. Eight- and 9-weight rods are often reserved for saltwater applications such as fishing windy flats for mature stripers or redfish or for pike or carp in freshwater. 
A good all-around starter fly rod is a 5- or 6-weight. Those rods will allow you to pursue smaller panfish and trout and will still handle bass and the occasional larger fish.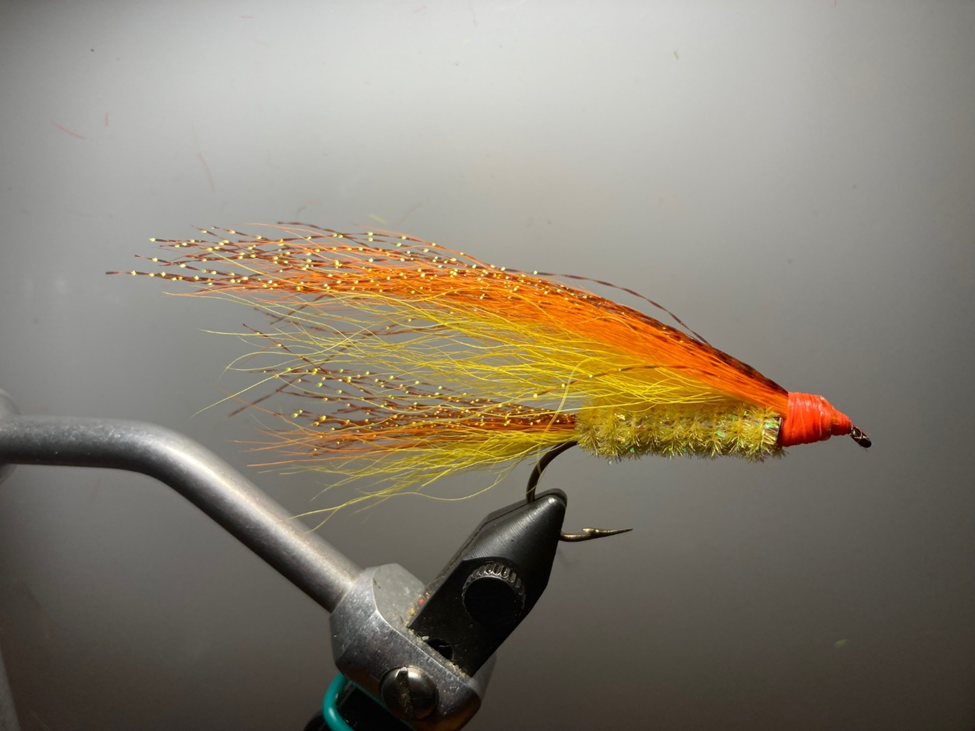 Focus on the Fly
The fly itself is a very lightweight lure used to attract fish. A fly can range in length from a fraction of an inch to many inches depending on the species for which you are fishing. It can be made of feathers, animal hair or manmade materials such as foam or a combination of those items.
Flies are connected to the fly line with a tapered monofilament or fluorocarbon leader that usually ranges in length between 7 and 9 feet. The strength of that leader depends on the fish you are seeking. The leader separates the fly from the end of the more visible thick fly line and allows the fly to land softly on the surface of the water and/or to act naturally in the water. 
A fly can float on the surface or sink. Traditionally, especially for trout, a fly represents an insect either in adult or larval form that lives in or near water. A fly can also imitate minnows, leeches, crayfish, etc. Flies that look like such creatures typically sink and are called streamers. 
Or a fly can emulate a frog, water snake or even a mouse swimming on the water's surface. Such flies float and create a topwater disturbance when you retrieve them.  They are known as poppers and gurglers. Streamers and topwater flies are effective for bass. And some flies represent nothing that actually lives.They are flashy, colorful and sometimes gaudy, and are known as attractor flies. 
The presentation of flies to fish is a key element of fly fishing. Casting to structure (e.g., rocks, stumps, fallen trees), seams in the current of a stream or river, near underwater grass beds, or to shady shorelines are typical target areas when fly fishing. Sometimes fly fishers allow the fly to drift naturally in the current and wait for a fish to attack it.  Or fly fishers may provide action to the fly, making it move to attract fish. Regardless of how fly fishers activate flies, they do so by manipulating the fly line by hand, not by cranking the handle of the fly reel. 
This tactile nature of fly fishing is another major appeal to fly anglers. They feel the exact moment that a fish strikes their fly because the fly line is in their fingertips. They sense every headshake of their catch directly through the taught vibrating fly line in their hand. And they feel the strength of their catch as they bring in their fish by hand. Fly fishers experience a palpable manual attachment to their catches not possible when using conventional spinning and baitcasting tackle. 
Many fly anglers tie their own flies. Fly patterns can range from simple to complex but fortunately some of the easiest patterns to tie are also the most effective in catching fish. So, even beginning fly anglers find success with their fly-tying creations which only serves to increase their interest and satisfaction in the sport.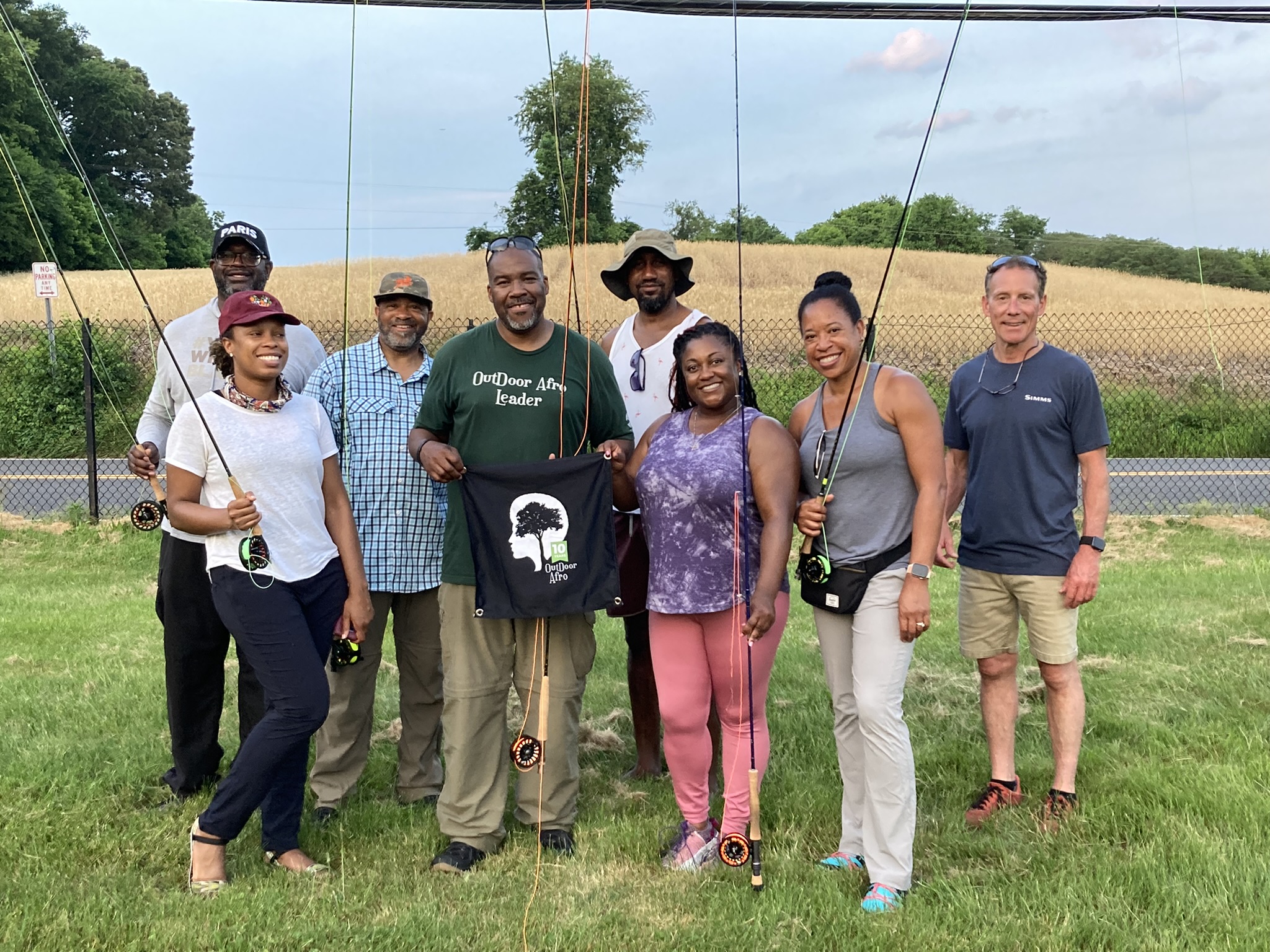 Fly Fishing Clubs
Many fly fishers are likely to be members of a fly fishing club. Here in Maryland, we are blessed with an array of clubs—Chesapeake Women Anglers, Potomac/Patuxent Trout Unlimited, Tidal Potomac Fly Rodders and Antietam Fly Anglers are great examples—who have members willing to share their expertise with fly fishing novices. For example, Free State Fly Fishers has established a partnership with Outdoor Afro to provide hands-on fly fishing experiences to their interested members. 
Indeed, all these organizations are actively expanding their membership to include many more younger people, women, people of color, and all others who are seeking to learn more about this amazing way to truly have an immersive outdoor experience which can quickly grow into a lifetime pursuit.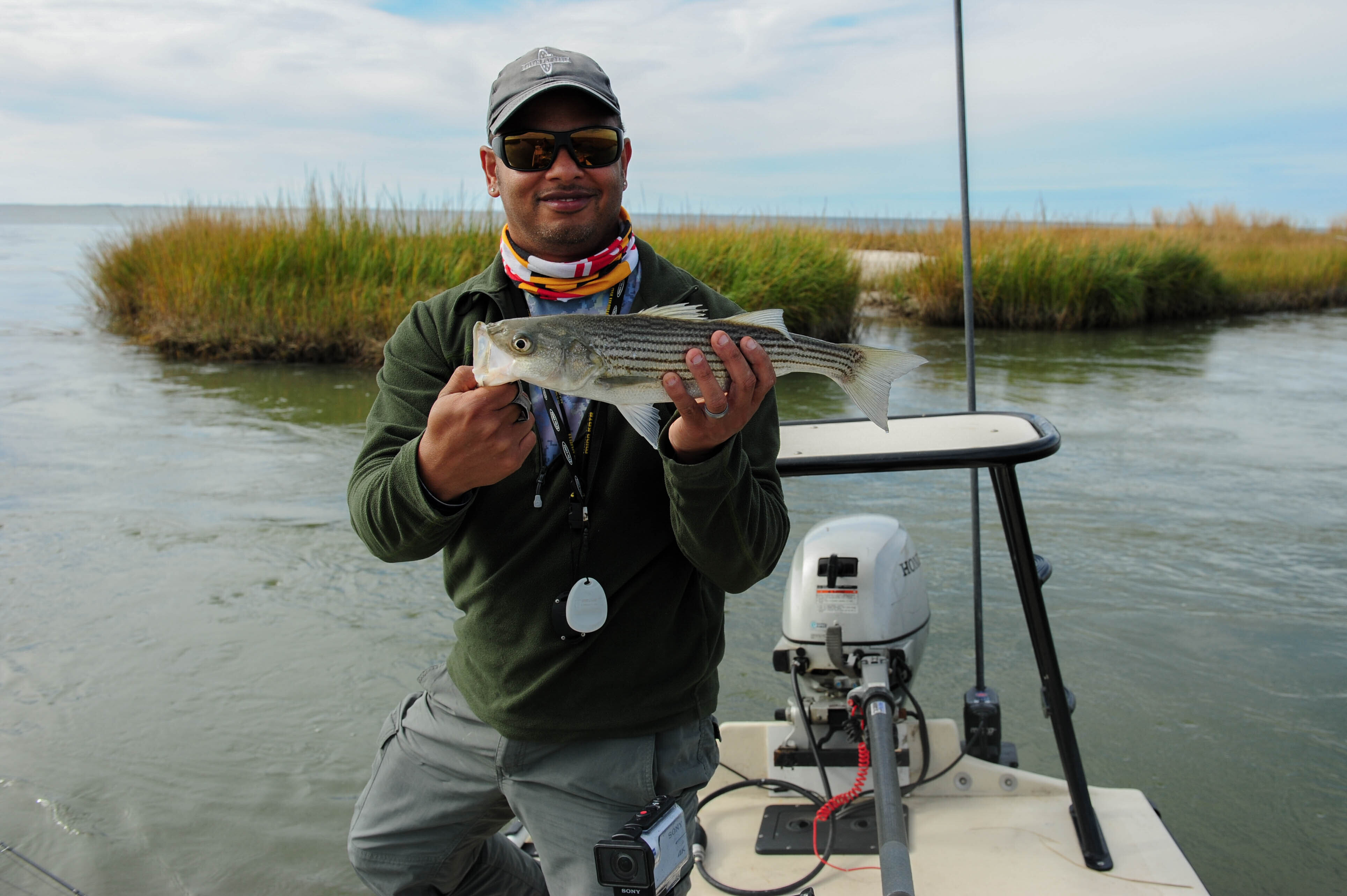 Explore the Trail
Finally, you have come to the right place here on the Maryland's Fly Fishing Trail website to discover locations where you can put your new angling skills into practice, where you can connect with professional guides to discover new fly fishing destinations here in Maryland and find fly fishing shops and fishing tackle stores near you. As you will find out, fly fishing is a lifelong learning process.  You will acquire new fly fishing techniques and approaches from your own experiences on the water and from the knowledge of fellow fly fishers you will meet along the way. We welcome you to this growing community and we will see you out on the water!
Get Ready for Your Next Fly Fishing Trip
In need of additional information on where and how to fly fish? Check out Maryland's Fly Fishing Trail. The first state-wide trail in the nation highlights 48 sites spanning from the shorelines of the Chesapeake to the mountain streams in Western Maryland.  
Before you head out sure to acquire your license and check out the latest regulations from the Maryland Department of Natural Resources. 
And if you're up for turning your fly fishing trip into a quick getaway, check out Visit Maryland's deals page.
By Mark Bange, Member and former President of Free State Fly Fishers and author of Fly by the Seat of Your Kayak: A Guide to Simplified Kayak Flyfishing in Tidal C