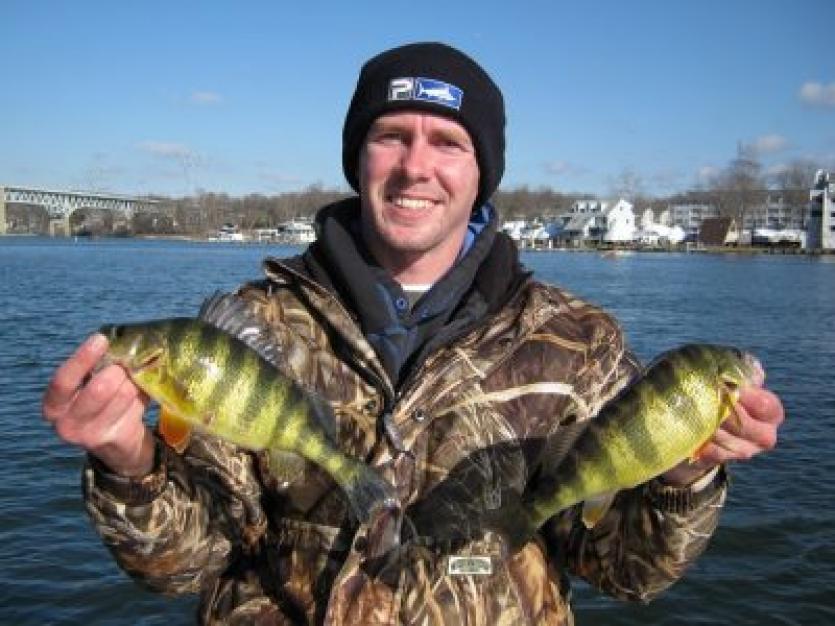 Upper Bay Yellow Perch: When, Where, & How
Productive winter yellow perch fishing in upper Chesapeake Bay tributaries attracts many anglers. When the days get shorter and the chilly weather comes, yellow perch gather in schools and feed heavily.  Yellow perch fishing starts in November and continues into March. After the yellow perch spawn in early March, they scatter and are harder to find. In the meantime, fun fishing can be had from piers and boats. And, fresh-caught yellow perch is tasty and easy to cook.
Perryville Community Pier in Perryville, Maryland is a good place to start. The pier has a magnificent view of the Susquehanna Flats. It's free and open to the public, however, a valid fishing license is required for anyone over 16-years of age.  Pier fishers catch many yellow perch there. Granted most perch are under the nine-inch minimum size, but there are also many keepers. Cast a line with a live minnow, a piece of worm or a lure and let it sink. The water depth here ranges from five to ten feet depending on the tide. This area features a rocky shoreline and grassy bottom. Sometimes perch want the bait sitting still or you can slowly reel while keeping the line taut.
[gallery link="none" size="full" columns="1" ids="9860"]
The North East River in North East, Maryland is another good area to find perch.  North East Community Park has ample shoreline and a fishing pier. What also makes this a unique fishing spot, is it is designated by the Maryland Department of Natural Resources as one of a handful of License Free Fishing Areas in the state.  So, if you are new to the sport of fishing or simply want to give it a try you can fish here without purchasing a Maryland Fishing License.   However, Maryland fishing regulations still do apply.  But before fishing, visit Herb's Tackle Shop at 203 South Main Street for bait and fishing tips. The family-owned shop has been there since the 1960s. They close for the winter and reopen in March. Worms can be purchased year-round from the outside vending machine. Herb Benjamin and son Mike cut hair in their barbershop next to the tackle shop. Countless fishing stories have been shared there over the years. After fishing, you can see old decoys and duck hunting displays at the Upper Bay Museum by the town park.
Boaters can access the best fishing areas by one of the nearby ramps. Havre de Grace has two public ramps: one at Jean Roberts Memorial Park and the other at Tydings Memorial Park. Both have honor boxes and envelopes to pay the ramp fee. The Owens Marina ramp in Perryville puts anglers where the perch fishing action is. They also have an honor box for boaters to pay the ramp fee. Elk Neck State Park, a mere 10 miles south of North East, also has a ramp. No matter where you launch, look for depths from five to 35 feet to drop lines in and start drift fishing.
[gallery columns="1" size="full" link="none" ids="9862"]
Yellow perch tackle is simple. Light rods with matching spinning reels spooled with 10-pound test braided line are suggested. Ultra-thin and super strong, braided line lets the angler feel a subtle bite much better than monofilament line. That said, it's wise to use monofilament with kids because braid is more difficult to tie and can cut into soft skin. Any brand name monofilament line in eight to 12-pound test size is good.
One of the easiest rigs to use is a top and bottom rig. They have two hooks, one on top and one on the bottom. Use a one-half to one-ounce sinker. Yellow perch are not leader shy. Put a worm on the bottom hook and a minnow on the top hook. Using two minnows works well. Small artificial lures work well too. Proven lures include plastic grubs and small sassy shads. Hot colors include green, purple and white.
The recreational limit is ten fish per person, per day with a minimum length of 9-inches. For more information on regulations, please refer to the Maryland Department of Natural Resource's website: www.dnr.state.md.us/fisheries
Oven-Fried Perch:
Ingredients:
4 pounds of perch, filleted
3/4 cup Italian seasoned breadcrumbs
1 teaspoon of seafood seasoning
1/2 teaspoon of thyme
1/4 teaspoon of ground red pepper, if desired
1/2 cup of milk
Melted butter or margarine
1 egg
Salt and pepper to taste
Cooking Directions:
Mix breadcrumbs, seafood seasoning, and thyme. Beat egg in milk, sprinkle in salt and pepper. Dip perch fillets in milk and egg. Coat both sides of the fish with breadcrumbs. Put fish in baking pan lightly covered with melted butter or margarine. Bake at 450 F for 15 or 20 minutes or until the fish flakes easily with a fork. Makes about 4 servings.
Charlestown--Town-owned stone wharf on the Northeast River near the corner of Conestoga and Water Streets and the historic site of Charlestown Wharf.
North East--North East Community Park at the mouth of North East Creek.
Perryville Ice House Park — Within the park boundaries of Ice House Park downstream of the Route 40 bridge on the Susquehanna River.
Maryland is full of winter fun, so consider turning your fishing trip into a getaway. To help plan your fishing adventure, visit Fish & Hunt Maryland's Plan Your Trip section.
This article was written by Tim Campbell, a Maryland native who has fished the Chesapeake Bay for many years. He is an award-winning member of the Mason-Dixon Outdoor Writers Association.
Images courtesy of the author and Sean Poulin via the Maryland Department of Natural resources' Flikr account.