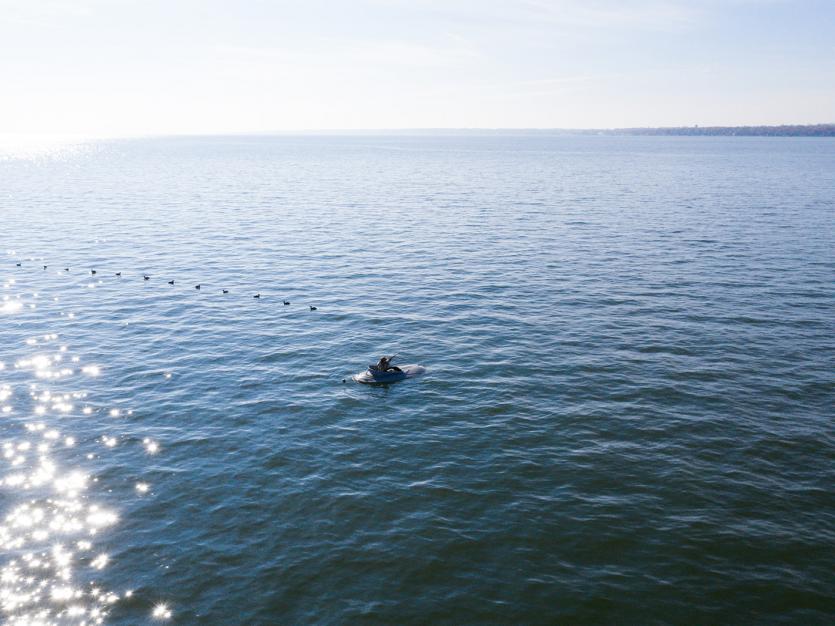 Sea Duck Hunting with Jesse Bolton
With Maryland positioned in the middle of the eastern flyway, hunters have the opportunity to hunt in a single or double man layout boat, allowing hunters the opportunity to sit in the decoys for up close and personal action
Maryland sea duck hunting is unlike any other waterfowl hunting experience. Sea duck hunters use "big rig," long-line sea duck decoys with either layout boats or duck boats. Maryland hunters will see lots of action as scoters and long tails "work the decoys." Maryland sea duck guides each have their own way of setting their long lines. When you see them start to flag and hear the guide call out, you know it's time to swing fast and get in front of the birds.
About Jesse
Jesse Grew up in Deale Maryland, spending most of his time in the woods or on the bay. Jesse finds great joy in raising his son to follow the paths of his father. Hunting with Jesse is a family fun experience for all hunters.
Questions & Answers 
What makes Maryland unique?

Maryland is a unique place to hunt because of the diversity of duck species that flock to the Chesapeake Bay and its tributaries every winter. Every winter, hundreds of thousands of sea ducks visit the Chesapeake Bay. We have Scooters, Surf Scoters , White-winged Scoters, and Old Squaw.

What's your #1 tip to readers?

If you come to our wonderful state in search of an exciting bucket-list hunt of a lifetime, there are a few things you are going to want to do. Scout, scout, scout, grab your binoculars and hit the beaches. There is a ton of public access to the shore lines here in Maryland. Glass over the bay early morning and look for the flight lines of the Chesapeake Bay sea ducks. It will change from day to day but it will give you a good idea on where to start.

How do you measure success in Maryland?

A successful sea duck hunt on the Chesapeake Bay is all on what you make of it. If you're a first timer, I would suggest going with an Outfitter. There are a lot, just do your research. If you're like me and love the adventurous side of things, then grab your boat and some old mallard decoys paint them black and white and go find the flight path. You will have great success either way.

How often do you find what you're hunting

When sea duck hunting in Maryland, you'll find them, be sure to bring plenty of ammo. It's a lot of fast action with bag limits on most trips (it all depends on your shooting skills ). Sea ducks are fast !

What's your most memorable moment in Maryland? 

One of my most memorable Sea Duck hunts on Maryland's Chesapeake Bay was December 31, 2019. It was a beautiful day, the birds were working, zig zagging in and out of our decoy spread. I almost had my limit the first ten minutes into our trip. I had a flock screaming down my right side. I pulled up, led the lead duck about 7 feet and let the hammer fly. He dropped. I radioed to my friend on the tender boat, "one down, that's my limit. Grab the bird and then someone else can hop in." They went on to retrieve my bird and to my surprise it was banned! A real unicorn, very rare banded bird! I called in the band right away. it was a 13-year-old banded surf scoter; a bird of a lifetime!
See All Of The Traditions Videos
We hope you enjoyed this featured story. Please visit the Traditions of Maryland page to see all ten featured stories.