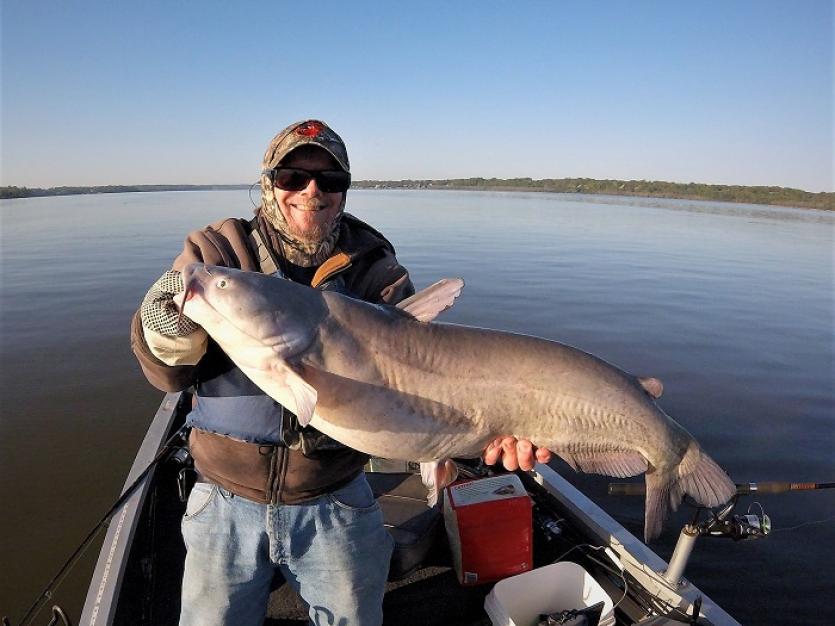 My rod hadn't been in the water for five minutes when the tip bounced a few times then pegged over in a heavy arc as a bulky blue catfish tried to rip it from the rod-holder. As I wrestled the outfit from the holder, line was peeling out at a steady pace. Steady give-and-take pressure ensued and eventually my friend Alvie scooped up the big whisker-fish with his oversized net. As the yard-long beast gyrated, we both realized that this would be another successful catfishing day on Maryland's tidal Potomac River. Before the day was out we would land more than thirty blue cats, totaling well over 250 pounds of fish.
The blue catfish is labeled a non-native species in Maryland waters even though they have been observed in the Potomac for over two decades. Over time, blue catfish have found their way to other tidal flows such as the Susquehanna, Choptank, Patuxent, and several other Eastern Shore systems. Establishing themselves as year-round residents, they have become one of the largest predatory species in Chesapeake tributaries and rivers. (They're also one of the tastiest.) If you are seeking genuine "big fish" adventures, then blue cats might be your pick.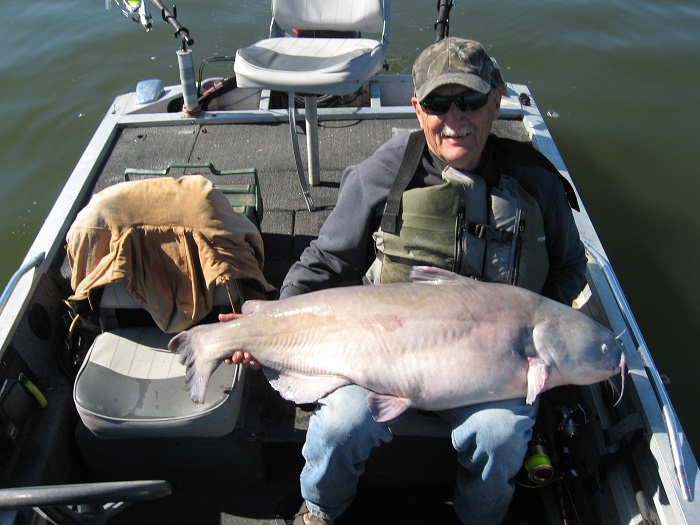 Tackle:
With fish that can routinely run from 15 to 30 pounds and occasionally top the 50-pound mark, tackle needs will parallel what you might use for larger stripers. Bait casting reels (6000 or 7000 series) and 7-foot heavy action fiberglass rods are standard issue for these bottom dwellers. Reels should be spooled with 40- or 50-pound test quality monofilament like Trilene Big Game or Ande. Leader material for the "slip-sinker" rigs for big cats should be of similar strength. Spinning reels of the same size will also handle the big cats. Everyone has their favorite equipment choices but choose a reel with a smooth drag system that will hold up under the stress of big, powerful fish.
Hook sizes should run from 5/0 to 8/0 and be of the circle style for ease of unhooking the fish. We like to snell the hook on a 50-pound monofilament leader and tie it to an 80-pound barrel swivel which is eventually attached to the mainline. Above the swivel, on the mainline, run a six- or eight-ounce flat or in-line sinker with a plastic bead to cushion the weight when it slides and hits the knot, tied to the other end of the swivel. The snelled leader itself can be from 12 to 20 inches in length. Once baited up with a chunk of fresh-cut fish, the offering is casted out and allowed to hit the bottom then drawn tight. Strikes from smaller blue cats (5 to 15 pounds) can be tentative and light. However, when a larger fish takes the bait the rod simply loads up and pegs down to the waters surface. The circle hook will snare the fish, so simply take the rod out of the holder and enjoy the fight! Additional equipment would be heavy pliers for unhooking fish, a large landing net and perhaps a "boga-grip" tool for handling or photographing the big cats.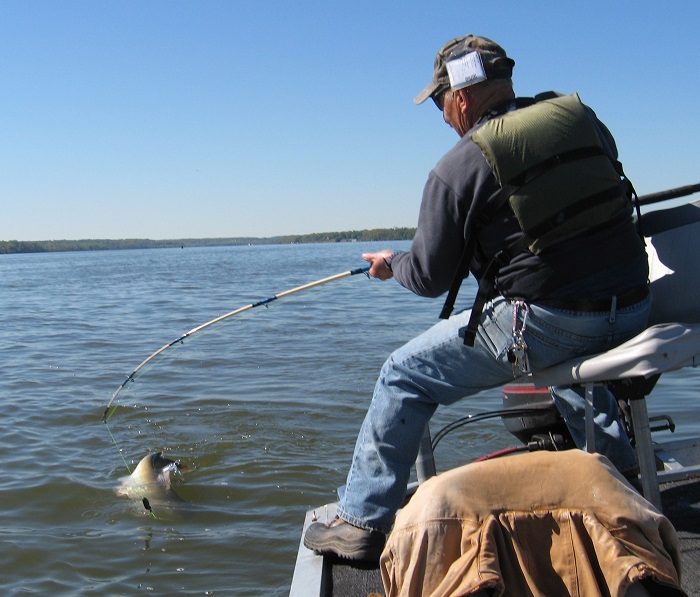 Where:
The tidal Potomac River remains the premier blue catfish fishery in Maryland and is a great place to start. From the Route 495 Bridge downstream to Mattawoman Creek there are many channel edges, creek mouths, and flats that will draw cats throughout the lunar cycle and tidal changes. Primarily, it benefits the catfish angler to fish on a moving tide with the first two hours of the outgoing and last two hours of an incoming flow to put fish on the feed. The Fort Washington Lighthouse area has lots of deeper channel areas and can produce quality fish throughout the tidal cycle. Try to mark fish on your sonar unit and anchor slightly up-current from them. As the spring warms and the summer heats up, veteran catfish anglers prefer to fish at night to beat the heat.
On other tidal systems like the Patuxent and the Choptank look for deeper holes and channel areas that will draw cats and keep an eye on the tides. On the Susquehanna River, the area from Conowingo Dam to Lapidum can produce not only blue catfish, but also channel and flathead cats as well. This water is swifter and rockier than the others mentioned and anchoring behind islands, bridge trestles or at the mouths of Deer and Octoraro Creeks can yield fish throughout the spring and summer when the Conowingo Dam releases water. You can scale-down slightly in gear to 20-pound class tackle as the cats here won't top-out as large as the Potomac fish.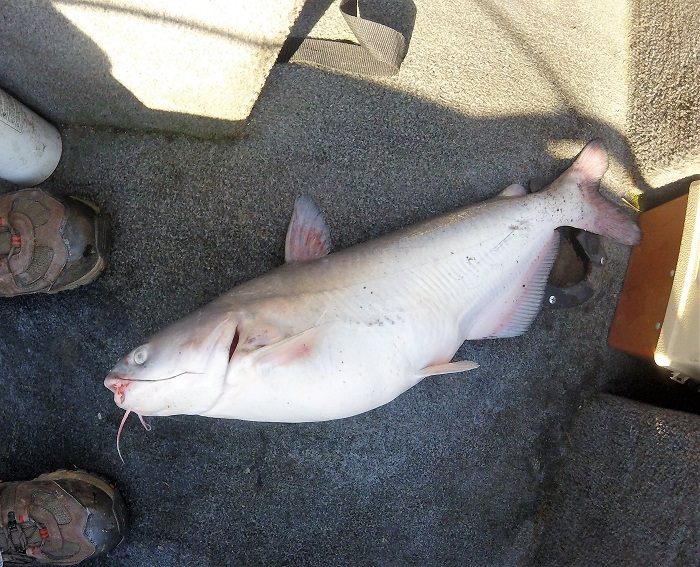 About Bait:
Almost everybody has their own "secret" catfish bait. But for most situations any kind of fresh-cut bait will entice these fish. What you cannot use are any of the shad (hickory or American) or herring species that are currently protected under Maryland regulations. Many cat fans simply purchase fresh fish at the markets or use cut sunfish species. Gizzard shad can be great for Potomac River blue cats but be sure to check the regulations for attaining them from the tidal waters that you are fishing. Consult the 2018-2019 Maryland Guide to Fishing & Crabbing for additional information on boat launches and local bait shops.
Catfish Guides:
Capital Fishing, Capt. John Kitner, 812-201-3399
Indian Head Charters, Capt. Mike Starrett, 202-439-1410
Enjoying Blue Catfish:
The blue catfish has quickly become a favorite for chefs in Maryland More and more markets are carrying this tasty fish for customers to enjoy. Once you've landed a few blue catfish, be sure to try out this Cornmeal Crusted Blue Catfish recipe, and check out this WYPR Radio Kitchen talk for a fried catfish recipe.
If you're planning a trip to Maryland for the tasty blue cat, be sure to visit our plan section to find lodging options, charters & guides, outfitters, marinas, and more.  
This post was written by Jim Gronaw
Images courtesy of the author