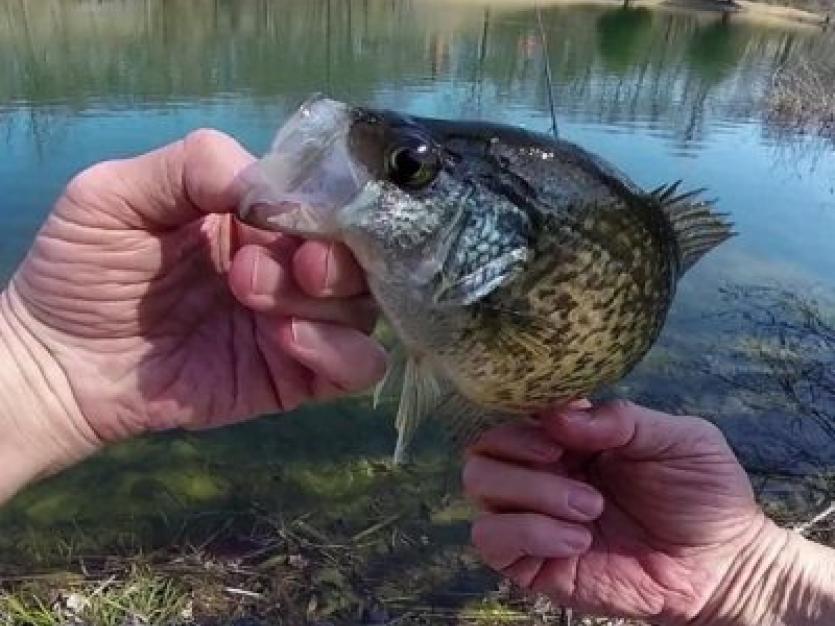 Maryland Crappies in the Cold
Alright, let's set the stage…it's cold, and you haven't fished for several weeks because of the chill. If the recent cool temperatures haven't put an ice covering on Maryland waters, then you have a pretty good shot at catching some winter time crappies throughout the state. Here's a game plan for success and slabs in the cold…
Gear
Although ultra-light rods from five to six feet have been the panfishing standard for many years, an increasing number of panfishers are opting for the longer rods that tape seven to ten feet for longer casts and better leverage when hoisting slabs out of brush or away from man-made wooden structures. Crappies can hunker down tight to them during the cold. We use B&M crappie poles from eight to ten feet and Wally Marshall Crappie Rods that go eight to nine feet and are able to make longer cast into the wind and gain more sensitivity from the soft tips of these rods. We also use medium size spinning reels with a good drag system and spool with either Stren or Trilene limp, castable monos in four- or six-pound strengths. I tend to favor the fluorescent blue line as it aids in strike indication for these old eyes of mine. If you are doing close quarter work or vertical jigging, then you can do just fine with the shorter ultra lights. But for distance casting from the bank or pulling slabs from the wood, we like the longer rods.  Lure selection can be pretty simple this time of year with a heavy nod going to 1/16th- down to 1/32nd-ounce leadheads jigs of the round or shad dart style head and in various colors. You can go heavier with jigs in the 1/16th- and 1/8th- ounce range if the fish are deeper than six feet. On warmer, sunny days you may find fish higher in the water column.  [gallery columns="1" size="large" link="none" ids="10048"] Colors can be critical, so it pays to have some variety in your arsenal. We do well with chartreuse, lime green, white, pink or shad patterned plastics like Panfish Assassins,  Stubby Butts, or any variety of tubes and twisters that run from one and a half- to two and a half-inches long. There are days when one particular color seems to get all the attention, so it pays to experiment. To hook more soft biting slabs, open up the gap of the hook on your jig so that it is wider than the standard 'j' shape as it was purchased from the store. Cold weather crappies often hit lightly and don't hold on very long and the open gap enables better hooksets. Sometimes, you'll need to cast farther or go deeper with the small jigs. That's when we pinch on removable split-shot to adapt to the situation.  
We have found that during warmer winter periods crappie often school and suspend higher in the water column than during brutal, sub-freezing conditions. When this happens, we employ the simple 'float and fly' tactic of allowing a bobber and jig to wind-drift through shallower areas in search of active fish. Additionally, it pays to sweeten your jig with a wax worm or meal worm to coax a lethargic winter crappie into striking. Don't overlook the Berkley Gulp! Minnows in one-inch as an alternative bait.
Location
For sure, crappies tend to maintain their love for wood structures throughout the season. Even in early to late winter, big fish will favor brush, fallen trees, bridge supports and docks. Slow, patient and methodical fishing in these areas will usually yield fish in the cold, as jigs placed close to these structures will get their attention. You must be willing to lose some lures to get to the slabs, or 'boys', as I like to call them. An overlooked option for cold crappie would be concrete or riprap areas that are exposed to the sunlight during much of the day. These structures heat up enough to draw crappies and other game. And, shadows from these forms can often provide ambush points for fish. Check 'em out! [gallery link="none" size="large" columns="1" ids="10050"] Timing can be the key for a hot bite. If a few days of balmy weather occurs, then I'd say it's time to try for some slabs. These fish are somewhat sensitive to barometric changes and oncoming warm fronts in the winter can put the odds in your favor to cash in on some of the 'boys'. A couple of hours before an oncoming cold front can also turn them on. Be ready to make a move, if you can, according to the weather. 
Top Winter Crappie Waters
Some of Maryland's best winter crappie fishing occurs in and around the many tidal creeks, docks and marinas of the tidal Potomac River and its' tributaries. Carroll County's Piney Run Park is open for day use during the winter and can yield good fish during warm weather periods.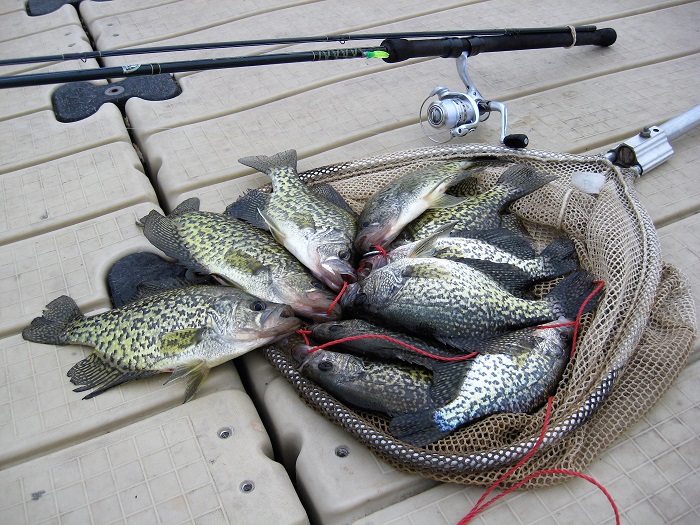 On the Eastern Shore, the Pocomoke River can yield slab crappies throughout the winter as can other systems like the Upper Choptank, Tuckahoe, and upper portions of the Wicomico River. Many Eastern Shore mill ponds hold crappies and those with spillways can hold quality fish as well. The ponds in and around Salisbury are another good choice. Here again, key in on specific areas such as fallen wood cover, docks and bridge pilings and deeper pockets near the base of dam faces as winter crappies often suspend in these areas and once located can be caught with classic float and fly techniques at various depths. This year, in between the snowstorms and warm spells, make an effort to cash in on some cold-water crappies. Who knows? Maybe you'll hook up with a few of the 'boys'. Before you head out for your next day on the water in Maryland, be sure to visit the Maryland Department of Natural Resources for information on licenses and regulations and if you want to make an adventure of it, head to the Plan Your Trip section of FishandHuntMaryland.com for lodging options, guides, outfitters, and more.  This post was written by Jim Gronaw in February 2019. It has been updated in February 2020. Images courtesy of the author