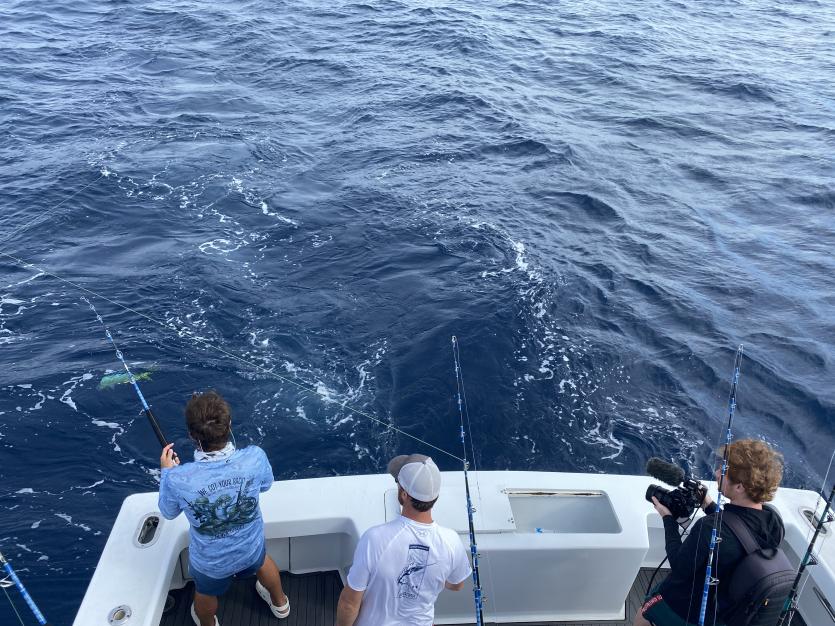 It is no surprise to those of us who are anglers in Maryland that our great state is known for its world-class off-shore fishing. Its diverse underwater landscape which includes five Mid-Atlantic canyons (Wilmington Canyon, Baltimore Canyon, Poorman's Canyon, Washington Canyon, and Norfolk Canyon) is home to sportfish such as yellowfin tuna, marlin, and other pelagic species. 
Maryland's waters offer a multitude of fishing experiences that can be found just a few hundred miles off the shoreline—some with underwater wrecks and structures holding vast amounts of life. No matter your location of choice, there are plenty of sportfishing boats running out of the marinas on Maryland's coast, as well as boat ramps to provide you with easy access. 
If you are looking for variety, look no further than the shores of Ocean City. 
White Marlin
As anglers in the "White Marlin Capital of the World," we know a thing or two about these big, strong, exciting billfish. White marlin, who primarily stick to the deep waters of the Atlantic, are famous for being fierce fighters when hooked, engaging in what's called "tail-walking" on the water's surface and high-flying acrobatic jumps. 
For those who don't have their own boat or are seeking tips on how to catch their first white marlin, the area boasts a number of charter boats with experienced captains that will take you out fishing for the day. Great for families or the spontaneous group trip, charters supply all the necessary gear and have the appropriate licenses allowing for a worry-free day of white marlin fishing.
If you do have your own boat, licenses, tackle, and crew, then good luck and safe fishing! There are a ton of access points on the Eastern Shore where a boat can easily be launched and white marlin can be caught. 
Before you go
Please check with the Maryland Department of Natural Resources for out-of-state vessel license requirements. Owners of recreational fishing vessels (i.e., no sale of fish) for Atlantic Highly Migratory Species (HMS) are required to obtain an HMS Angling category permit from the National Marine Fisheries Service (NMFS). Visit the National Oceanic and Atmospheric Administration's website for a full description of these permits.
 
Tuna
Tuna are some of the largest and most powerful fish in the ocean. When fishing off the coast of Maryland, there's a good chance you'll find tunas far offshore at the canyons mentioned above. Yellowfin are the most often caught tuna species at the canyons. 
The less common bigeye tuna is also targeted by anglers, and presents a bigger challenge thanks to their larger size and lower numbers. Albacore tuna are sometimes targeted by offshore anglers venturing into the canyons, although their numbers can vary greatly from season to season. 
The majority of boats targeting tunas at the canyons will fish by trolling rigged baits like ballyhoo or squid, spreader bars with multiple teasers, and lures with hard plastic or metal heads and soft plastic skirts. 
Bottom Fish
Don't want to travel 50 miles offshore? Want to fill a cooler full of fish? Then bottom/wreck fishing is for you! Located just off the coast of Ocean City, resting on the bottom are countless wrecks and reefs holding fish. From flounder to sea bass and even triggerfish! This effortless and relaxing fishing experience is ideal for all ages and experience levels. With one of the largest selection of boats to choose from makes booking a trip easy and affordable. If you're going out yourself then be sure to check out this awesome article by our friends at FishTalk on flounder fishing near Ocean City.
Before you go
*NOAA Fisheries requires fishermen and dealers to obtain federal permits if they fish for, sell, purchase, or import Atlantic highly migratory species (HMS), which include tunas, billfish, swordfish, or sharks. Permits are also required to export bluefin tuna, swordfish, and frozen bigeye tuna.* Permits here.
Before you head out for your next day on the water in Maryland, be sure to visit the Maryland Department of Natural Resources for information on licenses and regulations.  Here you can also find up-to-date trout stocking information including maps of what has been stocked and where. Maryland has one of the finest trout fisheries on the east coast and we invite you to make an adventure of it, head to the Planning Resources section of FishandHuntMaryland.com for a host of trip planning needs including lodging options, guides, outfitters, and more.