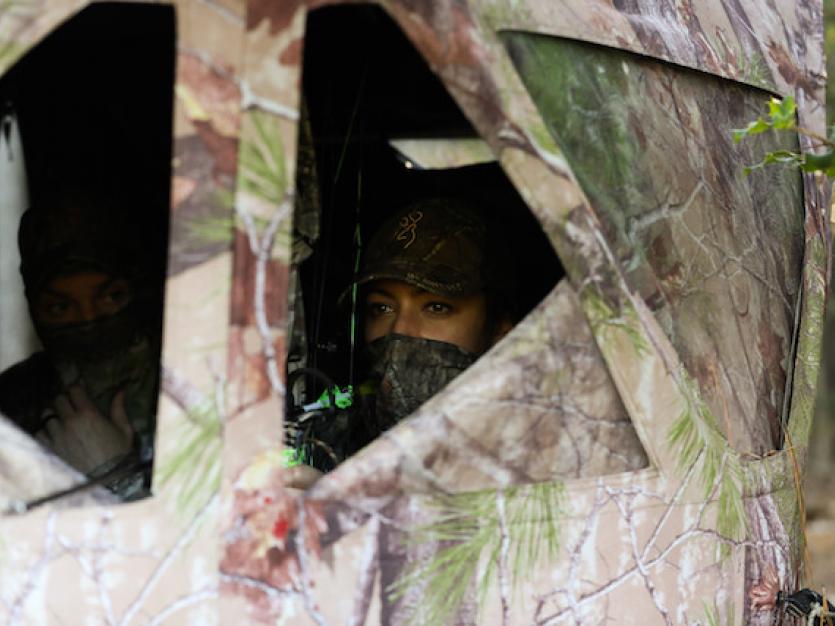 First Shot Mentored Deer Hunt
As a child, I followed deer trails across the forests of central Maryland, tiptoeing softly over the brittle fallen leaves. My sisters and I built shelters of fallen branches where we would sit hidden on chilly autumn nights, watching the deer graze in a neighbor's field.
First Shot Mentored Deer Hunt
Our family spent summers on the Eastern Shore. I learned the size of a keeper Blue crab was as big as a Coca cola can. I baited fat minnows on hooks to catch flounder. I sat next to Mallard nests in the springtime, praying the eggs would hatch and the yellow down ducklings would follow me home. Maryland provided a world class education in the outdoors, but I was never exposed to hunting.
As an adult, I became interested in the ethics of where my food comes from. I saw the way hunting and conservation go hand in hand and decided that hunting was something I wanted to be a part of. Traditionally, hunting is a skill passed down from parents to their children. Outside of this, there are few opportunities for a novice to learn the sport. Lacking family that hunted, I had no idea how to get started.
Years passed until one day I saw an advertisement for the Maryland First Shot Mentored Deer Hunt. This program is a part of a larger, national effort to recruit, retain, and reactivate new and lapsed hunters.  Hunters and Anglers are major supporters of wildlife conservation and public land protection, and the currently declining hunter population jeopardizes these resources. Therefore, this initiative, commonly referred to as R3, aims to increase interest and participation in hunting with the added long-term goal of protecting our natural resources. I filled out the application with the same cautious optimism with which one purchases a lottery ticket. But to my complete surprise, I was selected.
The experience of that first hunt was life changing. I remember climbing into the big box blind in the still, black morning. I remember my awe as the forest gradually transformed in the first morning light. How I had settled down for what, by all accounts, was going to be a long wait, when a trio of deer suddenly crept out of the early dawn. I remember the triumph and visceral relief of an ethical kill. But above everything, I felt such gratitude for my incredible mentor, who had so graciously opened the door to a part of the outdoors I had been missing all my life.
Since that first hunt, my mentors have continued to provide me with opportunities to delve deeper into the world of hunting.  I have experienced the stark contrasts of waterfowl hunting: quiet camaraderie that explodes into action when birds come within range. I cannot wait to experience the heart pounding excitement of calling in a wild turkey this coming spring.  As I continue to grow in experience and knowledge, I hope that one day I will be able to open the door for someone else into this incredibly rewarding facet of the Maryland outdoors.  
Plan your trip
If you are interested in learning more about the Mentored Hunt program, be sure to visit the Maryland Department of Natural Resources' website.   There, you will also find details on rules/regulations and licenses. For information on lodging options, hunting guides and outfitters, outdoor retailers and shooting ranges, visit the Plan Your Trip section on our website. And if you're up for a quick getaway, be sure to check out Visit Maryland's deals page  featuring Spring packages and deals.
Get A License
Purchasing a license is more convenient than ever before. Maryland DNR provides the following quick and easy ways for you to obtain your licenses and registrations.