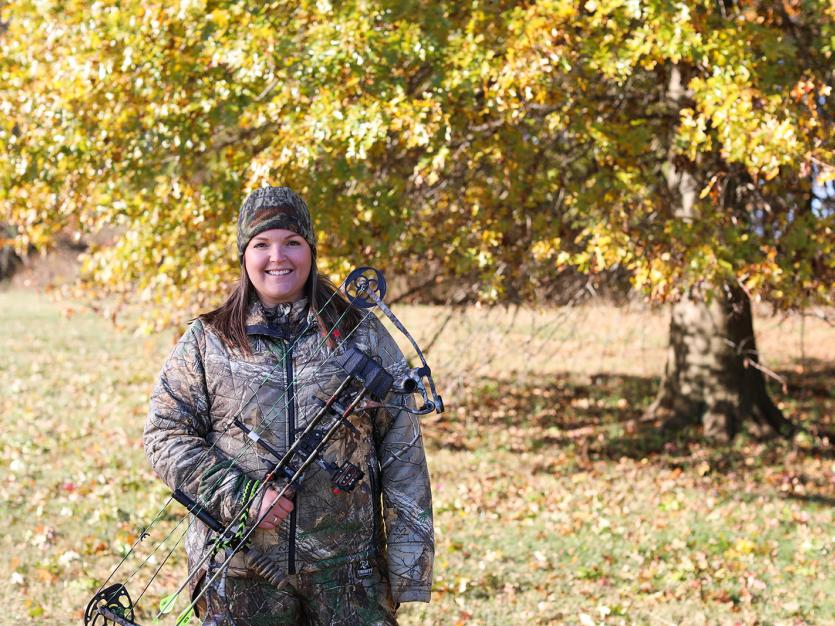 Deer Hunting with Sam Hopkins
From the world class white-tailed deer to the unique sika deer opportunities, the next hunt to remember happens right here in Maryland.
You won't be going home empty-handed in Maryland. The state has one of the highest hunter success rates in the Mid-Atlantic region with one of the most generous bag limits in the country. Home to the largest harvested buck on record in the East Coast, you have the chance to bag a record-setting trophy in Maryland. Whether you're a seasoned hunter with years of experience or a novice sportsman with a new hunting license, Maryland has everything you need for a memorable deer hunt.
About Sam
Sam is a Wildlife Response Technician with the Department of Natural Resources- Wildlife & Heritage Service. She hunts whitetail deer, small game, and waterfowl. Sam also loves the challenge that comes with it and knowing where the meat in the freezer is coming from.  
Q&A with Sam: 
What makes Maryland unique?

 Maryland is unique when it comes to hunting because we are the only state in North America where you can hunt sika deer in the wild.

What's your #1 tip to readers?

The #1 tip I can give to readers is to have patience and practice and your opportunity will come.

How do you measure success in Maryland?

Measuring success in Maryland can be different for each person. Success to me is filling the freezer and knowing exactly where that meat came from. 

How often do you find what you're hunting?

I would say I find what I'm hunting for about 50% of the time. A lot of time goes into scouting a property, finding the perfect location for a tree stand, and putting out a trail camera to see what is in the area. Reading the weather is also a huge part in where I am going to hunt that day.

What's your most memorable moment in Maryland?

My most memorable moment in Maryland would have to be when I shot my first deer. I was with my dad and brother in a ground blind on youth day. We had seen deer all morning but nothing was close enough. I finally saw my opportunity when a 3 point started walking towards our blind. I lost sight of it in the underbrush so my dad told me to army crawl out of the blind and inch closer to the edge of the little knoll we were sitting on. I was able to get out and in a prone position with dad's H&R 20 gauge lined up on the deer. I squeezed the trigger and dropped him dead in his tracks and brother and my dad got to witness the whole thing! 
See All Of The Traditions Videos
We hope you enjoyed this featured story. Please visit the Traditions of Maryland page to see all ten featured stories.