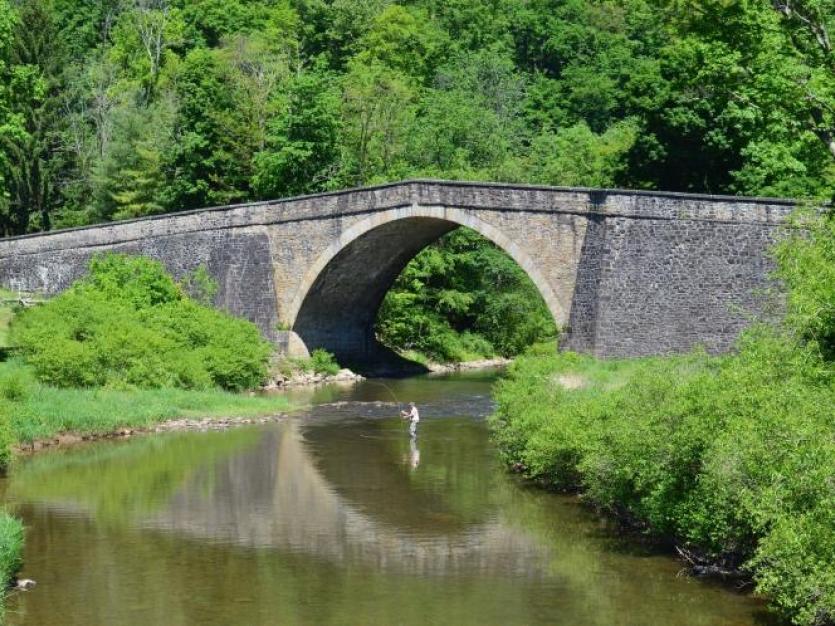 Fly Fishing the Casselman River
By John Neely
Imagine a 17th-century Dutch painting, with rolling farms and a gentle gradient river flowing through a picturesque valley, and you've just described western Maryland's Casselman River. Located 15 miles northwest of the Garrett County FLy Fishing Trail Site at Big Run State Park - about a 20 minute drive - the Casselman is one of Maryland's best kept secrets for fly fishing.
It's springtime and mid-morning on the Casselman and there's a caddis hatch on the way. I don't have my watch, but a fly angler knows the time because at about 10:00 am and 1:15 pm in May and June, a tan or olive caddis hatch occurs like clockwork. For those trying to match the hatch, size #16 and #18 tan elk hair caddis flies are just the ticket.
The river is heavily stocked with hatchery trout during the late fall and early spring—more than a few are lunkers. In the 1990s, Maryland's Department of Natural Resources devised an innovative plan for the Casselman; the river is catch-and-release fishing only from October through mid-June. The water temperatures become too warm during the summer months to support natural reproduction, so starting around June 15 and continuing until the end of September, it's put-and-take fishing, with a maximum of five trout per day.
There are a number of natural springs on the river, and there is some limited holdover of trout from season to season. Not too many survivors though because flows can be low during the summer, especially during droughts, and fish become extremely stressed.
The Casselman is primarily a rainbow and brown trout fishery, with browns typically hanging underneath cut banks, fallen timber and the deeper pools. The rainbows are almost always in the stream riffles.  Standard hatches and fly imitations include tan and olive caddis, Hendricksons and Adams parachutes, and blue winged olives on overcast and rainy days. Ants and beetles are reliable patterns because they are abundant on the rocks and overhanging branches. Great searching patterns include the royal Wulff, royal coachman and trudes.
In their rush to fish the famous spring creeks of Pennsylvania and Virginia, fly fishermen often ignore the rivers and small streams of Western Maryland.  The trout in the Casselman River in the spring and fall are well worth pursuing.
Get Ready for Your Next Fly Fishing Trip
In need of additional information on where and how to fly fish? Check out Maryland's Fly Fishing Trail. The first state-wide trail in the nation highlights 48 sites spanning from the shorelines of the Chesapeake to the mountain streams in Western Maryland.
Before you head out, be sure to acquire your license and check out the latest regulations from the Maryland Department of Natural Resources.
Before or after fishing the Casselman, anglers will find plenty of places to eat in Grantsville, including local favorites the Penn Alps Restaurant, the Casselman Inn and Restaurant, or the Cornucopia Cafe.
Better still, turn your short fly fishing trip into an extended getaway. Check out Visit Maryland or the Garrett County Chamber of Commerce websites for lodging, restaurants, attractions, events, activities, and current deals and discounts.
Information about the author: John Neely is past Chairperson of the Maryland Sport Fisheries Advisory Commission, a long time board member of the Chesapeake Conservancy, and a life member of Trout Unlimited and Coastal Conservation Association