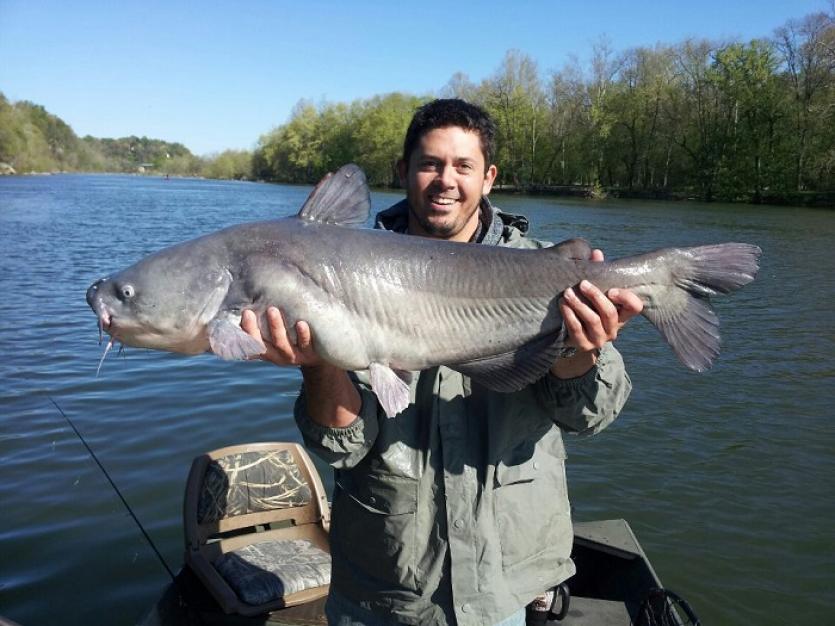 Blue Catfish with Captain Mike Starrett
Captain Mike Starrett has been guiding anglers on the tidal Potomac River for almost 30 years. He specializes in largemouth bass, striped bass, crappie, the invasive Northern snakehead, and blue catfish, also an invasive species. He and his partner, Captain Dave Snellings, work together, each in their own boat, keeping in touch by VHF marine radio to find fish for their clients. It has been my pleasure to fish with both gents. Saturday, November 16, 2019, was a chilly day, but hungry blue catfish don't seem to mind, they still bite in cold water. So, Captain Mike started up his 200 hp Mercury Optimax and I boarded his 22' Mako center-console boat and we shoved off from the Ft. Washington Marina ready to stay warm and catch big fish.
Six species of catfish inhabit Maryland waters including native brown, white, and yellow bullheads, the introduced channel cat, and the invasive flathead and blue catfish. Blue cats are the biggest and most insidious, but flatheads are a close second. Blue catfish grow fast. Captain Mike says a 40 lb. blue catfish is probably eight-years-old, and a 100 lb. blue is 15 to 20 years old. They eat protected American and hickory shad, blueback herring, and almost anything else such as eels, clams, and crabs. Gizzard shad are their main forage in the Potomac River. Blue catfish have taken over the river by crowding out other species. Captain Mike figures blue catfish total 80% of all catfish in the Potomac River, making it a perfect place to hook your share.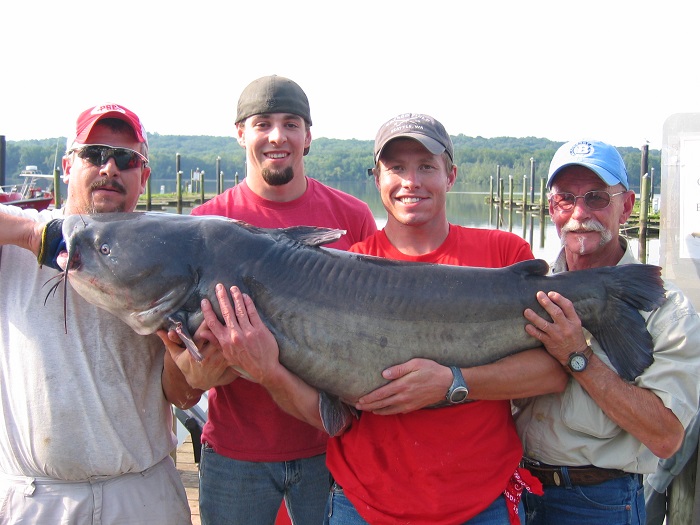 Blue catfish are native to the Mississippi, Missouri, and Ohio Rivers. Anglers in those areas like fishing for blue cats because they grow big, are fun to catch and taste good. In the early 1980s, the state of Virginia stocked blue catfish in the James and Rappahannock Rivers. Since then, blue cats have made their way to many of Maryland's tidal rivers including the uppermost reaches of the Chesapeake Bay.
Blue catfish can get huge. In August 2012, Ed Jones caught the Maryland state record blue catfish from the Potomac River near Ft. Washington. The massive fish weighed 84 lbs. In the fall of 2018, Captain Mike guided a proud young man to the biggest blue catfish ever caught on his boat. The gigantic fish weighed 83 lbs. It measured 48 inches long and had a 39-inch girth, a once in a lifetime trophy fish. The typical trophy size blue catfish in Maryland is 40 lbs.
Blue catfish are fairly easy to catch. Any medium/heavy size rod will work. Captain Mike spools his reels with 50 lb. braided line and uses a 40 lb. monofilament leader. He fishes 10 rods at a time in well-placed rod holders on his boat. Captain Mike advises using different colored braid on the reels. That way, if the lines get tangled, the different colors make it easier to get them untangled. A sliding sinker fishfinder rig with a 5 to 6-ounce bank sinker keeps the bait on the bottom. He uses size 8/0 circle hooks baited with chunks of fresh cut bait. He never uses frozen bait. Captain Mike motors his boat in 8 to 25 feet depths while he watches his widescreen fishfinder. Once he sees good marks, he puts the anchor out.
The scenery of the Potomac is a bonus. Picture yourself fishing within sight of National Harbor and the Washington Monument. We kept 10 blue catfish. The biggest was 30 inches long.
Blue catfish taste good, but the big ones are not what Captain Mike calls eaters. A good eating-size blue is between 16 and 32 inches long. They can be cooked in a variety of ways. There are lots of great, simple recipes online.
The Maryland Department of Natural Resources urges anglers to keep blue catfish. Blue cat season is open all year and there is no size or creel limit. A blue catfish measuring 40 inches and over qualifies for a Maryland Department of Natural Resources Invasive Species Angler Award. It's easy to apply.
Trips fill fast. To book a trip for the year 2020 go to www.indianheadcharters.com or call (202) 439-1410.
The holiday season is full of fun in Maryland, including ICE! at the Gaylord National and MGM National Harbor, so consider turning your fishing trip into a getaway. To help plan your fishing adventure, check out the Plan Your Trip section of our website.
About the Author: Tim Campbell is a native Marylander and has been fishing for more than 50 years. He is an award-winning member of the Mason-Dixon Outdoor Writers Association.      
Images courtesy of via Brian Cera and Noah Schlossberg via the Maryland Department of Natural Resources' Flikr account.