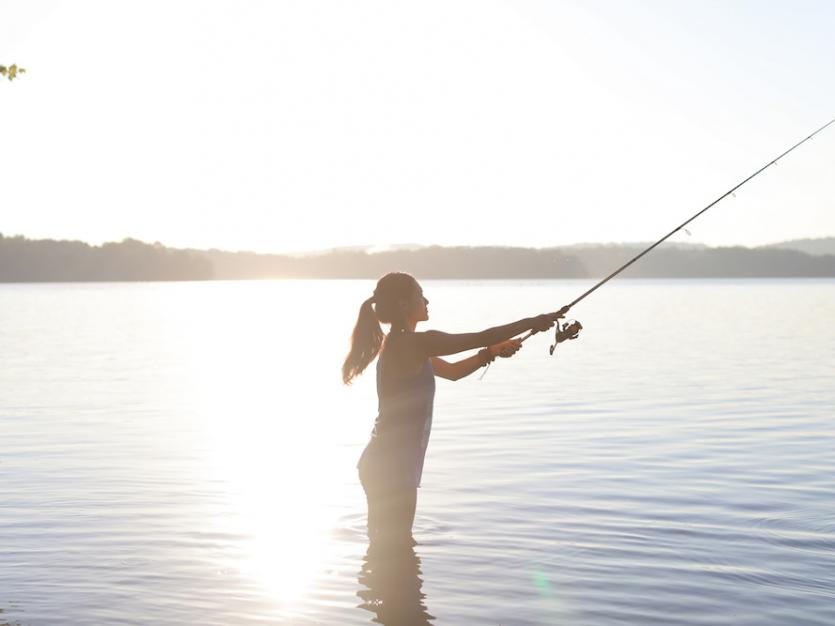 Bass Fishing with the Whole Family
Maryland's known for its striped bass but what's often overlooked is the amount of public lakes and ponds that offer great family fishing opportunities. Whether you are a novice angler learning the ropes or a skilled veteran launching a boat, Maryland's waterways are here for all to enjoy.
From big-timers, to first-timers, everyone loves largemouth bass. Considered the most popular sportfish in the United States, largemouth bass offer a fun fishing experience for every skill level. Their aggressive nature makes them an easy fish to catch and a lot of fun to bring in. While largemouth bass tournaments have been growing in popularity across the country in recent years, Maryland's reputation for significant largemouth bass has grown along with it. From the brackish waters (a mix of salt and freshwater) of the Chesapeake Bay's tributary systems, to freshwater systems that riddle the state, these popular fish can be found all across the state. With easy access to fishing spots by land, and boat access points across the state, Maryland makes it easy for the serious angler and the first-timer to find a largemouth bass worth talking about.
About the Family
Family of 3 who loves spending time outdoors! Capturing moments and creating memories together. If you're inspired and want to see more of our adventures please follow us on our Instagram pages @barelyhooked and @theatribeadventures.
Questions & Answers 
What makes Maryland unique?

Maryland is not only known for its blue crabs and the history it brought to our nation. Maryland provides a vast opportunity of world class outdoor activities for all ages all year round. From enjoying the hiking trails and mountain views up in Catoctin Mountain, or paddling along the Potomac River to catch some smallies on a kayak, to chasing big stripers in Chesapeake Bay, this makes the state of Maryland a very unique place especially for people who likes to spend their time outdoors. 

What's your #1 tip you can give readers?

Get out there and enjoy your time outside while you can. It's the beautiful scenery and wildlife you don't see when you're inside the house. It's when you discipline yourself to get it together and convince yourself to get up at 2 in the morning so you can be on the water by sunrise. It's not always the fish you're trying to catch or the trophy buck you've been waiting every season. It's the freedom you have when you're out there. It's the memories you share with your family and friends. That's what it's all about.

How do you measure success in Maryland?

Success here in Maryland is immeasurable. A lot of opportunities and potential. You just have to figure out what you really desire to be and stay focused. Everything is doable if you keep your mind on it.

What's the typical catch ranging from in Maryland?

Maryland has a lot of fishing opportunity to offer. We do a lot of exploring especially on foot or on the kayak so here's what we typically hooked on. If you're into trout and smallmouth bass you can get them in streams and rivers. In lakes and reservoirs, you can target big largemouth bass, crappie, yellow perch, sunfish, bluegill and chain pickerel you name it. You can catch carp and catfish too.Rockfish is like the bread and butter here in Chesapeake Bay and we strictly observe the regulations to conserve this specie for the next generation of our future anglers.But the one thing that is keeping us from coming back to Blackwater is this fish called Northern Snakeheads. I've been hearing stories that they are everywhere now here in Maryland. Chasing the on our kayaks, they can be tricky but they are so much fun to catch. There's actually more species to fish here in Maryland. It is limitless if you think about it.

What's your most memorable moment in Maryland? 

There are so many memorable moments that my friends and family shared together here in Maryland but the most memorable moment for me is the first time I ever catch a fish. I enjoyed reminiscing those days when I was still learning the basics of fishing. I am not saying I know everything now about fishing but the eagerness to learn more about it turned into a something else. I suddenly realized that this is what I want to do every chance I get. Almost four years ago, on a late winter morning, I was throwing a chatterbait on a 7-foot medium spinning rod and all I catch is dead grass. I was with a buddy who later turns out to be one of my best and closest friends. It's either I get my lure hung on a tree branch or I get stuck on a log every cast I make or I catch more grass. I took another cast then suddenly it felt heavy. Almost thought it was a log again but this time it started moving. My heart was beating so fast as I reeled it in excitedly. Then I saw my first fish ever. That chunk was almost two pounds. It was the best feeling ever. First time hooking on a largemouth bass and actually landing it, that was it. That, for me, was my most memorable moment here in Maryland. It created a feeling of always wanting to be engaged outdoors and willingness to learn more was becoming a passion. I will always look back to when my friend encouraged me to try fishing and now that I have my wife and son, I am glad that I am able to share these experiences out there with them. Just create more memories that will last forever.
See All Of The Traditions Videos
We hope you enjoyed this featured story. Please visit the Traditions of Maryland page to see all ten featured stories.