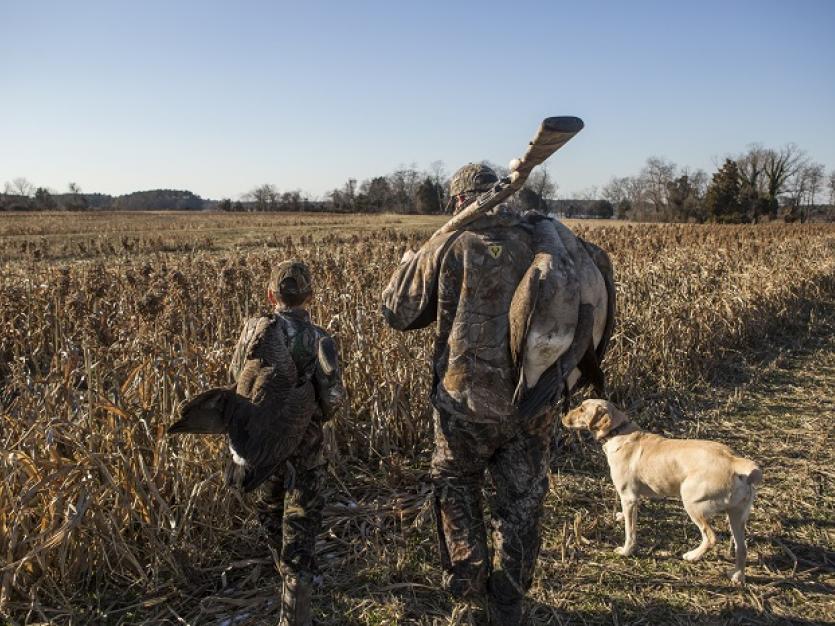 Youth Waterfowl Hunting Day
Hunting is a wonderful way to get the whole family outside together and to see some naturally beautiful parts of Maryland. 
Youth Waterfowl Hunting Days in Maryland – held twice each year for hunters aged 16 and younger -- offer a great chance for young outdoor enthusiasts to master their skills. The most recent youth waterfowl hunting day was Saturday, Feb. 8.  An added bonus to the February hunt was that many of the ducks had attained their striking breeding plumage and were a real catch.
The other Youth Waterfowl Hunting Day is usually scheduled in November – keep an eye on the Maryland Department of Natural Resources website for upcoming dates.
Hunting adventures provide a fantastic opportunity for a family getaway. This winter, travel to an area in Maryland you have not hunted before and along the way take advantage of some unique things to do and see as a family, before or after bagging your limit.
As you begin planning your trip for the 2020-2021 season, start by looking at the following destinations or explore other locations in Maryland.  
3 Great Destinations for Waterfowl Hunting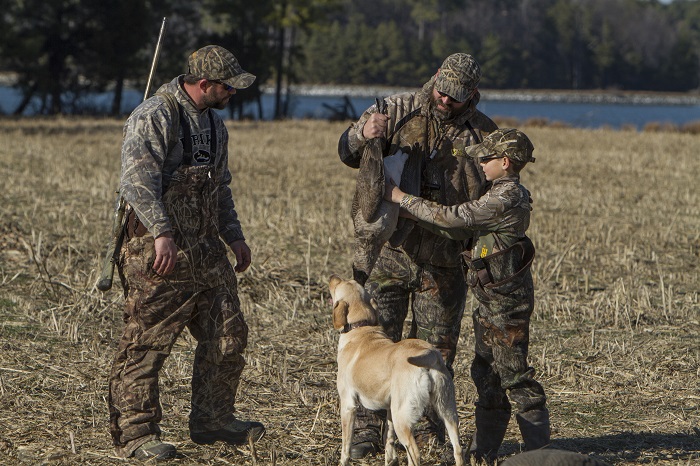 Piscataway Creek
Piscataway Creek, located just south of the Washington D.C. Capital Region, is home to several National Park Service Blind Sites offering hunters a variety of puddle and diving ducks. The National Park Service has 14 different sites that are Cooperative Wildlife Management Areas (CWMA) – seven of which are in Piscataway Creek, with the other seven sites out on the Potomac River. See a map of the area Here.
Hunters will need a Southern Region public hunting permit along with a reservation in order to hunt the location. Permits can be obtained online or through the Maryland Department of Natural Resources Myrtle Grove office in person or by mail. If you need more specific information on the National Park Service Blind Sites CWMA (or any other public hunting in the Southern Region), please contact one of our staff at the Myrtle Grove Wildlife Management Area office at 301-743-5161.  They take hunting reservations starting at 8 a.m., so it may be tough to get through to them on the phone until sometime between 10 a.m. and 10:30 a.m. During the hunting season, they are always in the office until noon.
The Piscataway Creek duck blinds are located in the National Park Service's Piscataway Park. This park was created to protect the view from George Washington's home, Mount Vernon, which is directly across the Potomac River. Visit the park to learn the history of the Piscataway Indians for whom this area was very special, and tour National Colonial Farm to learn about 18th-century agricultural practices. The park also has a visitor center, a fishing pier, two boardwalks over freshwater tidal wetlands, and a variety of nature trails, meadows, and woodland areas.
Piscataway Creek is also located only 20 minutes from all the excitement at National Harbor, offering tons to do with the family; from dining and entertainment to history and shopping options. Click Here for lodging options near Piscataway Creek.
Deal Island Wildlife Management Area
The 2,800-acre impoundment at Deal Island Wildlife Management Area (WMA) offers chances at a variety of puddle ducks and is open without reservations or permits for Youth Days (no permit requirement applies only to youth hunts). The use of Deal Island WMA is generally permitted seven days a week throughout the year. Hunting is allowed in accordance with open seasons and shooting hours unless otherwise noted. All state and federal hunting laws and regulations are applicable. Waterfowl hunting in the impoundment has specific regulations, including permit requirements for certain days as well as opening and closing dates. For information and permit application click here, or call the office at 410-543-8223.
Important to Note:
The southeastern corner of the impoundment totaling 800 acres is designated as a waterfowl refuge and is closed to hunting.
No motorized vehicles are allowed.
A 2,800-acre impoundment has been created in the tidal wetlands. Using a small jon boat, canoe, kayak, or chest waders is recommended.

 

No gas-powered boat motors are permitted in the impoundment between Oct. 1 and March 31.
Primitive camping is available.
Deal Island is stunning. It is surrounded by the Chesapeake Bay and the tributaries of Somerset County. With very little development, it is the perfect place to unplug and getaway.  Like Smith Island, its cousin to the south and home of Maryland's Official State Dessert (Smith Island Cake), Deal Island also has a unique cake, Deal Island Cream Devil Cake, which you can only find locally. Click Here for more information on Somerset County and Here for lodging options to help plan your visit.
Grove Farm Wildlife Management Area
This area offers field hunting for Canada geese as well as several blinds on Pond Creek for hunting puddle ducks. Hunting at Grove Farm WMA requires a free Central Region Public Hunting Permit and a reservation, available through the Gwynnbrook Wildlife Management Area permit office. Here are a few things to note before heading out: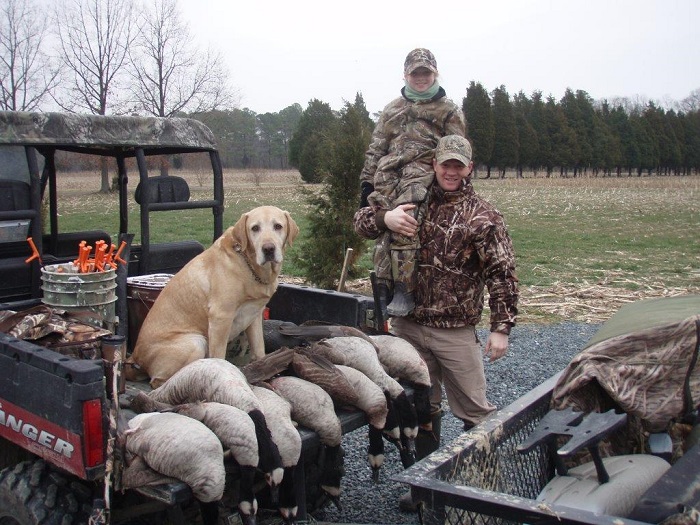 A Few Notes:
No motorized vehicles are allowed.
Parking is available in designated parking lots.
Non-toxic shot is mandatory for waterfowl and dove hunting.
Grove Farm Wildlife Management Area consists of 744 acres.
Grove Farm WMA is located near Cecilton in Cecil County. Make a family trip out of your waterfowl hunt and explore the area. You can visit the historic town of Elkton or Elk Neck State Park. Bike or hike the new Chesapeake and Delaware Canal Recreational Trail in Chesapeake City and see the commercial boat traffic that still uses this historic canal up close!
Youth Waterfowl Hunting Days can provide your young hunter an amazing experience, and foster the hunting culture that will form the basis of a lifelong passion for both hunting and the outdoors. Here are a few things to know before heading out:
The bag limits for ducks and geese are the same as those during the regular seasons.
Youth aged 16 or younger may participate.
Youth hunters must possess a hunting license – or be license-exempt – and a Maryland Migratory Game Bird Stamp. If they have reached the age of 16, they must also have a Federal Duck Stamp.
Youth hunters must be accompanied by an adult aged 21 or older who also possesses a valid hunting license. The adult may call, assist with decoys and retrieve birds, but they cannot be armed.
 For information on waterfowl in Maryland, click here. For information on hunting opportunities for youth or how to purchase your permit, check the Maryland DNR website here. For all Maryland travel plans or event information, please see Visit Maryland.  
Images courtesy of the FHMD
"This article was written in part by the Maryland Department of Natural Resources and FHMD staff"