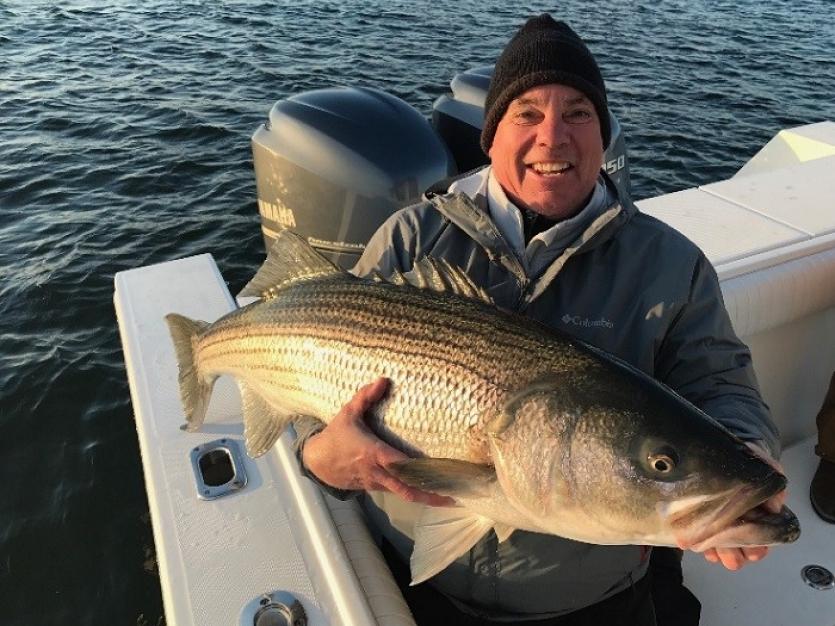 Ways to Troll
What is Trolling
Trolling is arguably one of the most effective ways to catch fish. Not only does it fill the cooler, but it's equally exciting for beginners and experts. Trolling may be one of the most popular fishing techniques out there. In a nutshell, trolling is a fishing technique where you drag many hooked lures or baits through the water from a slow moving boat. This creates a school of lures swimming behind your boat.
What are the Numbers 
Every boat captain on the Chesapeake Bay can show you a different way to tie your shoe, but the fact is that there is no single correct way or depth at which to troll. It's really just a matter of finding the right fish. One way we help key in on the fish is by covering all depths of the water column. This means running 3-5 rods, with two rods trolling closest to the bottom, one in the middle, and one just below the surface. This maximizes your chance of coming across the fish. Then simply adjust your rigs based on what line depth catches first. For example, if your deep lines are the only lines getting hit, try moving all of your lines to that depth. Be a sponge and soak in all the information that the fish are telling you.
Key pointers
Troll at no faster than three knots and no slower than 1.5 knots.
Troll with white or chartreuse, these colors are known to produce fish.
Try running braided mainline to help get your lures to the correct depth.
Pay attention to your electronics.
Where to go
Fish often swim with current or against it, meaning they are facing one of two ways, we suggest trolling perpendicular to the current, displaying your baits to the fish for the longest period of time. Fish are known to be found where the current intersects structure creating a back current allowing the fish to remain still and ambush prey. Locate points or shoal that are creating a back current or jette and you'll find the fish.
 
What to use 
All up and down the coast, anglers have different methods  to pursue trophy rockfish, the most common and consistent rigs are the umbrella and the Tandem Mojo. The umbrella rig is a small cross bar with at least 4 baits simulating a school of baitfish, for best results match the hatch with paddle tail lures or curly tails. The Tandem Mojo rig is two heavy bucktail jigs that are often trolled very deep. These simulate larger baitfish such as bunker and shad.
Most Importantly 
Be a sportsman and watch out for other fishermen, don't be the guy trolling through the spreads of other boats, or cutting people off. Have fun and be responsible.
Get Ready for Your Next Fishing Outing
In need of additional information, inspiration or a preview of what Maryland has to offer? Check out Fish & Hunt Maryland's latest articles written by fellow sportsmen and local partners.
Be sure to acquire your license from the Maryland Department of Natural Resources if you plan on heading out on your own, charter passengers are covered by the captain's license.  
Visit our Plan Your Trip page for information on fishing charters and guides, lodging options, marinas, retailers, and more. And if you're up for a quick getaway, be sure to check out Visit Maryland's deals page featuring Spring deals and packages. 
Get A License
Purchasing a license is more convenient than ever before. Maryland DNR provides the following quick and easy ways for you to obtain your licenses and registrations.