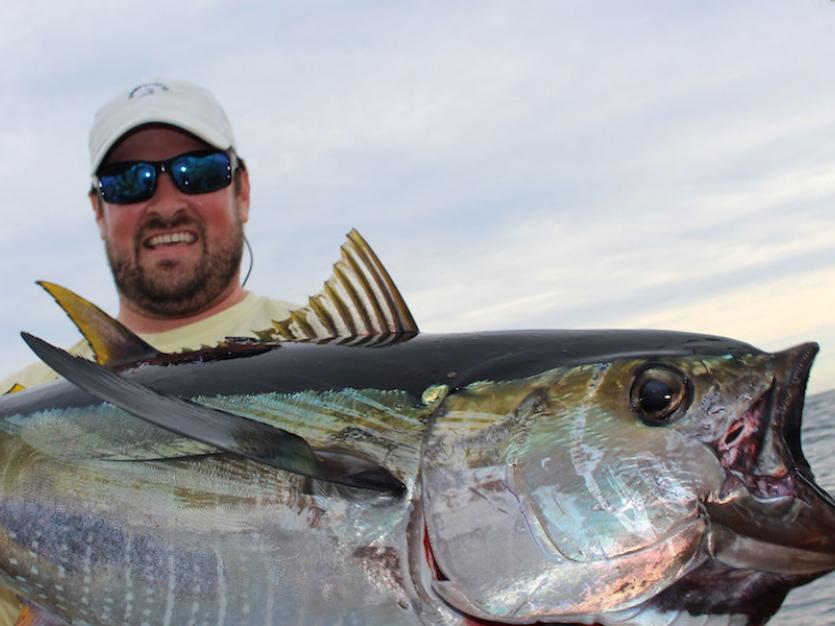 Tuna Fishing in the Canyons
Tuna are some of the biggest, most powerful, most exciting fish in the ocean — and if you're fishing off the coast of Maryland, there's a good chance you'll find those tunas far offshore at the canyons. There are five Mid-Atlantic canyons within range of many of the sportfishing boats running from Maryland: Wilmington Canyon to the far north, then Baltimore Canyon, Poorman's Canyon, Washington Canyon, and finally Norfolk Canyon to the far south. The closest of these to the Ocean City inlet is Poormans, which is 53 nautical miles away. Norfolk is the farthest from home, at a whopping 75 nautical mile cruise. Each of these chinks in the Continental Shelf is unique, but they all have one thing in common: the presence of tuna fish.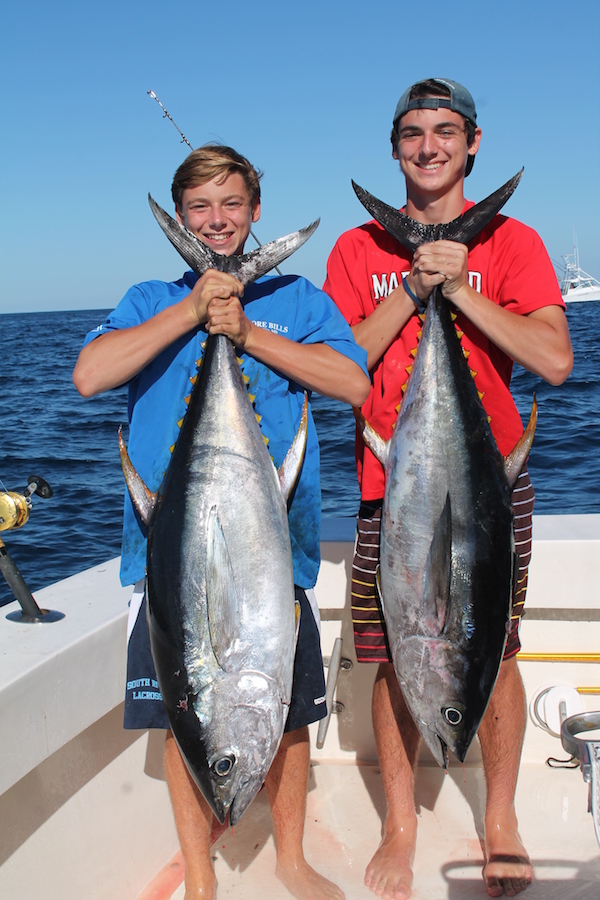 Yellowfin are the most often sought-after tuna species at the canyons, and are the one most commonly caught. The less common bigeye tuna is also targeted by anglers with regularity, and presents a bigger challenge thanks to their larger size and lower numbers. Albacore (longfin) tuna are another type sometimes targeted by offshore anglers visiting the canyons, although their numbers can vary greatly from season to season. Some years albacore can be plentiful, but others they may not show up in the catch at all. Other less-desirable tunas that may be encountered include Atlantic bonito, skipjack, and little tunny. These species are generally not considered gamefish and are either released, or sometimes kept for bait. On occasion for short periods of time early and late in the season, migrating bluefin tunas may also make an appearance near the canyons. They're rarely caught out in the deep waters of the canyons themselves so it's a stretch to call them a canyon fish, but when they're present near the canyon edges they certainly draw the attention of anglers. 
The vast majority of the boats targeting tunas at the canyons will fish by trolling. Common offerings include rigged baits like ballyhoo or squid, spreader bars with multiple teasers, and lures with hard plastic or metal heads and soft plastic skirts. Anglers will often troll up and down over the steep drop-offs found on the canyon walls, where currents stir up nutrients and jump-start the food chain. Many also like to work the "bight" of the canyon, where the drop-off turns north-south and continues up or down along the Continental Shelf, because this is another area where bodies of water tend to mix and churn. And trolling in the tip, or "head" of the canyon, is another popular move. The drop-offs tend to be less abrupt in this area, but gyres and swirls that develop in the canyon tips can create rips and temperature barriers that hold tunas.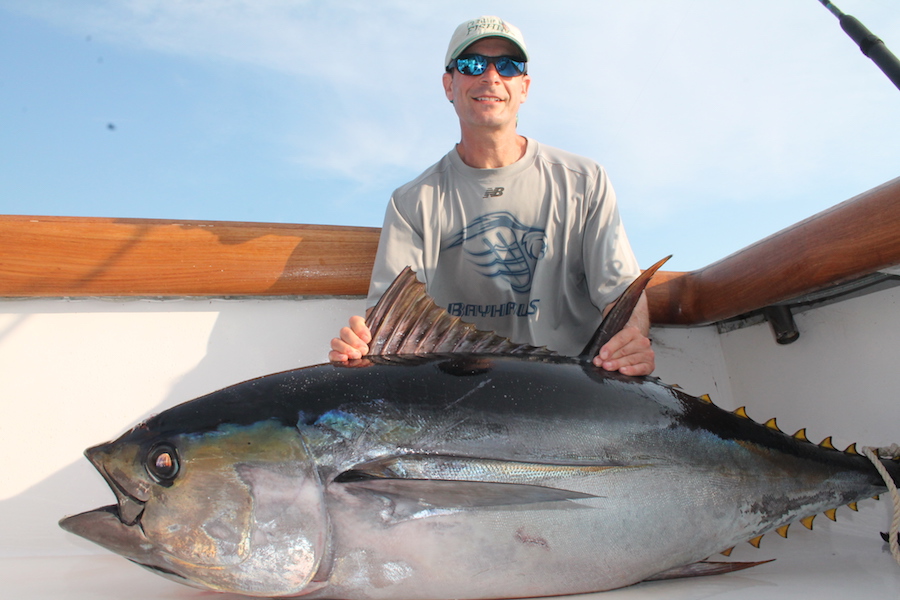 Sometimes an angler will spot a pod of pilot whales or a school of common dolphin out in the canyons. Both whales and dolphins are good indications that tuna could be nearby because all three creatures like to feed on squid, so even when they're spotted out in open water away from the tips or edges anglers will usually focus their efforts in the immediate area.
Some anglers also employ the technique of chunking at the canyons. They'll come armed with a flat or two of butterfish in the hold, chop the fish into domino-sized pieces, and toss them overboard a handful at a time to attract the tuna close to the boat with a free meal — and hope the fish don't notice that there are hooks in some of those fish chunks, until it's too late. Chunking at the canyons does sometimes take place during the day, but most anglers reserve this method for when they stay overnight and fish at the canyons for days at a time. Although such an endeavor takes a large boat, lots of planning, and significant expenses, spending a night at the canyons can be like spending a night in heaven for a dedicated tuna fisherman.
*NOAA Fisheries requires fishermen and dealers to obtain federal permits if they fish for, sell, purchase, or import Atlantic highly migratory species (HMS), which include tunas, billfish, swordfish, or sharks. Permits are also required to export bluefin tuna, swordfish, and frozen bigeye tuna.* Permits here.
Of course, many anglers don't have the boat, heavy-duty rods and reels, and equipment necessary to target tuna at the canyons. Fortunately, there are plenty of charter boats for hire that are more than capable and have highly experienced captains and crews who specialize in catching those tunas — you can set up your own offshore adventure with one, by checking out our Plan Your Trip https://fishandhuntmaryland.com/plan-your-trip.
Be sure to acquire your fishing license from the Maryland Department of Natural Resources before heading out. Visit our Plan Your Trip page for information on fishing charters and guides, lodging options, marinas, retailers, and more.
You can purchase your Maryland Fishing License online, 365 days a year, 24 hours a day.
Be sure to visit the Maryland Department of Natural Resources online for more information on seasons and regulations before heading out!
In need of additional inspiration? Check out Fish & Hunt Maryland's latest articles written by fellow sportsmen and local partners.
When it's time to travel again and you're planning the next trip, check out the Plan Your Trip section of the Fish &Hunt Maryland's website to find lodging, fishing charters/guides, and outdoor retailer options.