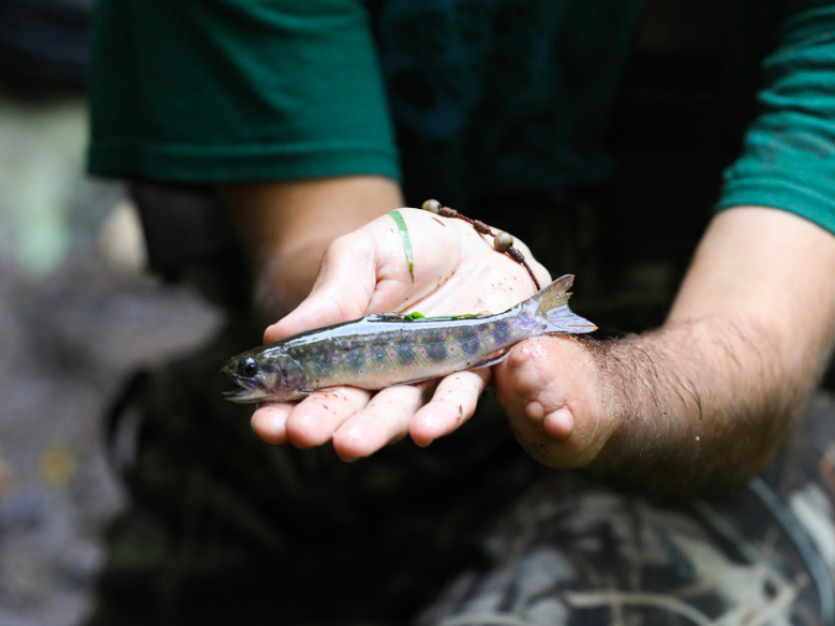 With more than 600 miles of freshwater rivers and streams packed with high-quality brook, rainbow, and brown trout, Maryland is the ideal place for your next fishing adventure. Often overlooked when thinking about fishing in Maryland, we have a world-class stocking and fishery. Maryland's native brook trout are thriving in almost all of our cold water rivers and small creeks.
Trout are considered some of the most difficult fish to fool. Once you locate Maryland waters with a population of trout, the challenge becomes identifying trout flies and lures that will trigger strikes. Check out this awesome video about fly fishing in Maryland.
Some Top Maryland Trout Locations
Savage River & Reservoir
Heavily forested hillsides of hardwood trees direct the flow of the Savage River down the mountain and into the reservoir. The river averages about 50 feet in width and has a moderate-to-steep gradient. Known for its world-class stock, this destination has some of the best trout fishing opportunities in the entire Mid-Atlantic region. It is mainly composed of boulders and cobble, providing an abundance of pocket and pooled water habitat. Native brook trout and wild brown trout are found thriving in the river. At the confluence of the river, it meets the reservoir known for holding Maryland's state's record rainbow trout at 14.2 pounds back in 1987. 
This body of water prohibits gas motors and can sometimes be tricky to launch from. For those wanting to get into a new fishery, we suggest booking a guide to show you the in and outs of this area. Click below to watch a quick video showcasing the Savage River fishery or you can find more information at the Department of Natural Resources page. 
To fully experience the region, plan to stay overnight. The Savage River area is home to some of Maryland's most unique accommodations. Elevate your stay with an overnight in one of Ella's Enchanted Tree Houses, glamp at the upscale yurts and cabins at the Savage River Lodge, return to a simpler time with a farm-stay at Water's Run B&B, pitch your tent and enjoy cooking over a campfire at a camping site in the Savage River State Forest, or stay in a log cabin built by the Civilian Conservation Corps at New Germany or Herrington Manor State Parks. Remember reservations are required, so book ahead. You'll also find local delicacies like Firefly Farms and the Toasted Goat Vineyard. 
Poplar Lick Run
This crackling little run is a "no harvest" brook trout fishing hotspot. Often overlooked because of the size of the waterway, many assume it doesn't hold fish. In fact, it is home to some of the most beautiful fish in the state as they hide under the rocks and in the crevices. With its pristine water, you will easily find brook trout. Be sure to dress in bland colored clothing to ensure you do not spook those intune to predator fish.
Poplar Lick Run is located near New Germany State Park. Visitors often have dubbed the area one of Maryland's "best kept secrets" because of its location between Big Savage Mountain and the eastern Continental Divide along Meadow Mountain. The park offers camping areas and cabins, as well as multi-use trails, swimming and paddling. 
Fall Trout Stocking
While many anglers have their sites on targeting brook trout, the Maryland Department of Natural Resources stock both golden, rainbow, and brown trout in the fall and spring.  Fall trout stocking will begin in early October and is subject to both water temperature and water conditions.  The department puts out daily trout stocking updates during the season via email and social media.  (add links) 
New & Notable Regulations
Please note that new brook trout regulations are now in effect requiring catch and release only in all put-and-take trout areas and all waters east of Interstate 81. Anglers should take time to properly identify brook trout, wh​ich are not stocked by the department - when fishing in catch-and-release waters. The Department of Natural Resources Created this list [add link] to help you identify your fish.
Felt-soled waders and wading shoes are now banned in the State of Maryland. Further information can be found through The Department of Natural Resources FAQ on the felt sole ban.
Be sure to acquire your fishing license from the Maryland Department of Natural Resources before heading out. You can purchase your Maryland License online, 365 days a year, 24 hours a day and visit the Maryland Department of Natural Resources online for more information on seasons and regulations before heading out.
Visit our Plan Your Trip pages to assist you when you're planning the next trip. The Planning Resources section of the Fish & Hunt Maryland's website contains lodging, fishing charters/guides, and outdoor retailer options. For additional travel and attractions information, see Visit Maryland.
In need of additional inspiration? Check out Fish & Hunt Maryland's latest articles written by fellow sportsmen and local partners.