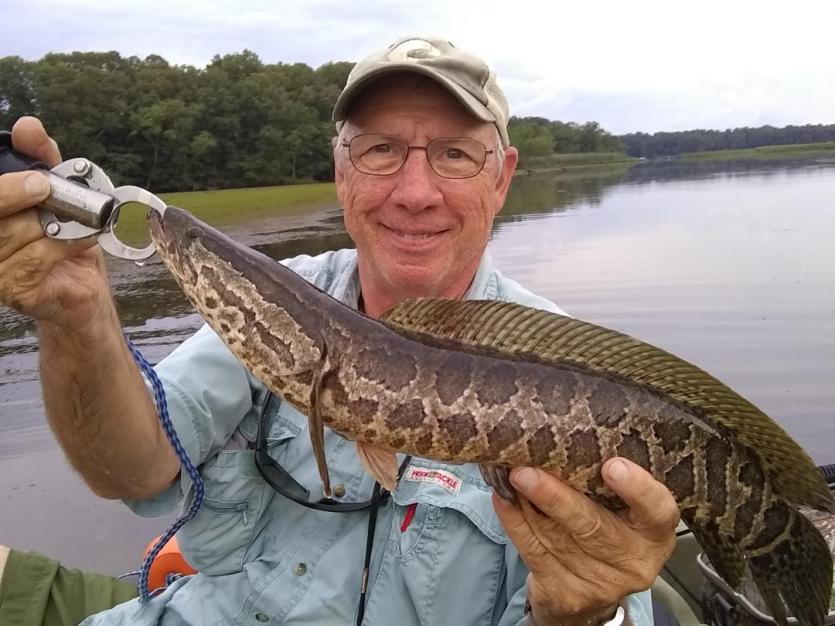 Spring Fishing Forecast
Anglers far and wide eagerly await springtime fishing. From the Susquehanna River below Conowingo Dam, to the mouth of the Potomac River at Point Lookout, fishing opportunities in the Maryland portion of the Chesapeake Bay watershed abound. The outlook for a productive fishing season is encouraging.
In the Upper Bay area of the Susquehanna Flats and surrounding tidal rivers, largemouth bass begin to stir in March. Yellow perch spawn in early March depending on the weather. The hungry bass eat yellow perch fry since the colorful perch are the first species to hatch in the upper reaches of the bay's tidal tributaries. White perch hatch in April, then herring, followed by largemouth and striped bass in May. Largemouth bass eat some of the recently hatched fry of those vulnerable species. The Northeast River is a good place to fish for yellow perch and largemouth bass, especially in the spring. Use fire-tiger colored lures to catch bass. Visit Herb's Tackle Shop in the town of Northeast for tackle and tips.
Water temperatures are important, so it is wise to use a temperature gauge. Bass will chase baitfish at 50 degrees. When the temps reach 55 degrees, everything that swims becomes more active. However, it's not too early to start fishing now. Mid-March and April is prime time for big bass and other species.
The invasive Northern Snakehead has become an increasingly popular species to target in Maryland. Late April is a good time to start catching snakeheads. These toothy critters are voracious eaters and compete for food with largemouth bass and other fish. Snakeheads will eat almost anything including fish, frogs and baby ducks. Despite their unappetizing name, these fish have a firm, white meat which is very tasty. They can be found in shallow water in the back of nearly any Maryland tidal creek or river. Lures such as chatter-baits, in-line spinners and live minnows about 12 inches under a bobber work well. Cast near emerging grass beds and other cover. The snakehead bite lasts all spring, summer and into fall.
Blue and flathead catfish are also invasive species found in the Chesapeake Bay. They are abundant, easy to catch, and taste great. Blue cats follow the spring herring runs and gorge on the spawning shad. The Maryland Department of Natural Resources encourages anglers to catch and keep invasive catfish because they upset the underwater ecosystems. Numerous catfish gather in the Susquehanna River below Conowingo Dam. The tidal Potomac River also produces big blue cats all the way upriver to Washington, D.C. Use fresh cut bait such as gizzard shad and mullet. The season for invasive catfish is open all year. Blue and flathead catfish are especially active during the spring, but they will bite year round. The state record flathead catfish was recently caught by Joshua Dixon. He caught it in late December 2020 near the boat ramp at Susquehanna State Park. It weighed a whopping 57 pounds!
The trophy striped bass season opens May 1, 2021 in the Chesapeake Bay from the Brewerton Channel at mouth of the Patapsco River to the MD/VA line at the Potomac River. Anglers from miles around launch their boats at Sandy Point State Park. Most anglers run south below the twin spans of the bay bridge before they start trolling umbrella rigs and parachute lures in search of trophy sized fish. One striped bass per person, per day is allowed. The minimum size to keep is 35 inches. Some of the biggest striped bass of the season are caught during the first two weeks of May. The state record striped bass was caught on May 13, 1995 near Bloody Point by Devin Nolan. It weighed 67.5 pounds.
The striped bass regulations change from May 16 to December 10, 2021 with a short summer closure. Please refer to eregulations.com/Maryland/fishing for updates. See the 2021 Maryland Guide to Fishing and Crabbing for more information.
Maryland has some of the best fishing in the country; considered world class by many well-traveled anglers. Largemouth bass, catfish, perch, snakeheads and striped bass are just a handful of the available sport fish in Maryland. There are many more including black crappie, bluegill, smallmouth bass, and walleye. Choose your favorite species, plan a trip with family or friends, and like the old saying goes, capture a Maryland memory.   
Visit our Plan Your Trip page for information on fishing charters and guides, lodging options, marinas, retailers, and more. And if you're up for a quick getaway, explore our Open Road Itineraries built for you by Maryland's Office of Tourism.
Tim Campbell has been boating and fishing for many years and is an award-winning member of the Mason-Dixon Outdoor Writers Association.
Get A License
Purchasing a license is more convenient than ever before. Maryland DNR provides the following quick and easy ways for you to obtain your licenses and registrations.