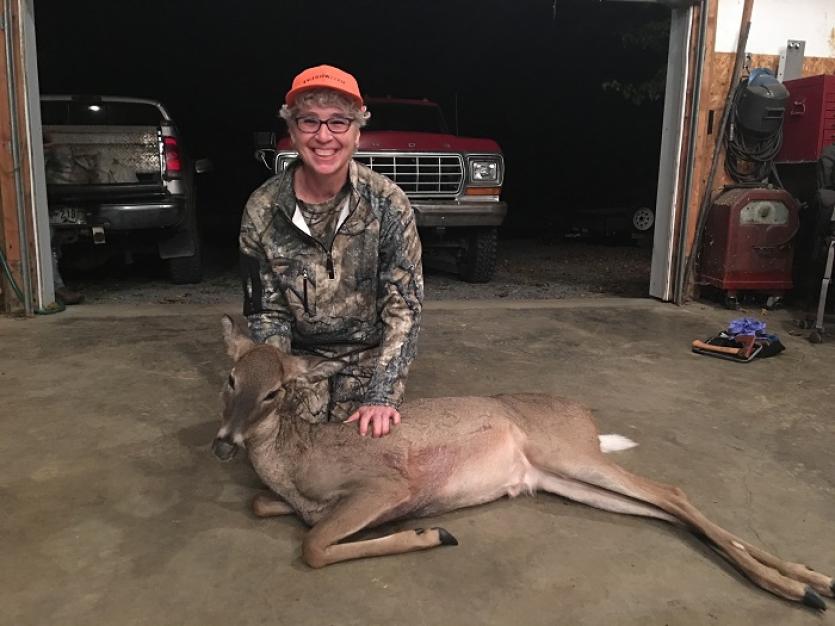 In Pursuit of White-Tails: One Outdoors Woman's Adventure
People who knew me growing up would never believe the story I'm about to share.  I grew up in the city and not in a family that did anything outdoors, but outdoors is where I loved to be, even from an early age.  It is also where I wanted to work so I followed my dream and became a wildlife biologist, graduating in 1984.
I began my career with the Maryland Department of Natural Resources as a forest ranger in 1987; a year later I accepted a position with the Wildlife Division. Never a big advocate of hunting, I had learned about wildlife population management in college and understood the sports' recreational and management values. Still, I had much to learn.
Working in a division primarily funded through federal dollars and hunting license sales, I wanted to see what the excitement was all about. While hunting experience was certainly not a job requirement, I'd noticed that "huntin' stories" were always a popular topic of conversation.
When I asked my hunting co-workers to take me along on a hunting trip, I must say that I was pleasantly surprised. It was quite different than I had expected and I loved it! Spending time in the woods, watching wildlife, anticipating and identifying sounds as you listen for hours – who would have thought I would get hooked?
The first season I hunted, I borrowed a left-handed rifle, a challenge as I am right-handed.  Next, I tried a black powder rifle and after discovering the challenge it offers, black powder season became my favorite. One year, I saw only does but didn't have the appropriate permit. The next year, I shot at a buck… and missed. Sometimes I shook so badly I could not even take a shot! Still, each year I felt one-step closer, certain that the following season would be the one.
My first official muzzleloader season began on an unusually warm day in mid-October. I had not planned to hunt on the season's final day, but I could not resist the urge.
Arriving in the woods early afternoon, I wandered to my usual spot, jumping two deer along the way. Was this a sign? I plopped myself down on a log, uphill from my normal stump and sat… and sat...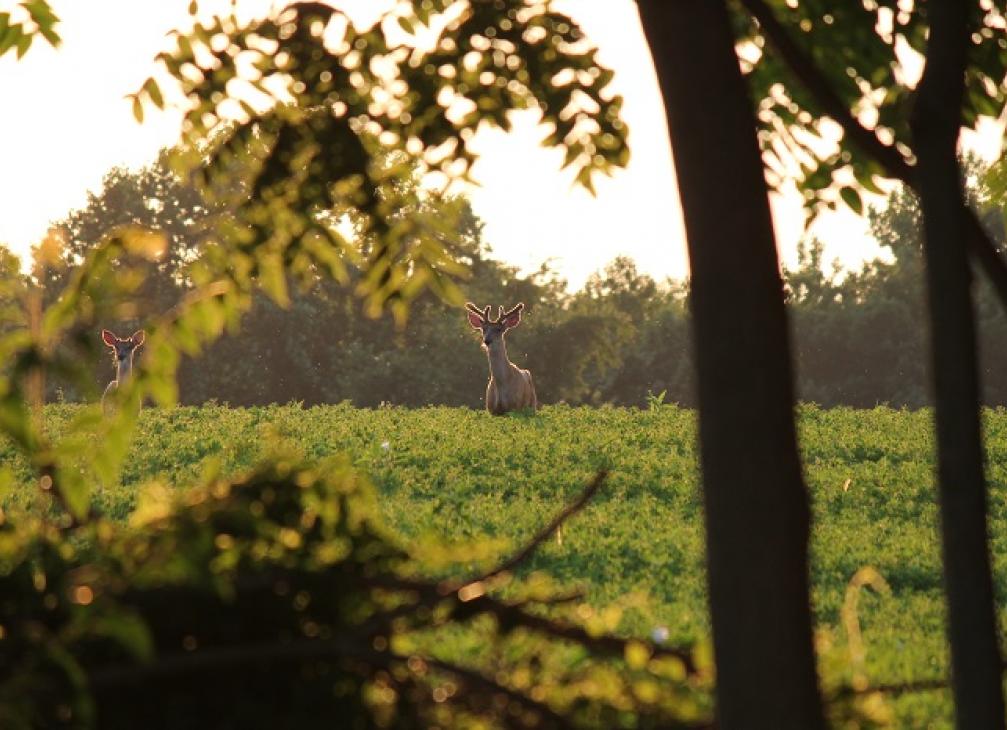 After an hour, I headed further uphill for a better vantage point. I sat down on a stump and within 15 minutes, my prayers were answered. Two deer trotted by, stopping about 30 yards away.
The first deer ran behind me; the second just stood and stared. I was trembling, trying to remember everything I'd been taught. Stay calm. Take a deep breath. No sudden moves.
Knowing it was now or never, I pulled the gun up and shot. I kept my eyes on the spot where the deer had been standing while trying to reload. I was shaking so badly that everything was falling out of my pockets – ball starter, caps, powder measure. Does this happen to everyone, I wondered?
Looking in the direction of the deer I shot at, and seeing nothing, I assumed I had missed. I walked about 25 yards then I saw it, dropped in its tracks, exactly where I had shot. I jumped up and down, screaming at the top of my lungs.
I tied a drag strap to the deer and sped down the hill hoping someone would be around to help me gut my deer and share my excitement. Wouldn't my husband be thrilled at my accomplishment? I would have meat in the freezer and a story of my own to share.
First, I needed to get my deer field dressed and to the processor. While I had field-dressed deer many other times, the task suddenly seemed beyond my abilities. Unsuccessful in my search for help, it was time to bite the bullet (so to speak)… I unloaded the deer, pulled out my knife and went about the task.
At the butcher shop, I couldn't help grinning over my success – although the man tagging my deer seemed unimpressed.
Once home, I ran inside, tripped over the coffee table and the cat, and began my version of a touchdown dance.  My husband stared in disbelief, wondering if I'd lost my mind.
"I shot a deer!" To which he calmly replied, "Congratulations."  Not the enthusiasm I had hoped for, but I'd take it.
Through the years, I've shared my first-time deer story with everyone who had ever entertained me with one of theirs. It's a rite of passage for all first-timers and my enthusiasm for the hunt has not changed, whether I harvest an animal or not.
Since that first deer, I have stayed true to my muzzleloader and taken it for many walks in the field, some more successful than others.  I have also taken up traditional archery and hunt with a longbow and recurve as well.  Who would have thought that my first hunting trip into the woods of Western Maryland would have instilled in me a love for hunting and all that it entails, whether I put meat in the freezer or not.  
Ready for your first time? Be sure to visit the Maryland Department of Natural Resources' website for information on rules/regulations and licenses before heading out to hunt. For information on lodging options, hunting guides and outfitters, outdoor retailers and shooting ranges, visit the Plan Your Trip section on our website.