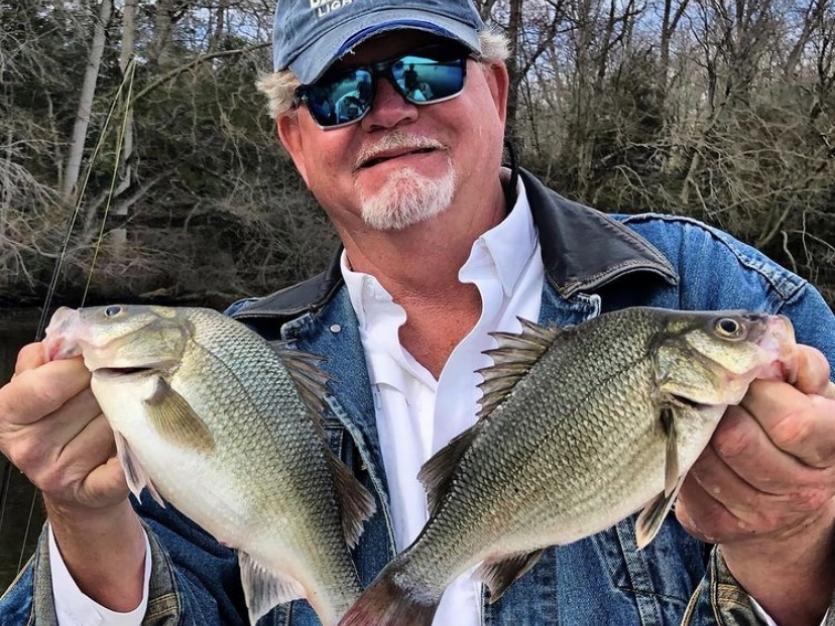 Perch to Panfish
"Almost everything I know about fishing I learned from panfish. I think most anglers would say the same. The polished guide, the crusty old waterman, the competitive pro: we all proudly admit that it started for us with yellow perch, white perch, sunfish, and crappie."
Striped bass (Morone saxatilis) is the first fish that comes to mind when most people think of the Chesapeake Bay. "Rockfish" as we call them, is the State Fish of Maryland and the most sought-after species in the Chesapeake Bay. In addition to my most recent panfish book, I've written two books about catching rockfish on artificial lures. I love targeting stripers, but I could never have learned to catch them were it not for panfish. 
Panfish teach us basic fishing skills better than any other species. They can be landed on a hook baited with a redworm just as easily as with an expertly tied fly. They are routinely caught on cane poles, expensive baitcasters, and just about every possible fishing contraption in between. Once I even put a grasshopper on a safety pin and caught bluegill with bailing-twine wrapped around a soda bottle. Throw in the fact that they are delicious and incredibly prolific, and they are the perfect quarry. I've never met a single kid between the ages of 2 and 102 who doesn't enjoy fishing for, catching, and eating panfish. 
No matter where you go, or what time of year you fish, there are always panfish in the Chesapeake Bay and its tributaries. They are the harbingers of the early spring and an excuse to hide out in the shade during the heat of summer. They provide us with opportunities to enjoy the vivid colors of autumn, and they save us from the dreariness of winter's cabin fever. Whether beneath the dripping branches of a willow tree in August, or below the ice on a frosty day in January, there are always panfish eager to take a lure. 
Panfish are great equalizers. They aren't picky about social class or fortune. They make it just as easy to take a limit by fishing from the riverbanks as by casting from a boat or kayak. Panfish can set a novice to bragging like a cracker jack just as easily as they can reduce a savvy pro to whining like a rookie. 
Want to hone your striper-catching chops? Start by studying one of the bay's most prolific species, the white perch (Morone americana). Despite the name, they're actually not a true perch but members of the bass family and very closely related to stripers. Just like their line-sided cousins, white perch migrate into the rivers to spawn in the spring. They stay in shallow water through the summer months, and they love schooling up over shellfish beds.  
White perch have about the same visual acuity as rockfish. The colors they see best are white, chartreuse, pink, and orange. Also like rockfish, they'll take an artificial lure as readily as bait. Since they make short, quick strikes, it helps to use sensitive gear so you don't miss bites. They can't resist tiny soft-plastic lures that resemble small baitfish. In other words, we can pair down our gear and fish for them just like we do for stripers. When we fish for perch, we tune-in to the tiniest twitches in our line and the slightest changes in our retrieve. When we're in the zone, we're completely focused and concentrating on just one thing – nothing matters except thinking down our fishing line to what's going on with our tiny lure. Trust me, if you can tune-in to the quick light strike of a 10-inch perch on a 1/32-ounce jig head, you'll have no problem setting the hook when a 30-inch striper sucks in your jig. 
Panfishing isn't just about practice though. While some anglers look at them like they are minor league for bigger fish, there are an ample number of panfish pros in the Chesapeake region who specialize in catching them. These are ace anglers who have enjoyed a life-long fascination with these intriguing fish, veteran players who have honed their skills to the expert level so that, while rockfish are an occasional diversion, they'd rather go after panfish than anything else. 
As an added bonus, panfish are good to eat. I'm a strong proponent of catch and release fishing, especially for imperiled species like our Chesapeake striped bass, but you won't see me throwing back too many perch or crappie. I typically release the biggest spawners, but it doesn't bother my conscience a bit to take home enough panfish for dinner.  
Most of the panfish species in the Chesapeake region are prolific and, for the most part, aren't threatened. I won't hop on the take-all-you-want-they'll-make-more bandwagon, but it does the fishery absolutely no harm to keep an occasional mess of delicious perch, crappie, or bluegill. Long before it became trendy to "eat local" or before anyone started tracking "sustainable seafood," catching and frying up a mess of panfish was the perfect example of eating locally and sustainably. 
Taken together, panfish are the Chesapeake's most abundant game species. They can be caught in tributary rivers, tidal creeks, and irrigation streams as well as in the main channel of the Chesapeake Bay. Go fishing in some flowing water anywhere in the Chesapeake watershed, and chances are you'll find some panfish. Count me among those who consider the pursuit of panfish to be a major league pastime. I put perch, crappie, and sunfish right up there with hotdogs, apple pie, and baseball as part of what makes our region great. 
The longer I live and the more I fish, the more I long for simplicity. To me, panfishing is therapy: a welcome counter to the competitive and fast-paced world of run-and-gun striper fishing. I can stand on the creek bank for hours casting for perch or crappie. It makes me feel like I'm connected to nature, not only as an observer, but as a participant. When I'm panfishing, I never think I'm wasting a minute. In return, my pursuit of panfish has blessed me with the skills necessary to make me a better all-around angler. 
Ready to plan your trip? 
There are plenty of opportunities for watery fun in Maryland, but a morning's worth of fishing definitely shouldn't be missed. 
Visit our Plan Your Trip page for information on fishing charters and guides, lodging options, marinas, retailers, and more. And if you're up for a quick getaway, explore our Open Road Itineraries built for you by Maryland's Office of Tourism.
For information on how to obtain your Maryland Fishing License, please visit the department's online COMPASS portal for more information on Maryland Fishing Licenses and other valuable information on the state's recreational opportunities. 
Get A License
Purchasing a license is more convenient than ever before. Maryland DNR provides the following quick and easy ways for you to obtain your licenses and registrations.