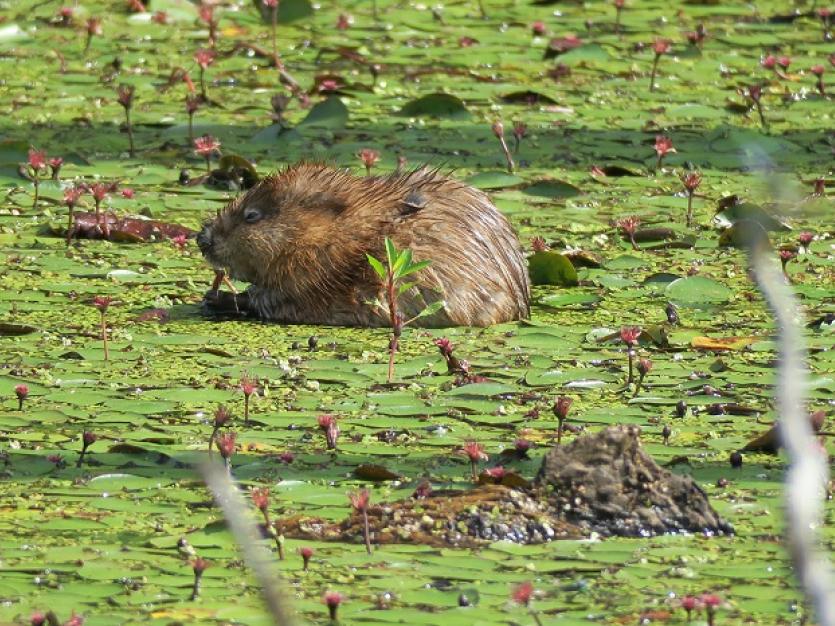 Muskrat Love in Dorchester County
If you tell someone you are headed to a muskrat-centric weekend, they might look at you a little funny. That is, unless they are from the Eastern Shore. In that case, they'll tell you that you are in for a treat.
First things first—what's the deal with these muskrats, sometimes marketed in the restaurants of yesteryear as "marsh rabbits?" Most folks get them a bit mixed up with beaver, otter, and the like. They are rodents around two-feet long (including their tail), most only weighing about three to four pounds, and can be trapped in Maryland until February or March depending on the region. Oh, and they look like a rat with beady eyes and a long, scaly tale that they use as a rudder.
While they can be found in marshy areas all over the United States, the Dorchester County area of Maryland is a hotbed for the varmints with generations of locals trapping them for decades.
When fur coats and the like were in high fashion, watermen made a living—a good one in fact—during the prime season, when the weather turned cold, by setting out hundreds of traps. Pelts sold for much more than the meat itself, and even the musk fetched a pretty penny for use in perfume. Schoolboys could be found heading to the marshes to trap before school. In the 1930s, it's estimated that 250,000 muskrats were harvested annually in Dorchester County alone.
A vibrant history like that is too good to leave in the past, and if you take a ride to the Maryland's Eastern Shore in late February, you'll see that muskrats are still very much a part of Dorchester County winters.
There's no better proof than The National Outdoor Show (February 22 and 23), now in its 74th year of celebrating the county's rich and unique culture. Although muskrats tend to steal the show, it's a well-rounded event covering the bounties of hunting, fishing, and trapping in the area. You'll see live competitions for raccoon and muskrat skinning, oyster shucking, trap setting, log sawing and more from competitors who have likely had at least a daddy or granddaddy proceed them in the tradition (or even a momma and a grandmomma). Listen to the turkey, duck and goose calling competition, or see what the cooks come up with in their own competition. It's the stuff of Shore legends and folklore.
Another competition of the highly traditional event is the Miss Outdoors Pageant for scholarship, a Little Miss and Mister, even a Miss Nature Girl (Womanless beauty pageant!). There are also vendors, a locally inspired menu, and you can catch chainsaw sculpting and trophy deer scoring.
Held at South Dorchester High School (2475 Cambridge Beltway, Cambridge, MD), the show is broken into three shows on Friday evening, a Saturday matinee, and Saturday evening, with Sunday being a clean-up day before school on Monday!
If you haven't had enough muskrat love on Friday and Saturday, on Sunday the 24th you can also catch the Crawfish Boil & Muskrat Stew Fest from 1 pm - 6 pm in downtown Cambridge. Hosted by Crabi Gras, known for their Eastern Shore apparel and more, you will see 'rat served a little more progressively, with muskrat tacos, muskrat gravy fries, and other creations. Enjoy live music while you watch yet another competition, only rather than skinning, these competitors will see how quickly they can scarf down a pile of muskrat legs.
If you miss these opportunities, there's still a glimmer of hope as sometimes you can find Dorchester County church suppers and restaurants throughout the area serving muskrat in traditional fashions (fried in butter or stewed), but be warned—it goes fast!
[gallery link="none" size="large" columns="1" ids="8218"]
After eating so many local delicacies (or not!), take a cruise around Blackwater National Park, also in Cambridge. Depending on the weather, you can either walk, bike, or even just take a ride in the car on Wildlife Drive around the 28,000 acres to spot bald eagles, owls, endless varieties of waterfowl, and maybe even a muskrat.
Now gentlemen, if you slipped up on Valentine's Day, here's the chance to redeem yourself, with a day or weekend of fine food and music. Need a bargaining chip? Remember, you can have muskrat for lunch before heading to one of Cambridge's top-notch restaurants like the High Spot Gastro Pub, Rock Lobstah, and more!
Since it's FeBREWary in Maryland this month, take advantage of the state's many local craft beers. You can wash down the "it doesn't taste like chicken" taste at uber-popular RAR Brewing, where something new is always on tap. You could also head a bit out of town to Layton's Chance Winery on the family's farm out in Vienna. Make it a weekend with a night at the Hyatt Regency Chesapeake Bay Golf Resort, Spa & Marina or continue the Dorchester County experience at the Riverside Lodge on Hooper's Island.
Just because it's not crab season yet doesn't mean you can't swing by and give the Eastern Shore's other delicacy a try!
If you're looking to do some hunting or fishing of your own while in the area, be sure to visit our Plan Your Trip section for information on shooting ranges. hunting guides and outfitters, fishing charters and guides, lodging options, marinas, and outdoor retailers. And be sure to visit Maryland Department of Natural Resources for information on licenses and regulations before you head out.
This post was written by Leslie Milby
Images courtesy of VisitDorchester.org, the National Outdoor Show, the Hyatt Regency Chesapeake Bay Golf Resort, Spa & Marina, and Martha Johnson  via Maryland Department of Natural Resource's Flickr account