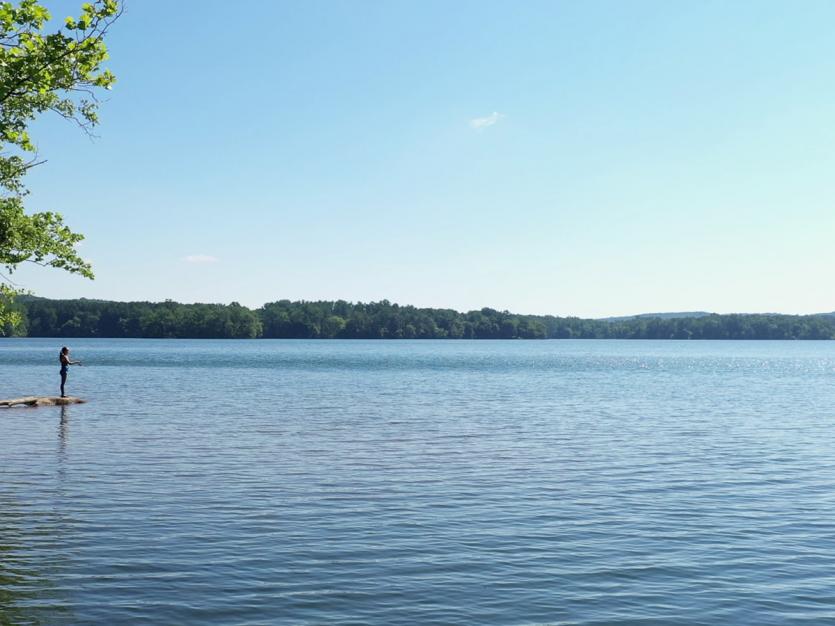 Whether you're a novice planning your first outing or a seasoned angler on a getaway with buddies, Fish & Hunt Maryland will help you discover all of the secrets of Maryland to help create one unforgettable trip. From fishing on the Susquehanna Flats to chasing white marlin in the Atlantic Ocean. Fly fishing in a mountain stream or reeling in world-class striped bass. Maryland's waters are filled with monster stories - perfect for your next adventure. 
Here is what's "hot" for angling throughout the fishing season.
 
Freshwater
With water temps ranging between 68-75 degrees, fishing across the state is at its peak. Anglers have reported prime spawning conditions when targeting bass, snakeheads are still being spotted guarding fry balls, and fishermen and women are consistently catching brown and brook trout on dry flies in the streams and creeks. Prime locations include Loch Raven Reservoir and Deep Creek Lake. 
Located just north of Baltimore, Loch Raven is ideal for any angler. This 1,600 acre body of crystal clear water houses the best conditions for you to fish from the banks or launch a boat. Don't have your own? That's okay. Loch Raven has boat rentals available. 
Western Maryland is home to Deep Creek Lake—the largest freshwater lake in Maryland, covering six square miles. Located ten miles northeast of Oakland, this lake boasts species like bass, trout, walleye, pike, and panfish.
When setting your gear for any freshwater spot in Maryland, consider reaction type chase baits such as paddle tails, chatterbaits, and spinner baits. Keep in mind that the early or late morning, topwater will be key.
Bay
Charter captains had a strong trophy season this year. Fish were caught throughout the Chesapeake Bay with the majority of reports coming in between Chesapeake Beach and Bloody Point. The fly set-up of choice was a tandem rig, running between 20' to 30' deep. Those catching spring jellies were most likely running lures too deep. If you are a light tackle angler, look for May worm patterns while jigging. Oftentimes, the fish gorge themself on these worms at the bottom of the Bay. 
Be sure to visit Sandy Point State Park where they have 24-hour access for boaters and fishermen. This unique location is just a few minutes from Annapolis. Bank and boat anglers alike have the best opportunity to catch perch, catfish, and rockfish. Matapeake Pier & Boat Ramp is another great location to fish on the bay. This location features a 650-foot pier and a 25-foot wide boat ramp!
Saltwater
Ocean City is a fisherman's paradise. With wonderful fishing opportunities over hundreds of square miles, this location is currently the hot spot for surf fishing—and that extends all the way to Assateague Island. Anglers constantly report monster black drum from the beach and just outside the breakers; along with blue fish and small red drum. Tautogs can be caught in droves along the pillings and structures. A few flounder are also starting to make their appearance in the bays and flats. Fresh cut bait, like crab or bunkers, are always good to use. But it seems sand fleas with a piece of fishbite tape to hold are producing the best quality fish.
Fish for yourself, hop on a charter, or book a guide to put you on that memorable fishing experience you are looking for.
Get Ready for Your Next Fishing Outing
In need of additional information, inspiration or a preview of what Maryland has to offer? Check out Fish & Hunt Maryland's latest articles written by fellow sportsmen and women and local partners.
Be sure to acquire your license from the Maryland Department of Natural Resources if you plan on heading out on your own, charter passengers are covered by the captain's license.  
Visit our Plan Your Trip page for information on fishing charters and guides, lodging options, marinas, retailers, and more. And if you're up for a quick getaway, be sure to check out Visit Maryland's deals page featuring spring and summer deals and packages.