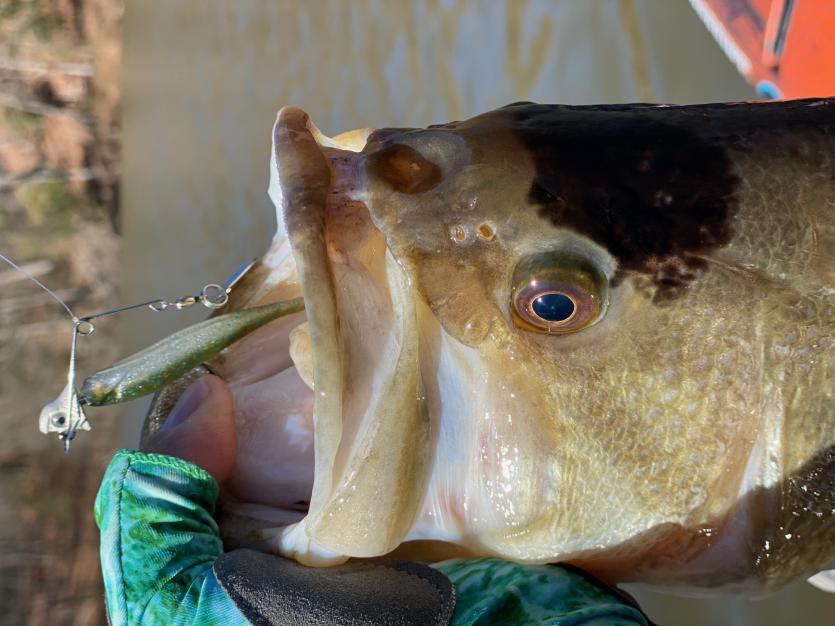 Maryland's Eastern Shore Mill Pond
I live on the Western Shore of the Chesapeake Bay, in Solomons, Maryland but it seems I spend hours on the Eastern Shore fishing the mill ponds. In 2020 and the first part of 2021, I fished the ponds well over 30 times. Some days traveling more than 270 miles round trip, spending three or more hours on the road to get my kayak on a pond. I can hear you now, asking why in the world would anyone travel so far to fish anywhere in Maryland. Well, because when I get on a mill pond I catch fish, lots of fish and some big fish, too. 
Some of the mill ponds date back as far as the 18th century. Dams were built to capture water from creeks and small rivers. The water was then used to power gristmills, saw mills, and textile mills. All but one of the mills are now gone, but their retention ponds are still here for our recreational use; and they are loaded with fish. The ponds hold a variety of species,  largemouth bass, chain pickerel, crappie, yellow perch, bluegill, and brown bullhead catfish are the most notable. In the ponds with a fish ladder, you may run across a snakehead or two as well. 
Eastern Shore mill ponds range in size, from a few acres up to Johnson's pond which covers 104 acres.. With most of the ponds having an average depth of 4 to 8 feet, think of them as a cookie sheet pan, not much depth to choose from and basically the same depth from shore to shore. You will want to look for grasses, downfalls, lily pads, and Christmas trees that DNR has installed as additional habitat  for the fish. Most of the ponds will have improved ramps to launch from but some will only have a soft launch, so do your homework before you head out. 
When I arrive at a pond early in the morning and I see that I am the first angler there I usually grab one of my fishing rods and take a few casts before I launch. You would be surprised by how many fish I catch this way. 
My go to bait for the mill ponds is a ¼ oz. jig with a 3- or 4-inch gray/blue or dark green paddle tail. I will work the shoreline until I find the fish I am hunting, normally largemouth bass or chain pickerel. Once I find feeding fish, I may change up and cast a shaky head or ned rig for bass if the water is on the cooler side. In summer, I will stick with the paddle tail jig or cast a shallow diving crank bait. For pickerel, I will normally stay with the paddle tail jig, but a number 3 or 4 Mepps spinner works well too. 
If I happen to tie into a crappie I'll change my bait to a smaller jig with a white twister tail or beetle spin. Or I will place a small jig under a bobber and then slowly retrieve the bait four or five feet, then stop and wait up to 10 to 15 seconds before I repeat the process. 
Minnows under a bobber on a shad dart are a great combination, too. It is always a great way to catch largemouth bass, chain pickerel, crappie, and yellow perch. 
My favorite ponds to fish for largemouth bass have to be Smithville in Dorchester Country, Tuckahoe in Queen Anne's Country and Urieville in Kent County. On a calm day, you can see movement on the surface of the pond as the fish feed in the early mornings. For chain pickerel I fish Smithville, for big chain pickerel, Johnson's will be my choice. Johnson's holds the current state record and prior state record non-tidal chain pickerel, a whopping 8-pound fish.  Crappie, and I mean big crappie, 14 and 15-inch fish are in Johnson's. Smithville, and Unicorn have a nice stock of crappie too. 
Now don't limit yourself to the ponds mentioned here,  there are numerous other ponds I don't have the space to write about. The Eastern Shore from north to south and east to west, has mill ponds scattered across the landscape. There have been days I will fish a pond in the morning for chain pickerel just to move to another pond to target largemouth bass in the afternoon. 
The mill ponds are rich with Maryland's Eastern Shore history, wetland birds, and lots of fish. Take a drive to your nearest mill pond and take a cast. I hope to see you on the water. Remember, a cast not taken is a fish not caught. 
When you're ready to fish with the cicadas, visit our Planning Resources page for information on fishing charters and guides, lodging options, marinas, retailers, and more. And if you're up for a quick getaway, be sure to check out Visit Maryland's deals page featuring Spring packages and deals.
For information on how to obtain your Maryland Fishing License, please visit the department's online COMPASS portal for more information on Maryland Fishing Licenses and other valuable information on the state's recreational opportunities. 
Get A License
Purchasing a license is more convenient than ever before. Maryland DNR provides the following quick and easy ways for you to obtain your licenses and registrations.