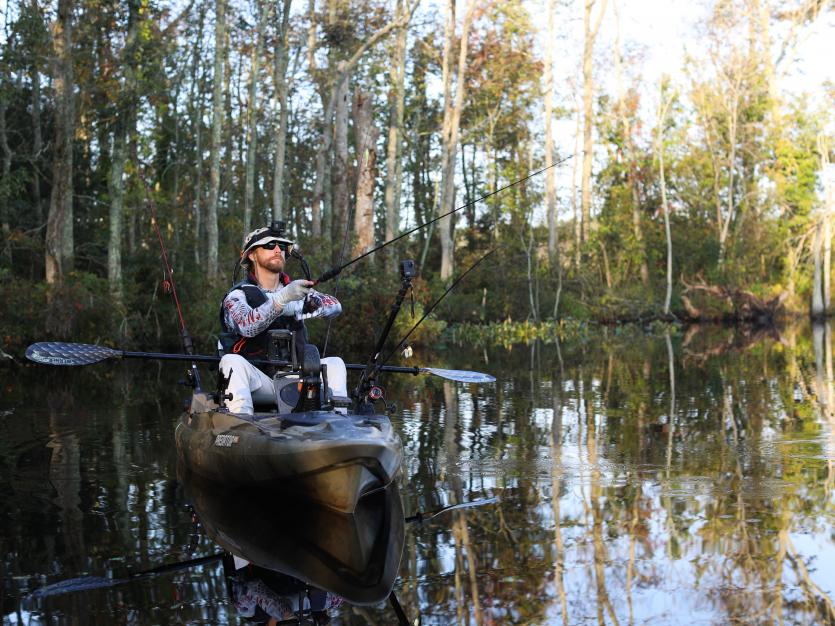 Kayak fishing for Snakehead with Steven Kambourus.
Becoming one of the most reputable fish in Maryland. This air-breathing fish can be found in almost every freshwater pond along the coasts. Test your skills casting lures or book an adventure bowfishing for these invasive fish.
Maryland's diverse waterways are filled with snakeheads. Almost any body of water with a lower salinity to freshwater ratio will hold these toothy beasts. One of the most unique aspects of fishing in Maryland is the variety of techniques you can use in the Chesapeake Bay, its inlets, and the surrounding rivers. Waterways like the Susquehanna Flats are just one example of the fantastic ecosystems across the region. Whether it's casting from a kayak by day, or bowfishing for the snakehead at night, the abundance of water makes for an ideal fishing trip.
About Steven
Being a Multi species angler growing up in Maryland, at a young age Steven found himself in love with fly fishing and hoped to make a living off of it. Soon he realized that Snakehead fishing doesn't compare to any other species in Maryland let alone the States.
What makes Maryland unique?
No matter where you are in Maryland, you're within driving distance of mountain trout streams, ponds and lakes, tidal and brackish rivers, saltwater marshes, bays, and coastline, and of course the incredible Chesapeake Bay. Few if any other state can boast of such a varied bounty so readily available to its people. 
What's your #1 tip you can give readers?
There is no substitute for time on the water and preparation for a trip. Before you go, research your target species, their behavior, and the areas they inhabit. When you're in nature, take the time to quietly listen to your surroundings and observe your environment. Immerse yourself in the environment, pay attention, and keep notes about your fishing, your techniques, and what you see. You'll become a better fisherman and begin to better appreciate the natural world that we're lucky enough to be able to visit. 
How do you measure success in Maryland?
Always measure success according to who you were yesterday or on your last trip. Try to be a little better every day you wake up. In fishing, work on your mechanics: your casting, your patience, your pre-trip research, your attention to detail in the environment around you. Find small ways to improve. If you do this consistently, you'll grow by leaps and bounds and will avoid falling into the trap of comparing yourself to others. 
Species dependent 
What's the typical catch ranging from in Maryland?
It really depends on where you go in Maryland. There are so many environments to explore. If you fish Western Maryland, you can find trophy class trout and pristine rivers with cold water species like Walleye and Northern Pike. As you move down in elevation, Maryland's lakes, rivers, and reservoirs can provide you with Northern Pike, Walleye, the occasional Musky, Chain Pickerel, Largemouth and Smallmouth Bass, sunfish and bluegill species, White Perch, Yellow Perch, Flathead, Blue, and Channel Catfish, Northern Snakehead, Crappie, and Striped and Hybrid Striped Bass. Exploring Maryland's tidal waters will provide you with more White Perch, Yellow Perch, Largemouth Bass, Northern Snakehead, Catfish species, Crappie, and higher numbers of Striped Bass. If you explore southern Maryland and Maryland's east coast, you can even find Bluefish, Speckled Sea Trout, Red Drum, Black Drum, Summer Flounder, Black Sea Bass, Cobia, and more. In sum, your catches in Maryland are shaped by which part of Maryland you fish and what you target. 
What's your most memorable moment in Maryland? 
My most memorable moment is actually of a big channel catfish that I caught out my backdoor with my two girls and my son. It's hard for anything to compare to the excitement and thrill you see on your child's face when they're fighting and handling a big fish. My most memorable moment by myself though is definitely from Snakehead fishing, from watching a dragon-class fish wake on a lure, crush it, and then go airborne after a solid hookset. They're an incredible freshwater sportfish! 
See All Of The Traditions Videos
We hope you enjoyed this featured story. Please visit the Traditions of Maryland page to see all ten featured stories.