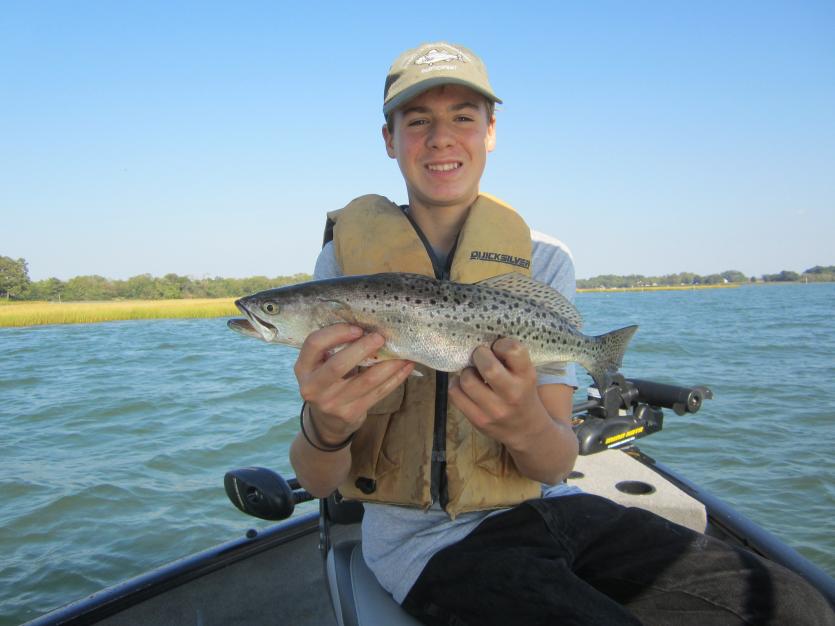 Photo Credit: Daniel Stewart
Honga River
LOCATED IN:
Dorchester County
Eastern Shore
From the Trail site's boat launch in Church Creek in Dorchester County, you get access to the full menu of lower Eastern Shore fish species—striped bass, speckled trout, redfish, flounder, bluefish, spot, spanish mackerel, flounder, croaker and black drum. After you make your way down Wallace Creek, you will find yourself in the Honga River and miles and miles of pristine shorelines and shallow-water habitats to explore.  
With the numerous creeks and guts as you head south, you will find endless points of land, shallow water to deeper water drop-offs, and undercut saltmarsh banks where tidal currents signal where your target species are laying waiting for food to come flowing by. You have the option for heading out into the Chesapeake Bay, but the Honga River offers some protection from winds and waves and so many fishing opportunities you will likely stay and look for that next place to lay down your cast.
Site Location
The Honga River is located in Dorchester County to the south of Blackwater National Wildlife Refuge along the lower Eastern Shore of Chesapeake Bay.
Address
Golden Hill Boat Ramp located at Gootee's Marine 1439 Hoopers Island Rd, Church Creek, MD 21622
How to Get There
Heading south on Route 50 on the Eastern Shore heading towards Cambridge, take a right turn onto Woods Road once you have crossed the Choptank River bridge and have entered the City of Cambridge. Then take a right turn onto Route 16 and follow it to Church Creek where you will take a left turn onto MD 335/Golden Hill Road which will take you to the intersection of MD 334 and MD 335, the location of the boat ramp.
Parking & Launching
Paved parking area for up to 25 boat trailers. You can launch your boat from the Golden Hill Boat Ramp located at Gootee's Marine 1439 Hoopers Island Rd, Church Creek, MD 21622.
Boat Rentals
You can rent kayaks at Blackwater Adventures located at 2524 Key Wallace Drive, Cambridge, MD 21613.
Where to Fish
Fish sod banks in tributaries to the river and around points of land that get a lot of current or cast near pilings of Honga River Bridge.
What to Catch 
Spring: Striped bass and speckled trout
Summer and Fall: Striped bass, bluefish, speckled trout, flounder and redfish
Winter: Striped bass
*You can also catch spot, Spanish mackerel, croaker and black drum at this Trail site.
What to Fish & How
Recommend bringing 5 to 8 weight fly rods with floating, intermediate or sinking fly lines. Fly fish with no. 4 or no. 6 Clousers Minnows or shrimp patterns with 10'–12' fluorocarbon leader on floating line or shorter leader with intermediate or sinking lines.
Fly Fishing Organizations
Connect with local fly fishing organizations to learn about mentoring opportunities and to connect with others interested in fly fishing.