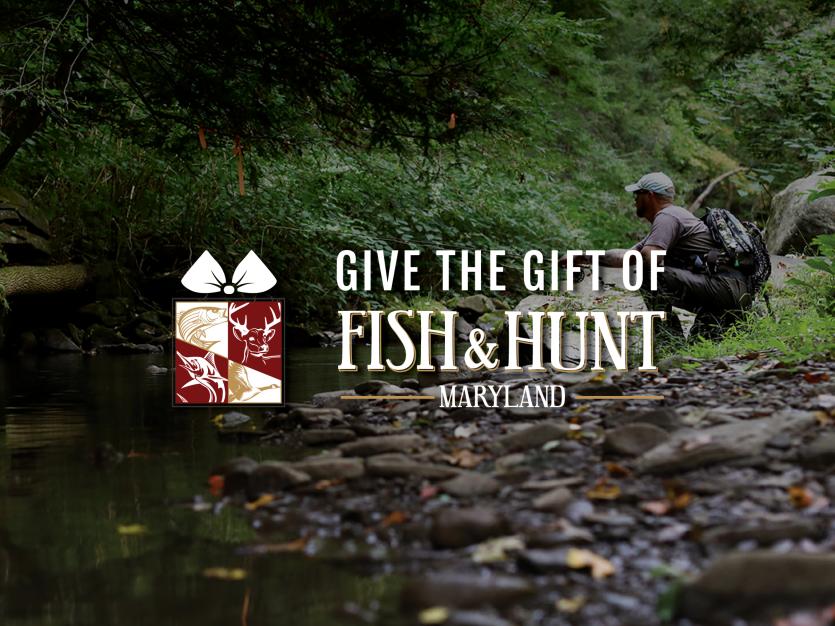 Give the Gift of Fish & Hunt Maryland
​Looking for the perfect gift this holiday season for the sportsman or woman in your life? This year, give the gift of lasting memories and time with family and friends – give the gift of Fish & Hunt Maryland! 
Surprise the Hunter or Angler in your life this holiday season.
​This year give that special someone an experience of a lifetime. Give the gift of a fishing trip with the family on the Chesapeake Bay, deep out on the Atlantic Ocean, or along one of Maryland's fresh waterways. For the hunters in your life plan now so they can enjoy waterfowl season this winter, deer season next fall, or one of the many other experiences Maryland has to offer. Our guides, charters, and lodges provide excellent opportunities and packages, perfect for the experienced outdoorsman or for that family member's first outdoor adventure. Plan now, as 2022 is right around the corner and a hunting or fishing trip to Maryland will make the perfect holiday gift. 
FHMD Holiday Specials
This year give the outdoors man and or woman in your life a gift card to use for a hunting or fishing adventure next year. See the list of gift cards being offered by our Maryland suppliers below. 
Join Reel American Snakehead Fishing for the best fishing on the Eastern Shore of Maryland.  Be one with nature and enjoy spectacular views while you go after your first snakehead with Butch, a Tournament winning Snakehead angler, as your guide. He'll teach you all there is to know about Snakehead fishing, and he makes incredible baits. A day with Butch is sure to be one of the best Snakehead experiences you can find in Maryland. Shop Gift Cards Here
Come experience Wild Western Maryland with Chesapeake Bay Fly as you search for native Brook trout and wild Brown trout through the picturesque mountains of beautiful Western Maryland, Together you'll trek thru the mountains where the opportunistic Brook trout call home and readily accept flies, then you'll hit the tail waters for the mighty wild brown trout of Western Maryland. Shop Gift Cards Here
For other ideas to help you make someone's holiday even more special, watch our experience videos and check out the featured outfitters - you can gift these exact experiences! Still not seeing what appeals to your outdoors guy or gal, head to the Plan Your Trip section of our website and use our complete directory to craft your own Fish & Hunt Maryland package. 
OPEN FOR HOLIDAY DEALS
Looking for other gift ideas and deals. Check out our Holiday Deals page.
Plan Now
For all the information you need when planning a hunting or fishing trip in Maryland, be sure to visit the Plan Your Trip section of our website for fishing charters and guides, hunting guides and outfitters, lodging options, outdoor retailers, shooting ranges, marinas, tournaments, and events. For more inspiration, check out our Give the Gift of Fish & Hunt Maryland blog.  
Still can't find what your'e looking for? Head to the Planning Resources page and for a complete directory to help you craft your own Fish & Hunt Maryland package. And if you're looking to make your experience an overnight trip, check out these great Holiday deals.