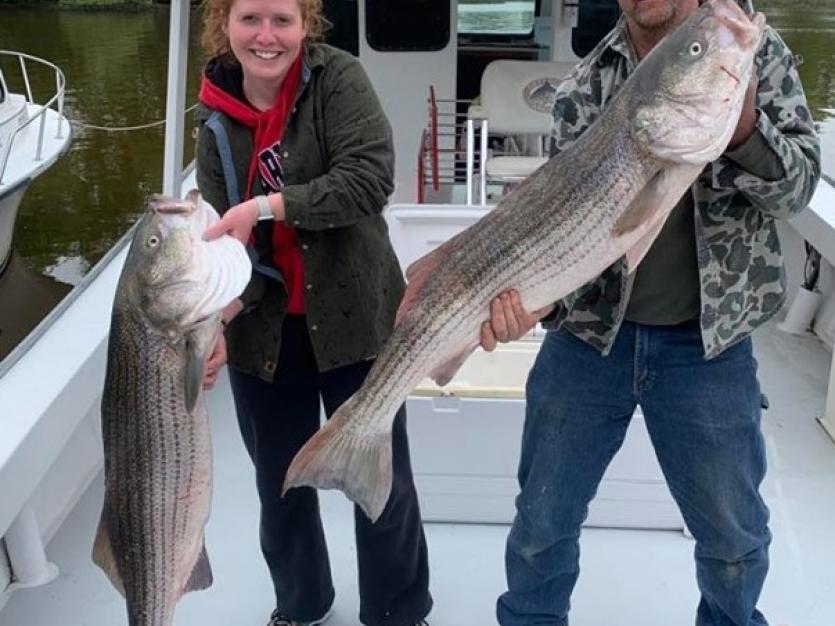 Girls Just Want To Catch Fish
My first rod was flamingo pink with a reel that flashed pink and green lights when you cranked it. That rod isn't what made me want to go fishing as a kid or spend time on the water. I didn't fall in love with my FisherGirl-branded cap, or pink camouflage, or even my Barbie tackle box. I fell in love with fighting a fish and watching it get scooped up by the net, being dunked in brackish water, and the adrenaline that comes from waking up to a 3:30 a.m. alarm to hop in the truck and hit the docks before sunrise.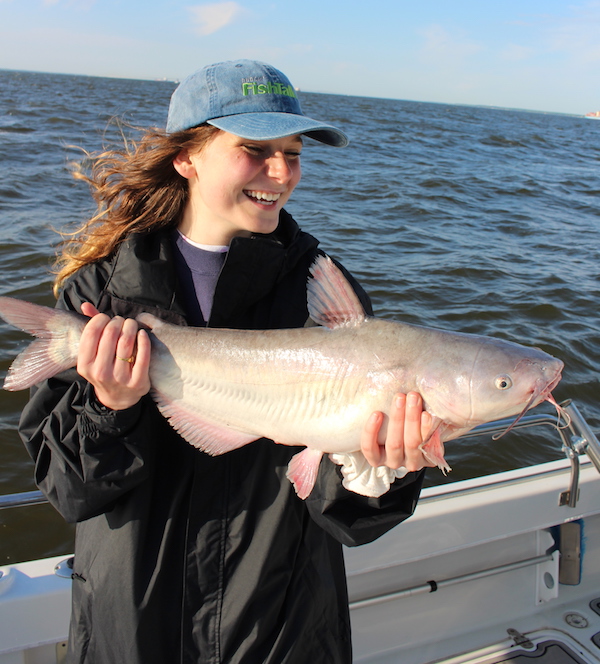 Mollie Rudow holds up a killer catfish caught south of Thomas Point this May.
So often, as a woman who fishes, it can feel as though my place on a boat is defined by my need to pee in a bucket and bring a brush to unknot my hair after a day on the water. I see relentless Facebook posts from men wanting to marry a woman who loves to fish, fishing gear advertisements or clothing targeted to women through pink frills, and jokes poking fun at how men's wives are looking for ways to get them away from a rod and at the dinner table on time. While I appreciate men's general desire for women to get out on the water with them, tempting us with the promise of pink fishing rods and sun loungers sure as heck isn't the way. For the most part, people fall in love with being on the water and catching fish because it's absolutely exhilarating. Seldom will anything match the rush one gets from reeling a big striper up to the boat or hearing a reel scream while chunking. Similarly, nothing will ever parallel heading out of the Ocean City inlet and watching the sunrise offshore. We all have our favorite fishing memories. Mine is casting for schoolies under birds on the South River during an October sunset.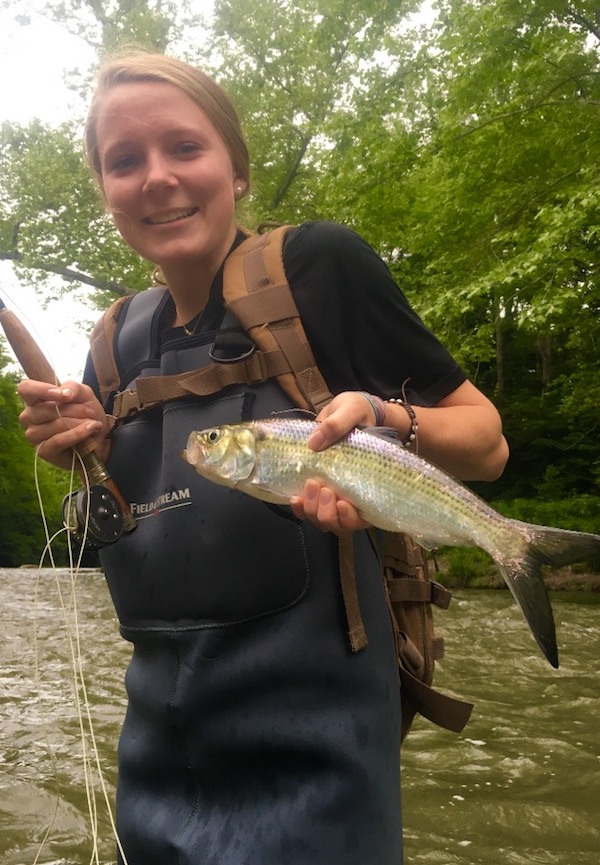 The way to get, and keep, women and anyone of any gender on the water is showing them how to fish and giving them the same experiences everyone else who's set foot on a boat has had. It's just impossible not to fall in love with fishing once you've done it. There's a sort of deep-seated satisfaction that comes with baiting your own hook, tying on your own jigs, picking out your own bucktails, and reeling in a fish because of it. Twenty-two-year-old angler Jessica Motz from Tracy's Landing, Maryland, described her love for the water like this: "I love the thrill of reeling in a big fish when you've put so much work into setting up the lines and you've been waiting so long for a hit. The click of the reel when a fish hits is the greatest sound. One of my favorite fishing experiences was a few days ago when my dad and I went out and we were waiting and waiting for a fish, and I think in our minds we'd kind of given up on catching anything. Then we heard the line go off, and we caught a massive rockfish. We started jumping up and down and high-fiving, we were so ecstatic. That moment of pure joy with my dad, where I don't think our smiles could have gotten any bigger, reminded me what I love so much about fishing." 
The experience that female anglers have on the water is universal to those who fish. My mother, who grew up on a farm in Carroll County and hadn't set foot on a boat until meeting my father, told me that she came to love fishing because he taught her how to do it—and then she could do it for herself. Over the course of their relationship, she's become a fluent angler. She's comfortable tying up the boat, casting her own rod, baiting her own hook, and tying her own knots.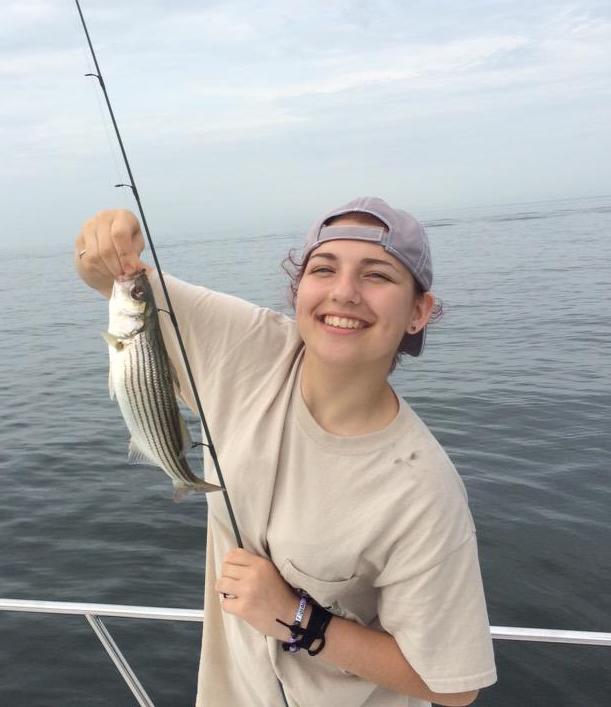 Adella vonSchilcher found this little guy in the Tangier Sound.
As a female angler, so often it's easy to feel like you aren't allowed to have the same experiences as men on the water because it's assumed that we want the work done for us and are too squeamish to put a chunk of menhaden on a hook. For many, this isn't true. While some ladies (and let's be real here, plenty of men too) are freaked out about touching baits, from my experience that biggest thing that turns women off of fishing is being treated differently before they even have the chance to do so. If you want your wife and daughters to fish, take them out on the boat. Let them learn how rewarding it is to tie on the bucktail that lands the trophy striper they fought. And please, don't put a pink rod in their hands unless they ask for it. 
You can purchase your Maryland Fishing License online, 365 days a year, 24 hours a day.
Be sure to visit the Maryland Department of Natural Resources online for more information on seasons and regulations before heading out!
In need of additional inspiration? Check out Fish & Hunt Maryland's latest articles written by fellow sportsmen and local partners.
When it's time to travel again and you're planning the next trip, check out the Plan Your Trip section of the Fish &Hunt Maryland's website to find lodging, fishing charters/guides, and outdoor retailer options.