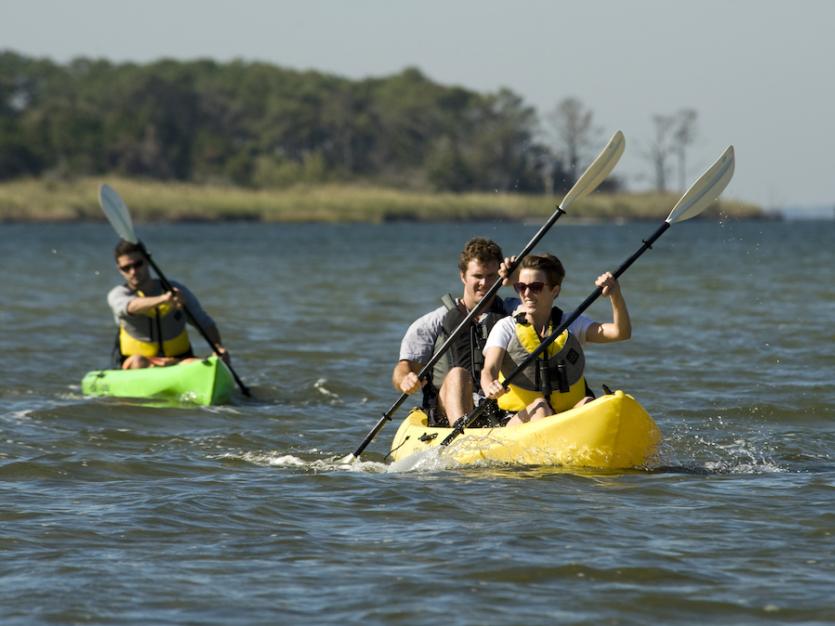 Friends Getaway to Maryland's Shore
Ocean City, Maryland is the perfect location for a friends getaway to the Maryland shore. The Maryland Atlantic coast has some of the best off-shore fishing in the Mid-Atlantic region, as well as plenty of options to fish from the shore or within the many tidal inlets. One unique experience is fishing from your kayak as you float through the marshlands.
If fishing is just one part of your trip, Ocean City provides a never-ending list of activities to add to your experience; there's always something happening. Stroll the boardwalk, lounge on the beach, take a dip in the Atlantic, or try your hand at surfing before sampling the great seafood available in Ocean City.
Ocean City has long been one of Maryland's most visited destinations. Aside from the entertainment and fun offered in Ocean City, visitors can't miss the natural beauty of Assateague Island. As Maryland's only oceanfront state park, Assateagueoffers visitors the chance to experience the Eastern Shore's abundant wildlife and untouched habitats. Along with the many different bird species and marine life are the wild ponies that call Assateague home. Hop in a kayak and cruise the inlets taking pictures of the wild ponies, or pop a tent at the Assateague campgrounds for a memorable Maryland experience.
Plan Your Experience
Ready to take the friends on a trip to the Maryland coast? You might want to start with some more specific information on Ocean City. Visit our Worcester CountyPage or check out Somerset County with easy access to the Chesapeake Bay and the Atlantic Ocean. Regardless where you might want to go, we suggest you book a charter fishing trip while you're here. You can book a full or half day offshore charter, or a couple-hour charter in the Bay or near shore. No matter your experience level, we have the perfect experience for you and your friends. Check out our list of local fishing charters and guides. They will help with any questions and overall logistics. As you're making plans, we suggest visiting Maryland DNR'swebsite for up-to-date fishing information, and Visit Maryland for overall travel opportunities within our state.
Starting planning now. Or, if you need a little more inspiration, check out our latest articles written by fellow sportsmen and local partners.
Get A License
Purchasing a license is more convenient than ever before. Maryland DNR provides the following quick and easy ways for you to obtain your licenses and registrations.