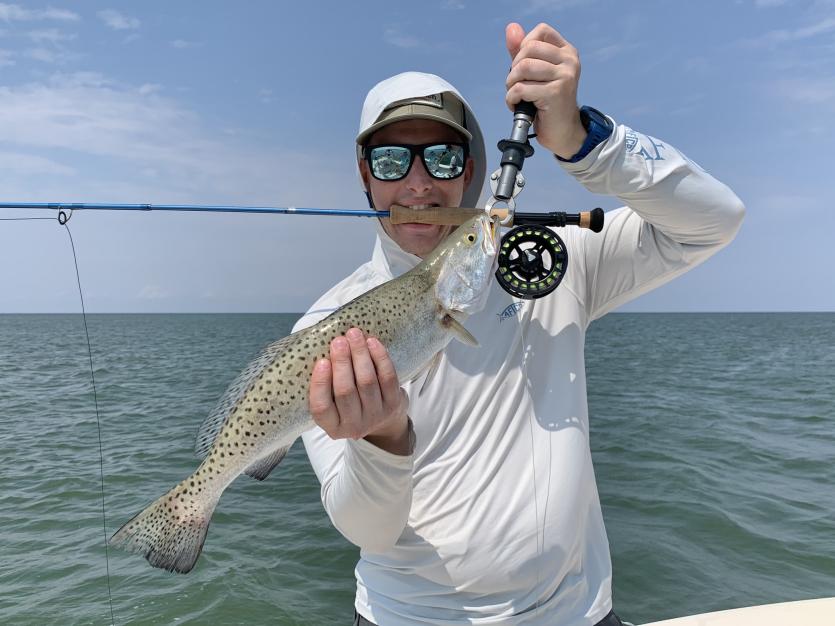 Fly Fishing for Speckled Trout
While striped bass remain the king here in Chesapeake country, there's a newcomer on the block vying for the top spot in a fly angler's heart. To many bay area anglers speckled trout have always been an exotic catch, a species associated with more southern climes. But with the influx of small boat and light tackle guides, increased access to vast areas of the bay's shallows has awakened fly fishers to the qualities of this great game fish. 
A voracious feeder, this apex predator roams the shallow flats of the lower bay devouring shrimp, crab, and finfish, the latter of which can approach half its own length. One glance at a speck's needlepoint dentures and you can see how this is an eating machine.  A well-presented fly will draw explosive, head-shaking strikes, showering briny water in a wide arc. Add the fact that most of the specks are caught in water depths of less than eight feet and you will understand the appeal of this fish to the fly angler.  
What's in a Name?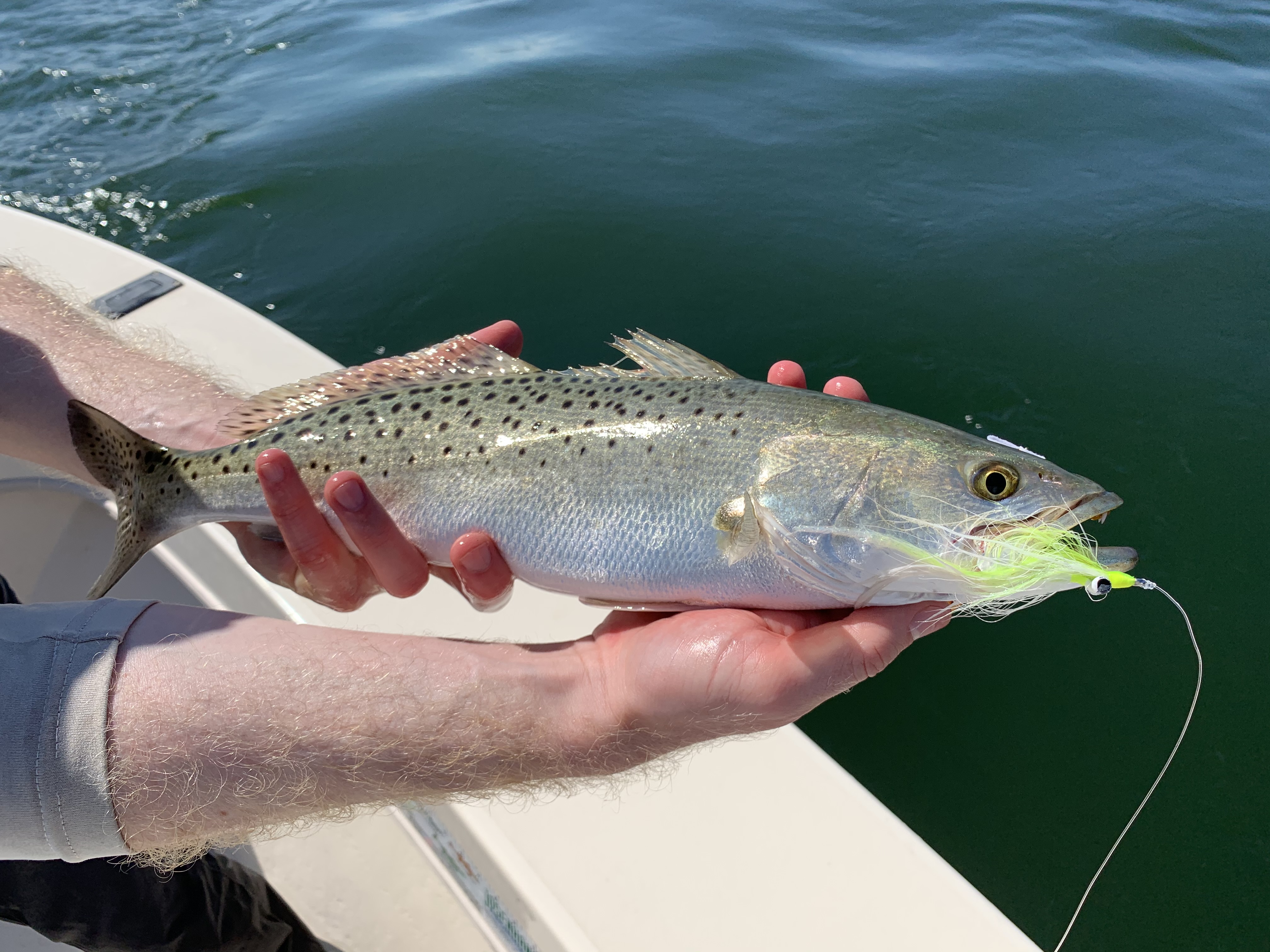 Spotted seatrout, also known as speckled trout, or simply "speck" is a saltwater fish of no relation to freshwater trout. Speckled trout are members of the drum family, to include weakfish, red drum and croaker. Primarily considered a southern species, the Chesapeake Bay sees a seasonal migration northward each spring beginning in April and lasting through November, with the best fishing on Maryland's portion of the bay occurring May through October.
Primarily a shallow water predator, specks tend to inhabit the flats and creeks of the bay's lower Eastern Shore, from the Choptank River south to the mouth of the bay. This skinny-water attraction makes specks a popular target of fly fishers. Without question, ground zero for Maryland speckled trout fishing is Tangier Sound. Interlaced with undeveloped marsh islands, miles of eelgrass flats, and acres of submerged stump fields , the sound is a mecca for the speckled trout fly angler. 
Hunting Specks
To aid in your search for specks, several parameters must be met. First and foremost, locate clear water. Savvy trout anglers call it green water. Flats roiled by wind and wave action will make your hunt that much tougher. Second on the list is locating structure. A few examples can be eelgrass beds, submerged stumps, shell bottom, rock jettie, or points of land jutting out from a marsh bank. Structure attracts marine life, large and small. Which brings us to number three - food. Be it grass shrimp, crabs or baitfish (primarily silversides and menhaden), trout never stray far from the groceries. 
Telltale signs that you may have stumbled into a feeding zone would be small crabs or baitfish lazily swimming on the surface, along with the occasional swirl of a larger fish. Be sure to give this area a good workover. The final item is current. While the tide will rise and fall twice a day on the Chesapeake, it's moving water that rings the dinner bell. Current creates eddies around structure where smaller fish and crabs congregate, thus providing an easy meal for the stronger swimming specks.  
 

A fast action 7- or 8-weight rod is ideal for specks on the flats, but allow the wind and fly size to be your guide for selecting the best fly rod. Small shrimp patterns might cast well with a 6-weight line, but if the specks suddenly turn on to peanut bunker, you'll have a hard time slinging that four-inch Clouser Deep Minnow on the lighter outfit. A favorite of fly guides on Tangier Sound is a 7- to 8-weight rod rigged with an intermediate or 250 grain sink-tip fly line. If you plan to fish poppers, a floating fly line is the way to go.

In addition to the previously mentioned Clouser minnow, popular fly patterns are the Lefty's Deceiver, Half and Half, and Cactus Striper. Color doesn't seem to matter, so long as it's white, chartreuse, or pink, or any combination thereof. A six-to-eight-foot length of twenty-pound monofilament or fluorocarbon leader is sufficient. A tapered leader is only necessary when turning over large poppers. Finally, attach the fly with a Non-Slip Loop Knot so that the fly has additional freedom of movement.
A Final Note
Specks are extremely noise shy. Sound carries on the flats. Keep engine noise to a minimum and approach the area you intend to fish from upwind or current. If you will be releasing your catch, handle specks with wet hands, so as not to remove their protective slime layer. Or better yet, utilize a dehooking tool. Good fishing!
Now, Get Ready for Your Next Fly Fishing Trip
In need of additional information on where and how to fly fish? Check out Maryland's Fly Fishing Trail. The first state-wide trail in the nation highlights 48 sites spanning from the shorelines of the Chesapeake to the mountain streams in Western Maryland.  
Before you head out, be sure to acquire your license and check out the latest regulations from the https://dnr.maryland.gov/fisheries/pages/regulations/index.aspx
And if you're up for turning your fly fishing trip into a quick getaway, check out Visit Maryland's deals page.
About the Author
Capt. Kevin Josenhans guided fly and light tackle anglers for more than 30 years after a full career with the Maryland Department of Natural Resources, as a park ranger and Natural Resource Police Officer. He has been featured in ESPN's Fly Fishing America and the Outdoor Life Network. He recently suspended his guiding service to relax and fish with family and friends.