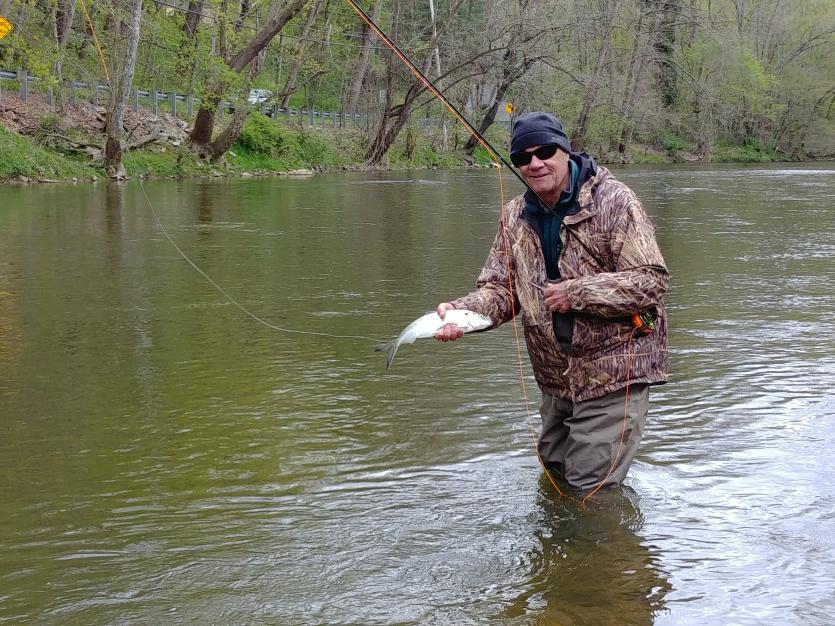 Fly Fishing for Hickory Shad
By: Tom Parham
Sometime in mid-March my pulse quickens. Subtle signs, imperceptible at first, announce the arrival of spring. Daffodils and crocus appear. Even our dormant lawn starts to show signs of life. No longer do I need to pass the time watching countless fishing videos on YouTube or scrolling through tackle websites announcing the latest fly rod built with space age technology. It is time to dust off my fishing tackle and make plans to fish the springtime runs of hickory shad in Maryland's waters. 
If you are getting ready to fish the annual shad run for the first time or thirty-first time, let me help prepare you for the total experience. Remember, there is more to fishing than just catching fish and this definitely applies to the spring hickory shad run.
Hickory Shad
Hickory shad are smaller cousins of the American shad and are lots of fun on light tackle. They fight hard, jump and will readily strike brightly colored flies in their path. Brightly silver colored with dark backs, they average about 13 inches to 18 inches in length and weigh less than two pounds. They usually show up in most of Maryland's tidal rivers including the Susquehanna, Gunpowder, Choptank, and Patuxent rivers en masse in April when water temperatures reach the low to mid 50s and depart in May when the water temperatures are consistently in the mid to upper 60s. 
Tackle
One of the great things about shad fishing is that you don't need to buy lots of new equipment to enjoy the thrills of this scrappy fighter. However, to maximize your enjoyment, they are best pursued with light fly rods. In fact, trout sized fly rods (4 to 6 weight) are commonly used in the smaller, shallower protected creeks. Combined with a matching short five-foot sink tip fly line, four feet of straight #8 leader and you are in business. If you are fishing from a boat in the main rivers, heavier fly rods (7 to 8 weight) are better suited to handle the 200 to 300 grain sinking lines necessary to keep the flies in the strike zone when hickory shad are holding in deeper water with stronger currents.
Flies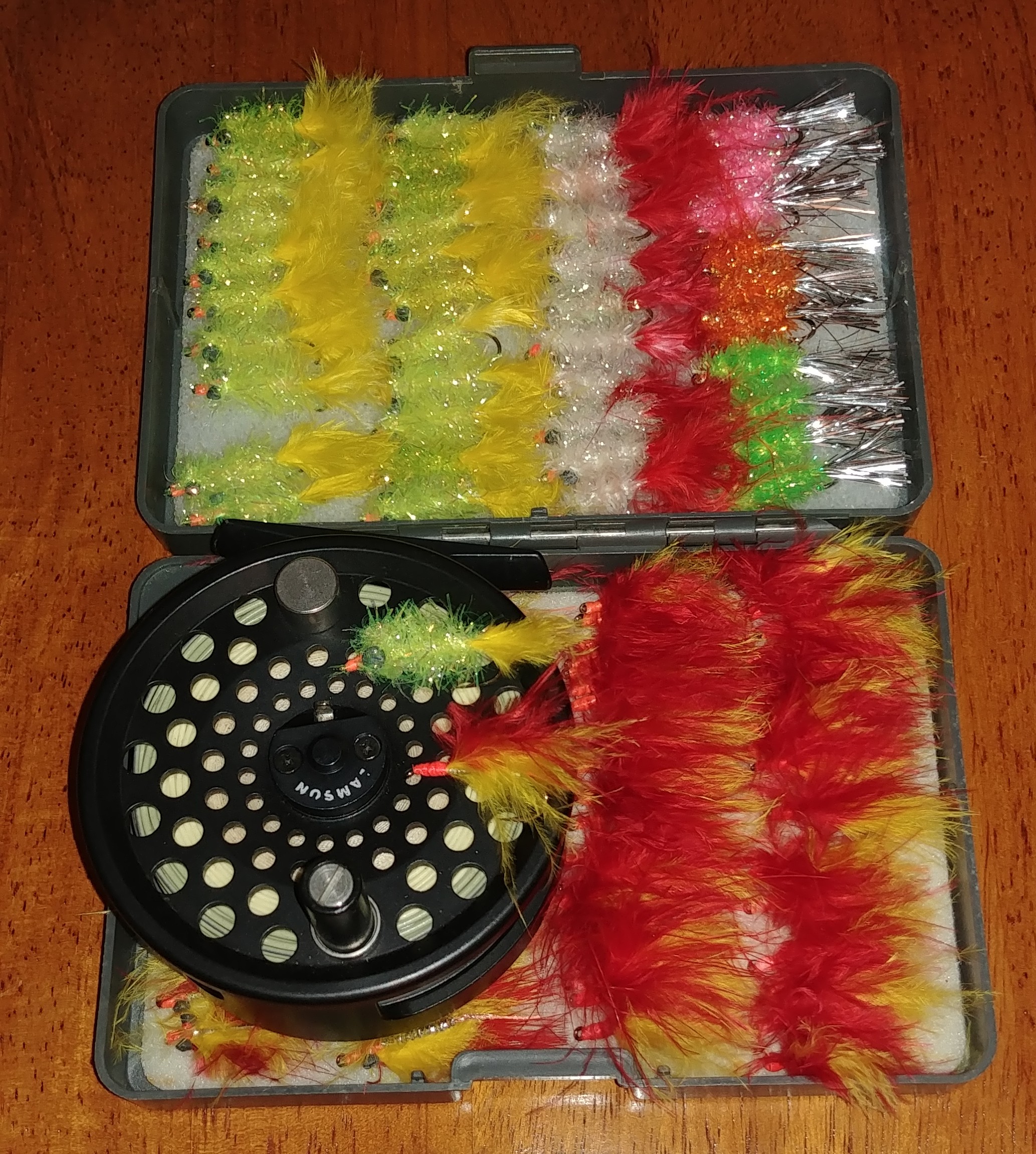 There are dozens of good hickory shad patterns available and are usually tied on size 4-6 hooks. Popular colors include yellow, chartreuse, pink, and red with flash provided by gold/silver tinsel. While flies should be fished at or near the bottom, weighted flies aren't usually necessary since the sink-tip or sinking-head fly lines present the flies at the proper depth. After fishing Maryland's rivers for hickory shad for more than 25 years, and trying countless patterns, I have narrowed my arsenal down to two can't-miss flies. The red and yellow shad fly and the chartreuse crystal bugger created by local legend Joe Bruce. Don't leave home without them!
Where to Catch Them
While hickory shad can be seen almost anywhere in the creeks and rivers, stick to the high percentage spots where they typically travel. The best locations to spot them are the tail of the pool immediately above any constriction point or the head of a pool directly below a constriction point. In between these points, to find the travel lanes, simply look for areas with frequent fish movement and/or zero in along the faster current. Once you can identify the shad travel lanes, cast across and slightly downstream and then allow your fly line to pick up speed and swing your fly across their path. Adjust your casting distance and casting position so you can systematically cover their entire travel lane to find the groups of fish. Super fun and very effective! 
The Springtime Hickory Shad Experience
During the spring run, you can often catch dozens of shad. However, the magic of the area isn't just the spectacular fishing, it is the endless possibilities for discovery and enjoyment. Take some time to lose yourself in the nearby area to watch bald eagles, osprey, and herons hunt along the river. 
Wander through the trails and listen to the roar of your favorite river, see fields of bluebells or hear the chatter of the belted kingfishers. Stand in the river and feel the cold invigorating water or smell the damp earth of the floodplain forest. Watch the fog burn off the river as the morning air warms or the cormorants dive for hidden fish. 
I don't doubt that I have missed the strikes from many shad because I have been lost in thought enjoying the arrival of spring. While I can't guarantee that you will catch dozens of hickory shad, if you get immersed in these areas, I can guarantee you will make some lasting memories. So, whether you are a fisherman, birdwatcher, wildflower fan or just someone tired of the color of gray, I think you will find that visiting Maryland's tidal rivers and creeks is a great way to welcome the arrival of spring.
Get Ready for Your Next Fly Fishing Trip
In need of additional information on where and how to fly fish for hickory shad and other species in Maryland? Check out Maryland's Fly Fishing Trail. The first state-wide trail in the nation highlights 48 sites spanning from the shorelines of the Chesapeake to the mountain streams in Western Maryland.  
Before you head out, be sure to acquire your license and check out the latest regulations from the Maryland Department of Natural Resources. 
And if you're up for turning your fly fishing trip into a quick getaway, check out Visit Maryland.
About the Author
Tom Parham has been fishing Maryland's waters for nearly 30 years and especially enjoys taking other folks out to experience the great fishing and scenery Maryland has to offer. He is a FFI certified fly casting instructor and a member of the Free State Fly Fishers club of Maryland.