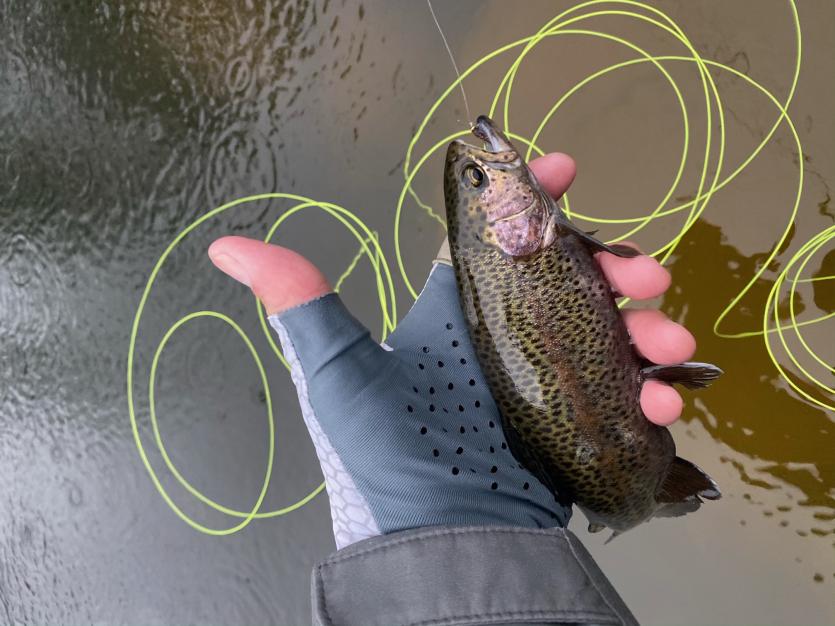 Fishing for Maryland's Put-and-Take Trout
Every year the state of Maryland stocks thousands of brown, golden and rainbow trout in its streams, rivers, lakes and ponds for the novice angler and the most skilled fly fishers to catch. From the Western Maryland, to the Eastern Shore you can cast on these hatchery-raised fish and catch a limit fairly quickly. For the brand new angler, to the guys with a few years on them, trout stocking season is a great way to get out after a long winter to dust off the cobwebs and start your fishing season off right.
Typically,  the state begins "preseason" trout stocking in December or January, stocking rainbow, golden and brown trout and aggressively stocks for spring trout season, in February, March and April. The department also will conduct a smaller fall stocking running from September to October. You can check the Maryland Department of Natural Resources website for additional information and you can sign up for their email subscription to receive trout stocking notifications. You will also need a trout stamp. This is an additional tag to your fishing license, required for any angler 16 years of age or older. The fee is $5.00. The limit on put-and-take trout is five per day. Check the DNR's trout page before you head out, there may be other restrictions such as delayed harvest on a particular fishery, too.  
What I have found in stocked ponds and lakes is the fish will stay a day or two in the location where they were put into the water. They will do this until they are comfortable enough to move about, then they will move as a school around the pond. So you may get a flurry of bites then it'll slow down, but when they make their way back around it's game on again. In larger ponds and lakes, they will seek out deeper areas and look for cover such as laydowns, brush and grasses. In streams or rivers, they will generally stay in the proximity of where they entered the stream, but they may move up or downstream finding pools and cover over a period of days.
When I'm fishing for stocked trout, I will use conventional tackle and fly gear as well. My preference is to throw flies at them to add a little challenge to the catching and, on occasion I will use small inline spinners. When I have the grandkids with me for a morning of catching, we use light tackle spinning gear with a light weight and hook. We fish Berkley PowerBait trout bait. This is a sure-fire way to get a young angler on a few fish. The setup is a ⅛ oz. or less egg weight on the main line, then a swivel with a 4 lb. leader long enough to get the bait off the bottom and a number 5 or 6 hook. Power bait will float off the bottom, so simply cast out the rig and wait for the bite. This method works best in stocked ponds and lakes. You can use red worms under a bobber, too. 
When I am fishing rivers or streams, I will use my fly gear, casting a bead head nymph with a dropper fly. The dropper is normally a small bead head nymph or simply a nymph. The colors I use are natural colors, in greens and brown. These fish are fed pellet type food at the hatchery so they will eat anything looking like a pellet. As the days pass, they will start to eat more bugs and small fish to survive, so you will have to adjust your fly presentation to the most recent hatch. Look for surface action and fish coming out of the water to eat. Cast in the general direction and hold on. Put-and-take trout are a fun way to introduce new anglers to the sport of fishing and a great way to spend the day with old friends catching trout for a quick meal with good friends.
Before you head out for your next day on the water in Maryland, be sure to visit the Maryland
Department of Natural Resources for information on licenses and regulations.  Here you can also find up-to-date trout stocking information, and current maps of what has been stocked and where.   Maryland has one of the finest trout fisheries on the east coast and we invite you to make an adventure of it, head to the Planning Resources section of FishandHuntMaryland.com for a host of trip planning needs including lodging options, guides, outfitters, and more.