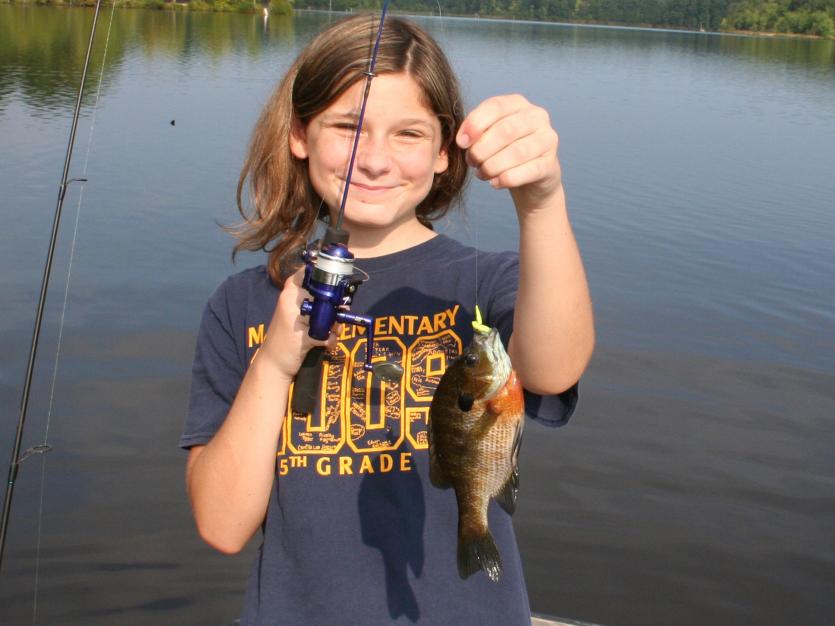 Fishing With Beginners
For an experienced angler, few things are as rewarding as taking a beginner fishing and watching their eyes light up with excitement when they get a bite. Sharing our love for angling and introducing newcomers to the sport is more than mere fun. Whether you're taking out a kid for their first fishing trip or introducing an adult to a new experience, you're also helping to build the angling community and strengthen our broader culture's bond with the outdoors. But to make sure that first-timer has an enjoyable outing, you'll want to do a bit of advanced planning and alter your tactics to match the situation. These tips will help.
Tips for Taking Newbies Fishing
Eliminate the Pressure – Prioritize the experience, rather than how many fish the beginner angler actually catches. Going out on a boat on the Chesapeake Bay, sitting on a riverbank, or paddling around on a pond are enjoyable experiences in and of themselves. Take advantage of this fact and make sure that having fun is "job number-one."

Use KISS Fishing Methods – Trying to explain the fine nuances of pin-point accurate casting, working a topwater lure, or feeling a subtle bite is setting up a beginner for failure. You need to match the fishing style to the angler's skill level, so instead, choose something simple like fishing with bait and top-and-bottom rigs or bobber fishing, for their first experience. These sorts of tactics can be mastered in an afternoon, and are far more likely to result in success.

Adjust to the Weather Conditions – If the seas are rough, don't try to force a long run out into open water, and if rain is in the forecast consider postponing the trip. It's better to try again later in favorable conditions as opposed to "toughing it out" when people who aren't accustomed to the environment may be miserable.

Have a Plan B That Includes an Easy Catch – If the stripers are uncooperative, be prepared to shift gears and drop bloodworm bits for perch, spot, and other bottom fish that are almost always willing to bite. Remember, while you may commonly focus on catching large fish or specific species, for a beginner just feeling a tug on the end of the line is a charge no matter what sort of fish is doing the tugging.

Advise the Beginner Ahead of Time on What They Should Bring – Appropriate food and drink, foul weather gear, warm clothing, or seasickness medication are things inexperienced anglers may not think to pack for the trip. You'll also want to make sure they have the appropriate fishing license, of course. Talk to them ahead of time and make sure they know what to prepare for.
Tips for Taking Kids Fishing
While all of the above certainly apply when taking children fishing, there are some additional considerations to keep in mind when your beginner angler is a kid. 
Pack Extra Snacks – Kids burn up a lot of energy and seem to always be hungry, and when you're fishing you're not likely to be able to easily stop and get some food. So pack plenty of kid-friendly munchies and drinks for the trip.

Downsize Your Gear – Hand a small kid a big heavy rod and they won't be able to handle it. So making sure you have light, short fishing rods with relatively small reels is a must when you're taking out children. This may mean excluding certain types of fishing, like trolling with heavy tackle, but as we mentioned earlier you need to match your fishing style to the angler, not vice versa.

Keep the Trip Brief – No matter how good the fishing may be, kids tend to get distracted and bored. Rather than trying to force a full day of fishing on them, plan for a half-day or just a few hours at a time.

Provide Distractions – A great way to prevent boredom on a fishing trip is to have some alternate activities pre-planned. Be prepared to hand the kid a dip net and let them scoop some minnow, use your livewell as a touch-tank, ask them to sort your swivels, or teach them how to tie a fisherman's knot.

Keep Kids Involved – Even the youngest children like to feel like they're contributing, so when the bite is slow or you're just getting started, assign them a task even if it's as simple as watching a rod tip for a strike or reeling in a line that needs to be checked.
Use these tips and tricks the next time you take a newbie out fishing, and they're almost certain to have a great time. And when you see their eyes light up with excitement you'll be having a great time, too.
In need of additional information, inspiration or a preview of what Maryland has to offer? Check out Fish & Hunt Maryland's latest articles written by fellow sportsmen and women and local partners.
Be sure to acquire your license from the Maryland Department of Natural Resources if you plan on heading out on your own, charter passengers are covered by the captain's license. 
Visit our Plan Your Trip page for information on fishing charters and guides, lodging options, marinas, retailers, and more. And if you're up for a quick getaway, be sure to check out Visit Maryland's deals page featuring spring and summer deals and packages. 
Get A License
Purchasing a license is more convenient than ever before. Maryland DNR provides the following quick and easy ways for you to obtain your licenses and registrations.