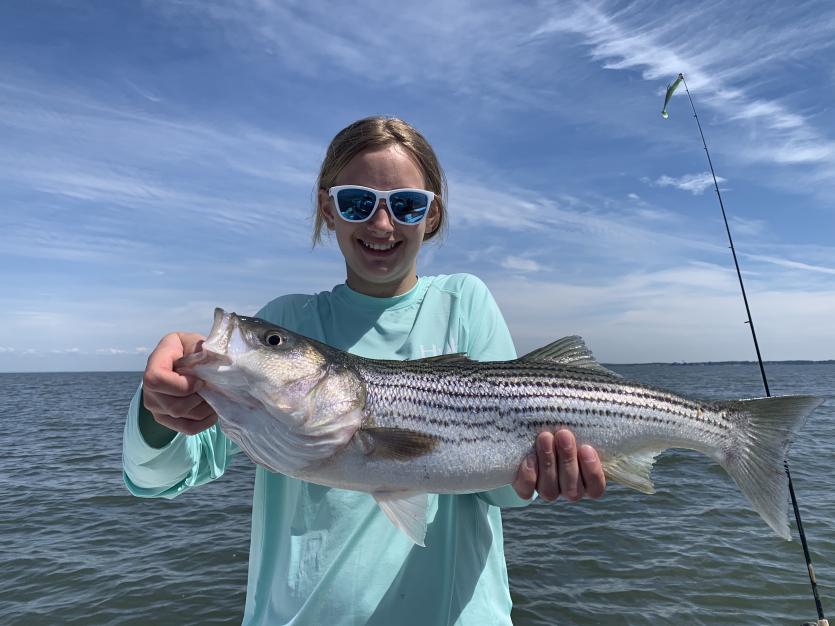 Fishing the Bay
Hello June. After a relatively cool and dry spring, the water temperature in the main stem of the bay is starting to warm up and the whole bay and its tributaries are now open for rockfish. As the first week of Trophy Season appeared to be promising with many folks landing a fish of a lifetime, those monster keepers suddenly disappeared shortly after that on their migration leaving only the mid 20-inch fish in the main stem - which kept fish the "fleet" on their toes.
Fishing the Bay
Just this past week, a large push of rockfish have come out of the rivers and are setting up on the humps just north and south of the Chesapeake Bay Bridge. There are many ways to target these fish. We have been very successful jigging on them in 15-20ft of water, using 3/4oz jig heads and 4" Bloody Point Chartreuse shad. If the current is strong, we noticed that using 1oz jigs and a 5" Zman paddle tail has worked well. Looking along edges and ledges where the current creates an upwelling is also key. I pay careful attention to my electronics using Medium Chirp downscan in 20 ft and Sidescan to locate the smaller schools of fish and then set up a drift over them. The fish are pretty active and the schools are moving around, so try to understand the pattern to get ahead of them.  
It's pretty crowded up in the middle part of the bay, particularly on weekends. Keep in mind - it pays to be a little courteous and not mow through someone's drift or drop anchor right on top of them. There seem to be plenty of fish around now that the water has finally warmed up, so be patient. 
I'm also running a lot of fly-fishing trips. Mostly in less than 4ft of water, using 5" flies with 9wt rod/reels. I have a selection of reels loaded with different lines to match the circumstance, including Floating, Intermediate, Sink-tip and Full-sink (depth charge). Early in the morning, the topwater action has really lit up in the shallows as the hungry fish crash a popper fly. The water in Eastern Bay has been particularly clear. Seeing the fish ambush your fly in the shallows has been very cool. I'm also seeing a lot of healthy grass beds where the bigger fish are lurking and I'm excited about that. 
The Spot arrived early this year and a lot of folk are using them to get on the rockfish. Whether anchored up or drifting, remember you have to use a circle hook. Bigger is better in the 7/0 to 8/0 range and many people are still trolling; downsizing baits from the early spring pattern to get on these mid 20" resident fish. When you have caught your limit with live bait, you can switch to light tackle jigging as this will have less impact on the fish and much less chance of deep hooking which will cause fatality after discard. 
On most half day trips, I'm catching a decent number of "quality" fish. These are ones that pull a little drag and are in the mid 20" range. But, often enough we are picking off fish over 30" which is very fun on light tackle and certainly a good catch now that the migratory fish have left the bay for the season. With a lot of smaller fish around, expect these to school up more and to be found under birds. This makes it a little easier for those who want to rip out after work in the evenings for an hour or so to find the fish and bend a rod. It is also great fun for the kids as there is a lot of action. 
Please be careful when you are releasing fish, they are the future. Wet your hands so you don't remove slime and get them back in the water as soon as you can. When specifically "catch and release" fishing, squash the barb down on your hook. It makes it much easier to get it out. Good luck out there. Tight lines and remember to be courteous!  
Get Ready for Your Next Fishing Outing
In need of additional information, inspiration or a preview of what Maryland has to offer? Check out Fish & Hunt Maryland's latest articles written by fellow sportsmen and women and local partners.
Be sure to acquire your license from the Maryland Department of Natural Resources if you plan on heading out on your own, charter passengers are covered by the captain's license. 
Visit our Plan Your Trip page for information on fishing charters and guides, lodging options, marinas, retailers, and more. And if you're up for a quick getaway, be sure to check out Visit Maryland's deals page featuring spring and summer deals and packages. 
Get A License
Purchasing a license is more convenient than ever before. Maryland DNR provides the following quick and easy ways for you to obtain your licenses and registrations.