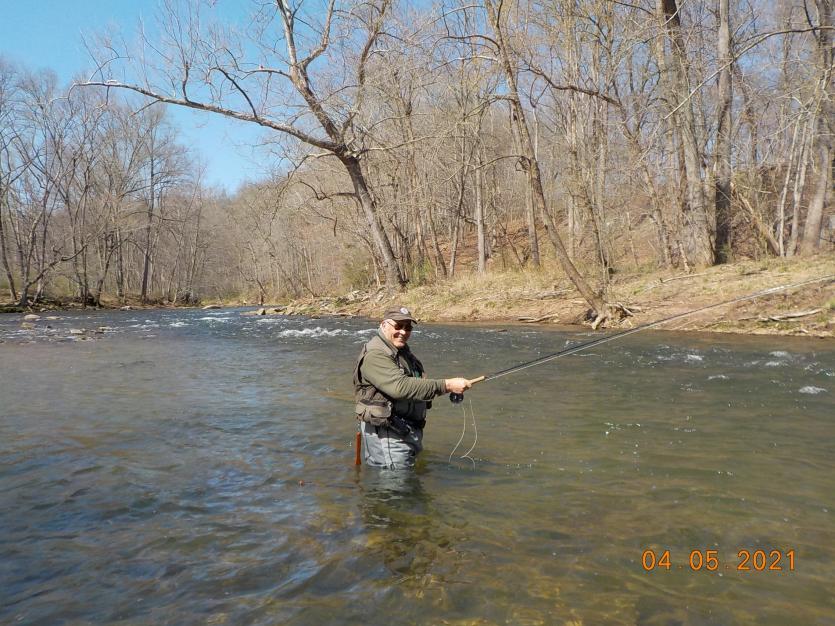 Photo Credit: Gary Grey
Deer Creek
LOCATED IN:
Harford County
Central Region
Protected by multiple state parks and conservation areas during its journey through Harford County on the way to the Susquehanna River, Deer Creek offers fly fishers three seasons of three very different fly fishing experiences.  
Spring brings hickory shad swimming all the way up the Chesapeake Bay and the lower Susquehanna River and entering Deer Creek to spawn well upstream. Once you hook into one of these silver sided jumpers, you will need to take a few minutes to catch your breath before making your next cast. Further upstream, you can catch stocked rainbow trout during the spring season as you wade through the creeks riffles and pools, casting your insect and minnow imitation flies.  
As the waters warm heading into summer and then cool off in the fall, smallmouth bass are the fish to target while fly fishing. They may not jump as high and as often as hickory shad, but on a light weight fly rod they will put up a good tug-of-war contest with you.
Site Location
Deer Creek flows from west to east through Harford County prior to connecting up with the Susquehanna River below Conowingo Dam at the Susquehanna State Park.
Address
Lower Deer Creek via Susquehanna State Park 893-899 Craigs Corner Rd, Havre De Grace, MD 21078
Upper Deer Creek via Rocks State Park Wilson's Picnic Area 1213 St Clair Bridge Rd, Street, MD 21154
How to Get There
From Interstate 95, take exit 89 onto Route 155 west followed by a right turn onto Route 166/Darlington Road, then a right turn onto Rock Run Road and a left turn onto Craigs Corner Road which you follow until you come to roadside parking for accessing the lower creek.
To access upper Deer Creek from Interstate 95, take the exit for Route 24 North and follow Route 24 all the way to Rocks State Park. After entering the park, take a left turn onto St. Claire Bridge Road and then take a right into the parking lot for Wilson's Picnic Area.
Parking 
Access lower Deer Creek along Stafford Bridge Road/Susquehanna State Park to Craigs Corner Road where there are pull-off parking in spots along the creek. There is a gravel parking lot at Rocks State Park Wilson's Picnic Area to access upper Deer Creek.
Where to Fish 
You can fly fish from the bank or by wading in the stream, casting to the riffles and pool for smallmouth bass and trout or deeper pools out of the main current for hickory shad.
What to Catch 
Spring: Hickory shad and rainbow trout (stocked)
Summer/Fall: Smallmouth bass
What to Use & How 
Recommend bringing 5-6 weight fly rods with floating fly lines. For fishing for hickory shad, recommend you have a 5-10' sink tip at the end of your fly line. Your fly selection should reflect the fish species you are targeting. For shad, recommend simple red and yellow marabou streamers with size 8 hooks. For smallmouth bass, recommend poppers, wooly buggers, Clouser Minnows and insect patterns with rubber legs. For trout, recommend nymphs, mop flies, and wooly buggers.
Fly Fishing Organizations
Connect with local fly fishing organizations to learn about mentoring opportunities and to connect with others interested in fly fishing.