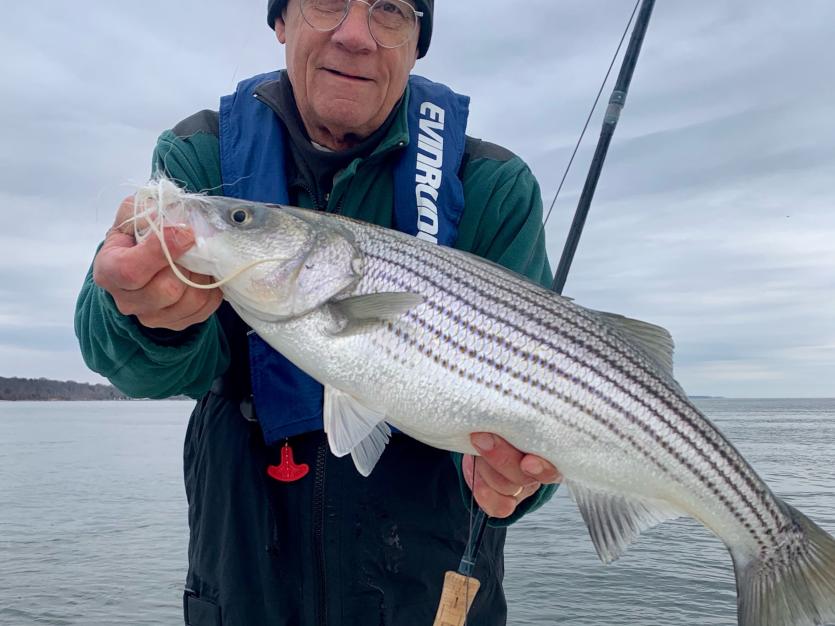 By:Joe Evans and Tom Weaver
We can talk about this, now that it's temporarily over.
 As happens among fanatics, the two of us impulsively decided to abandon domestic obligations in favor of a late-March mission to fool and measure an enormous striper using only fly tackle before Maryland's early catch and release season would close for April.
We knew where they should be, and we can affirm that catching big fish right there that time of year with heavy jig-heads and plastic baits on conventional spinning gear is quite doable. We've done that.
But, could we dial in an effective fly pattern, achieve the perfect drift, and get the nearly weightless fur, feathers and wide-gape hooks down in the rip-current to where the fish were hunkered? There was only one way to find out.
With more enthusiasm than preparation, we rigged 300- to 450-grain Orvis Depth-Charge sinking lines and straight, 30-pound-test leaders on nine- and 10-weight rods, kissed our wives and children goodbye, and ran a Jones Brothers skiff down the Western Shore to a Flag Harbor Marina slip for the duration.
At first, we mostly got skunked–just a few young fish but nothing to phone home about.
We would like to think that the big fish just weren't there, but scattered success of other anglers fishing spinning gear and massive jigs didn't support the excuse. So, a succession of midnight fly-tying sessions ensued interspersed with scrambles to find longer-shanked hooks, various shades of feathers, bucktail, flash, and whatever we could scrounge to improve our chances. This was going to be harder than we imagined.
We fished continuously each day when the weather allowed, and we didn't for a moment consider that this might be foolhardy, even as the detritus of peanut bar wrappers, empty Gatorade bottles, shredded tackle, and anguish accumulated in the scuppers.
We lost some pretty good-looking flies to the rocks where the fish hid. We broke two rods by setting the hooks on those rocks and fighting them mightily—thinking it was the big one. We bumped up the schedule to make predawn treks before other boats arrived, which bought us time and room to drift without getting in the way of more sensible anglers and the long reach of their heavy metal. The action improved but feeling a bite and setting a hook on a long fly line in deep water is like fishing with bungee cord. We learned how the surface current swirled while the deep current flooded at different speeds and directions depending on the drift, the tide, and the shifting wind. We persevered knowing that it might take only a split second for the fly and that fish to cross paths with the very attitude and reaction to turn the trick. Blind faith and Ibuprofen became important parts of our inventory.
All we felt we really needed then was serendipity, but they don't sell that at the 7-Eleven at 3:00 a.m.
Windy, blowout days interrupted the campaign, and we sulked.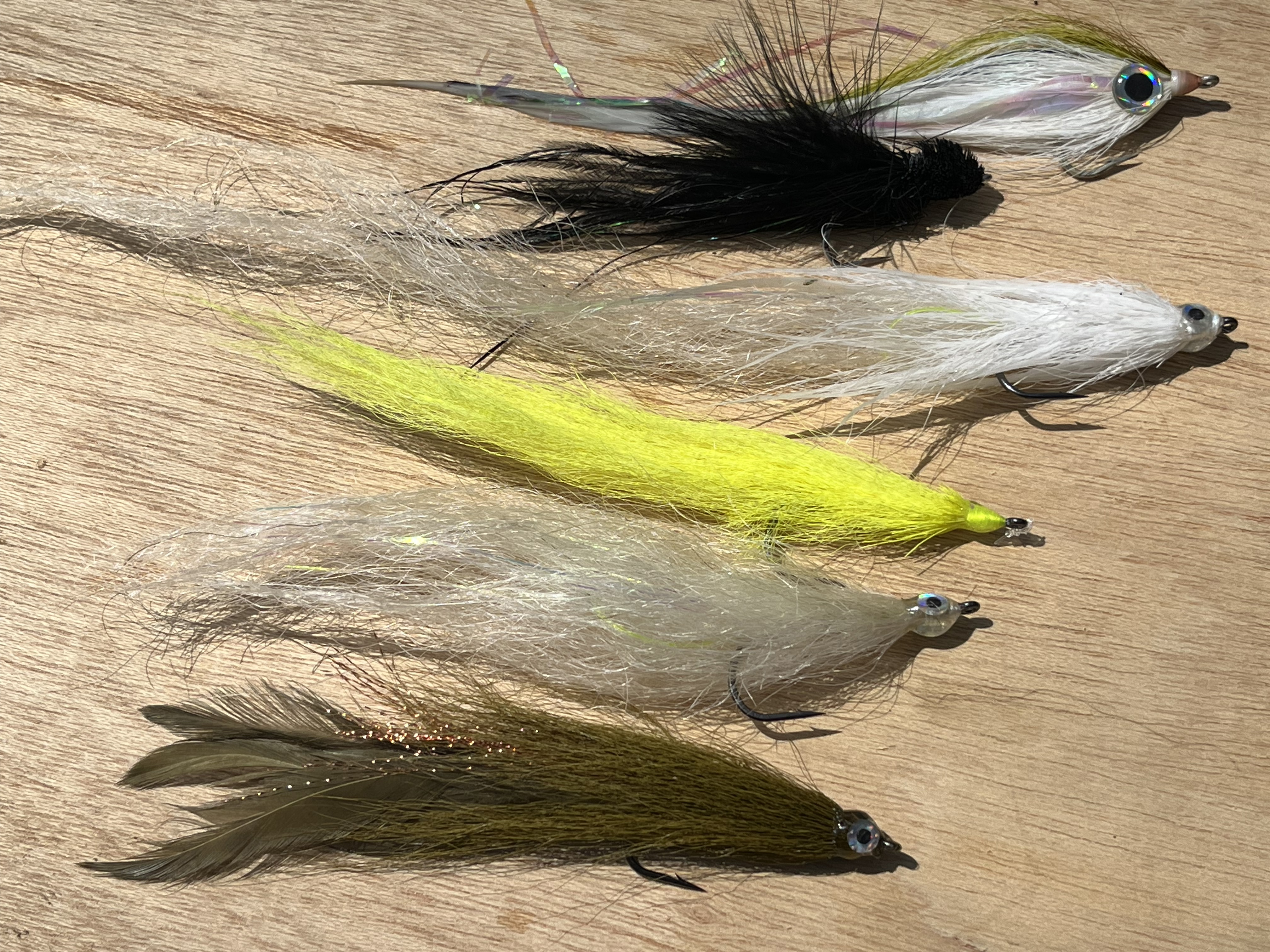 Our last shots before the closure followed a two-day cold front—time enough to tie a batch of 12-inch hollow-tied bucktail flies with extended mono-supported tails to imitate the soft plastics that the conventional anglers were throwing around. It takes about 20 tedious minutes and half a tube of Crazy Glue to tie one up.
The system started to work for us as we extended our drifts into slower water, reduced our line stripping to the minimum to keep the hooks just above the rocks, and we developed the kind of stoic patience that the lack of warm food, sleep, and normal human contact brings.
For the most part, anglers on the other boats tolerated us and our peculiar lunacy. They laughed at us, and even cheered us on. We thank them for that.
With one day to go before the closure, we finally felt like we had cracked the code, our luck changed, and we lost count of the fish we caught, revived and released. But we did not bring the big one to the boat.
We are pretty sure that several of the hits and sudden losses could have been what we wanted—just a nice fish in the 35- to 45-inch range. That's all.
But, the snags and sudden, head-shaking runs might just have been another rock.
At the end, we looked up to see that the fleet had left for home, allowing us free reign to run, set up, and drift. We agreed eight or nine times to make just one more pass as we continued to catch medium-sized fish and the predicted southerly piped up toward 20 knots. The forecast for the last legal day was terrible.
The wind built and shifted to the southeast, and the view across the Bay began to look like a buffalo stampede. It was a brutally wet and bumpy trip home, and we considered how we might pull it off another time, another place.
Special thanks to Flag Harbor, the other guides who shared updates, and the anglers who tolerated us.
We'll be back.
Before you head out for your next day on the water in Maryland, be sure to visit the Maryland Department of Natural Resources for information on licenses and regulations and if you want to make an adventure of it, head to the Planning Resources section of FishandHuntMaryland.com for lodging options, guides, outfitters, and more. 
Get A License
Purchasing a license is more convenient than ever before. Maryland DNR provides the following quick and easy ways for you to obtain your licenses and registrations.