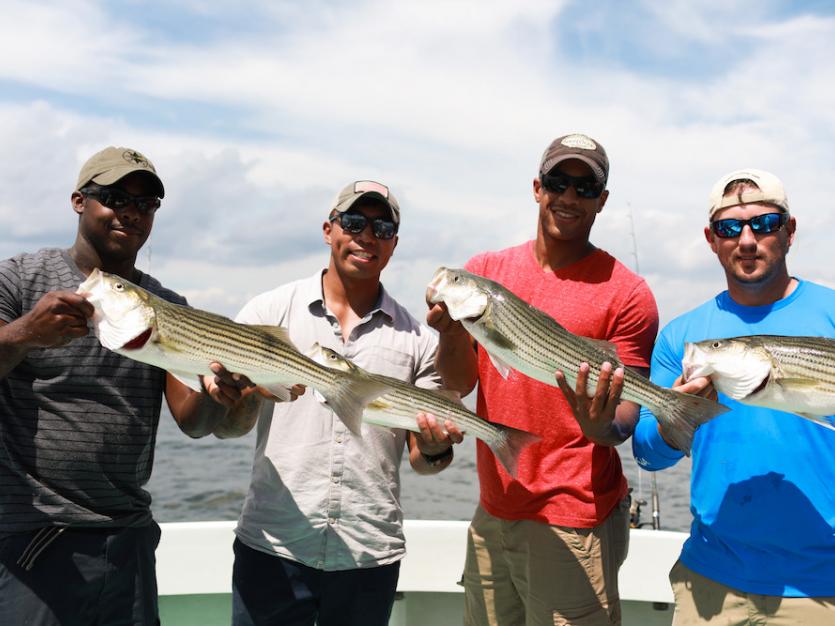 If anglers know anything about the Chesapeake Bay, they've heard of the trophy-sized striped bass (known locally as rockfish) that flood the country's largest estuary during the spring and fall runs. If you don't have your own boat to get out chasing monsters, there are a ton of charters throughout Maryland available to take you out on the bay chasing these iconic, tasty fish.
Along with countless charters, there are a ton of lodging and entertainment options, as well as tackle shops to set you up with everything you need for a successful rockfish trip.
Plan Your Next Experiences
There's no better way to spend a day on the bay than chasing rockfish. Outfitters like Anglers Sport Center and charters like Tuna The Tide Charter Service (both featured above) offer easy access to everything you need. And, there's no better way to end a fishing trip than enjoying happy hour at a tiki bar like The Big Owl at the Kent Narrows (also featured above). Check out a few of the fishing charters & guides that take visitors out before coming to Maryland. These guides will help you plan the trip and answer any questions you might have. Also, we suggest visiting Maryland DNR's website for current and accurate information on all fishing logistics and regulations. You also want to make sure to have all your necessarily licenses, which you can do online or from from the DNR app.
Get A License
Purchasing a license is more convenient than ever before. Maryland DNR provides the following quick and easy ways for you to obtain your licenses and registrations.