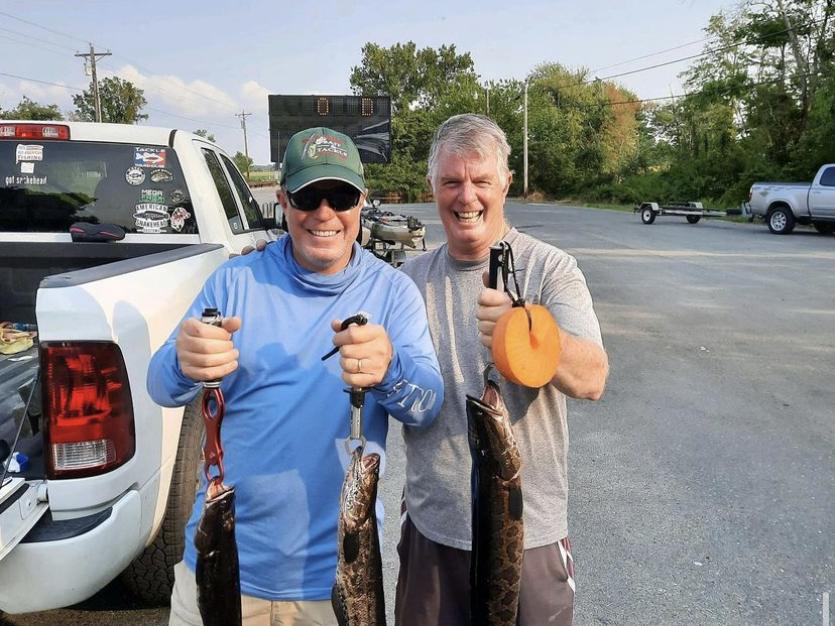 My name is Butch Huber and I'm a local guide for northern snakehead in Maryland. So can you catch northern snakehead in the winter? Yes you can, with the tips and tricks in this article, you can successfully catch snakehead all winter long.  
As the water begins to cool, northern snakehead start to move from the shallow waters to find deeper holes for the winter. You'll need to switch up your baits to catch them. The baits I lean on heavily in the winter are simple but effective. They include chatterbaits and in-line spinners, as well as spinner baits and live bait. 
Always be sure to use the right baits for your location and purpose. I use the chatterbait and the in-line spinner as search baits to catch the attention of the snakehead. Colder water calls for slower presentation, so be sure to really slow your retrieve down. I use the bait with a paddle tail or creature bait trailer to slow roll the edges of  channels, deep holes, or open flats. Fan casting these baits in those areas is key, and gives you information to help you track the fish. 
Northern snakehead move as the day gets warmer so drawing a strike allows you to find out where they're sitting. If you get a short strike it's not a bad thing, go back in the same area and slow it down or speed it up until you get the fish interested. You'll find that more times than not, following up and changing speed produces a fish. For the spinner baits I stick to throwing them at a structure for example, submerged timber or even duck blinds and natural points of the river or the body of water that you're fishing. The flash and vibration of these baits are key to trigger a strike. 
Slowly using spinner baits as the water cools down will be highly effective for you during the winter months. I cannot stress this enough—speed and presentation become more valuable when the fish are increasingly selective on what they eat. That being said, are there days you can go top-water fishing in December and January? Absolutely; hey usually happen on the third day of a warming trend, and this is more geared towards tanic or stained water. 
Now, for using live bait in the winter months, I have some tips on how I use minnows. What I like to do when using live bait is to use a big easily visible float. Then I use a bullet weight about an 1/8th ounce so it slides up and down from the float to the hook. I use a size four baitholder hook or a circle hook. It's your preference and I space it 18-24 inches under the float. Using this rig, I float minnows behind me on the kayak while fan casting my search baits. You can set up your floats to cover different depths, again this is location dependent. 
Winter fishing can be a challenge, but let's face it, a day out on the water, even in the colder months, is always a good day. So dress for colder temps, remember these tips and tricks, and go catch some northern snakehead!
Don't forget - there are no size or creel limits for northern snakehead.  Anglers are encouraged to harvest them as soon as they are caught and having a live snakehead in your possession is illegal. 
Be sure to acquire your fishing license from the Maryland Department of Natural Resources before heading out. You can purchase your Maryland License online, 365 days a year, 24-hours-a-day and visit the Maryland Department of Natural Resources website for more information on seasons and regulations before heading out.
Visit our Planning Resources page to help you plan your next trip. You'll find lodging, fishing charters/guides, and outdoor retailer options. Be sure to check out our holiday travel deals.
In need of additional inspiration? Check out Fish & Hunt Maryland's latest articles written by fellow sportsmen and local partners.